Electric Sled, Earthquakes and Snails: Here Are New Details About Elon Musk's Tunnel Boring Company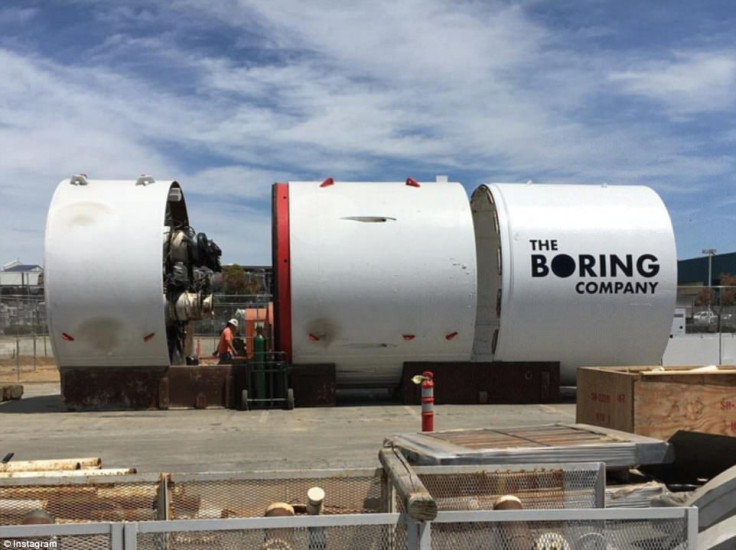 The Boring Co.'s website revealed new details about Elon Musk's tunnel project and how it will solve the problem of what Musk has described as "soul-destroying traffic."
The company updated its site with a FAQ page Wednesday on which it describes the benefits of tunnel transportation, compared to flying cars. Uber and Google are working on flying vehicles, but the SpaceX CEO deviated from the trend.
Read: SpaceX, Tesla CEO Elon Musk Reveals Name Of His Tunnel Boring Machine: Godot
"Unlike flying cars, tunnels are weatherproof, out of sight and won't fall on your head," the site says. "A large network of road tunnels many levels deep would fix congestion in any city, no matter how large it grew [just keep adding levels]."
The FAQ page also said tunnels are beneficial because construction and operation are silent on the surface, and they won't split up communities with lanes and barriers.
Decreasing Costs
Musk first revealed his tunnel idea in December. The site said transportation via tunnels hasn't been done before because it's expensive, with some projects costing as much as $1 billion per mile to dig.
However, Musk plans to deal with that problem dropping costs by a factor of 10 or more by reducing the tunnel diameter to about 28 feet. Increasing the speed of the tunnel boring machine (TBM) will also reduce costs.
"TBMs are super slow. A snail is effectively 14 times faster than a soft-soil TBM. Our goal is to defeat the snail in a race," the site said referring to an Instagram photo of Musk's pet snail, Gary.
Saving money on tunnels also would open up the possibility of hyperloop trips, which could make trips from New York to Washington in less than 30 minutes.
Electric Sled
Last month, the Boring Co. released a video of what traveling underground would look like, featuring a platform on which vehicles board to go into tunnels. Now, the site explains more about the "stabilized electric sled."
"An electric sled is a flat plate on wheels propelled by an electric motor," the site said, adding that placing cars on the sled will help reduce the diameter to 14 feet, and will, therefore, reduce costs 3-4 times.
Earthquakes and Pyramids
Musk wants to assure the public that traveling through tunnels will be safe, especially when earthquakes hit. The site said tunnels, when designed correctly, could be one of the safest places to be in case of a quake. The Boring Co. cited previous earthquakes that did not damage tunnels, including the 1994 Northridge Earthquake and the 1989 Loma Prieta event.
Read: Elon Musk Boring Tunnel Video: Updated Images Of Plan Could Make You Sick
The company also revealed what it plans to do with all the dirt it's going to dig up. It said it's currently looking into technologies that will recycle the dirt into bricks that can build structures.
"This is not a new concept, as buildings have been constructed from Earth for thousands of years including, according to recent evidence, the Pyramids," the site said. "These bricks can potentially be used as a portion of the tunnel lining itself, which is typically built from concrete."
You can read more about Musk's ideas here.
© Copyright IBTimes 2023. All rights reserved.