Ellen Grossman: Get To Know The Elderly Woman Who Had No Clue Who Jay-Z Was On The NYC Subway [VIDEO]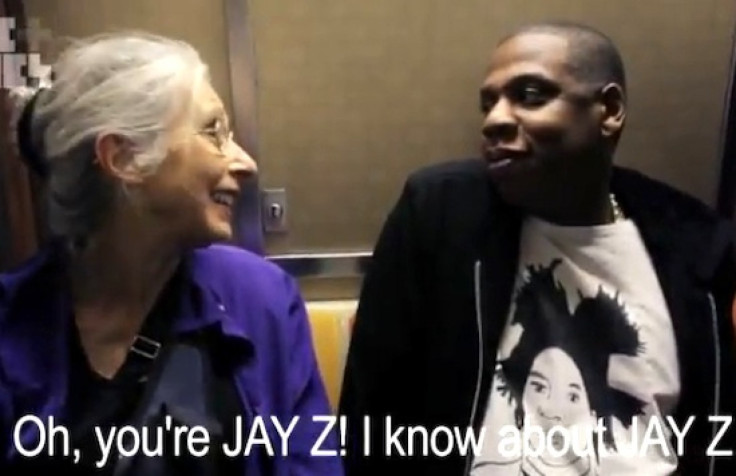 In honor of his 43rd birthday Tuesday, Jay-Z released a new documentary, showing the highlights of his eight show tour at the newly opened Barclays Center in Brooklyn.
But the best highlight was isolated by Gawker, in a video showing Jay-Z becoming acquainted with an elderly woman who had not a clue who Jay-Z, real name Shawn Carter, was. Her name is Ellen Grossman.
At about 19 minutes into the video, which you can view below, Jay-Z is standing on the platform waiting for a train to arrive. With the help of security, who made a clear path from the screaming fans, Jay-Z sits down next to an elderly woman, who begins to question the rapper, producer and new dad.
"Are you famous?" Grossman asked.
"Yes," Jay-Z responded. "Not very famous, you don't know me. But I'll get there someday."
After introducing himself and learning her name wass Ellen, the woman asked what Jay-Z does for a living.
"I make music," the rapper said humbly, before explaining he is on his way to Brooklyn to perform at Barclays for his last of eight shows.
"And you're going by subway," Grossman said. "I'm proud of you."
Grossman then asked him to say his name again, and he clarified his name is "Jay-Z."
"Oh, you're Jay-Z!" Grossman exclaimed, "I know about Jay-Z!"
The duo shared a laugh before the video shifts to the next scene.
Eventually, thanks to Redditors, the woman was identified as New York based artist Ellen Grossman.
Grossman, according to her website, is a sculptor and drawer who live near Tompkins Square Park in New York City's East Village. Along with being a frequent subway rider, Gross writes that she likes to walk her dog in the early morning hours, was born in Brooklyn and has a very long list of awards throughout her career. Gross specializes in creating "responses to topographic maps, satellite photos, scanning electron microscope images, astronomy and the unfolding of intertwined relationships." The artist said she focuses on moiré patterns in sculpture.
Reddit erupted with comments about Grossman, who is a well-known artist, after the Gawker article emerged.
"what the WHAT? Ellen Grossman is an incredible artist herself. I wonder if Jay Z was informed of her or it was just two ships passing in the night," one Redditor wrote.
"She's really one of the coolest artists out right now. She has been for a while. This is the coolest coincidence I've seen in all of my days," another wrote.
The 24-minute documentary video, "Where I'm From," was released by Jay-Z's Life + Times YouTube page but filmed in September.
© Copyright IBTimes 2023. All rights reserved.
FOLLOW MORE IBT NEWS ON THE BELOW CHANNELS