Elton John Appears In Pre-Recorded Performance At Queen's Platinum Jubilee After Health Update
KEY POINTS
Elton John wowed the 22,000 guests at The Platinum Party at the Palace concert Saturday with a rendition of "Your Song"
His pre-recorded performance was projected onto the Buckingham Palace, along with the lyrics of the song
John couldn't perform in person due to his touring commitments
Elton John prepared a pre-recorded performance for Queen Elizabeth's Platinum Jubilee because he couldn't perform in person.
The 75-year-old musician wowed the 22,000 guests at The Platinum Party at the Palace concert Saturday with a heartfelt rendition of "Your Song."
John's performance, which the BBC reported was filmed in the red drawing room of the Queen's residence Windsor Castle, was projected onto Buckingham Palace, along with the lyrics of the song. An orchestra accompanied him live.
John could not perform the ballad in person due to his touring commitments, according to Daily Mail. He was set to perform at a sold-out concert in Milan, Italy, this weekend.
On Saturday, the British music legend shared on Instagram a photo of himself sitting on a red and gold chair in Windsor Castle and wrote that he was honored to have been invited to perform at the Platinum Jubilee concert.
"I was thrilled and honored to be asked to be part of the Platinum Party at the Palace. I hope you enjoy the special performance, I can't wait for you to see it," he wrote.
This came days after John dismissed the rumors about his health that were sparked by photos of him in a wheelchair. He assured fans that he is in good health and will continue his tour because he doesn't want to disappoint them.
"I want to thank all my fans for reaching out to ask about my health, after the tabloids ran a silly story about my 'looking frail' in a wheelchair," he wrote on Instagram.
He continued, "The true story is that I'm in top health, loving my shows and playing and singing at my very best. I give 100% every night and never want to disappoint, especially after everyone has waited so long to get back to seeing shows. Your response to every show has been phenomenal, and I'm loving every minute of it."
Explaining the story behind his wheelchair photos, John said that after he performed a two-and-a-half-hour show, he and his team arrived at a Leipzig, Germany, airport before curfew only to find that part of the airport had closed.
"It was an extremely long walk to get to the plane, so my team kindly laid on a wheelchair so I could rest my hip after doing the show. That's all folks," he continued.
The star-studded Platinum Party at the Palace celebrated the U.K. and Commonwealth's contributions to fashion, sports, the environment and music during Queen Elizabeth's record-breaking 70-year reign, according to People.
In addition to John, the party featured performances from Queen, Alicia Keys, Hans Zimmer, Duran Duran, Andrea Bocelli and Diana Ross.
Andrew Lloyd Webber and Lin-Manuel Miranda also appeared in a special performance featuring casts and special guests from "The Phantom of The Opera," "Hamilton," "Six," "The Lion King" and "Joseph and The Amazing Technicolor Dreamcoat."
The Queen did not attend the concert due to her ongoing "mobility issues" but watched the show on TV at home in Windsor Castle, People confirmed.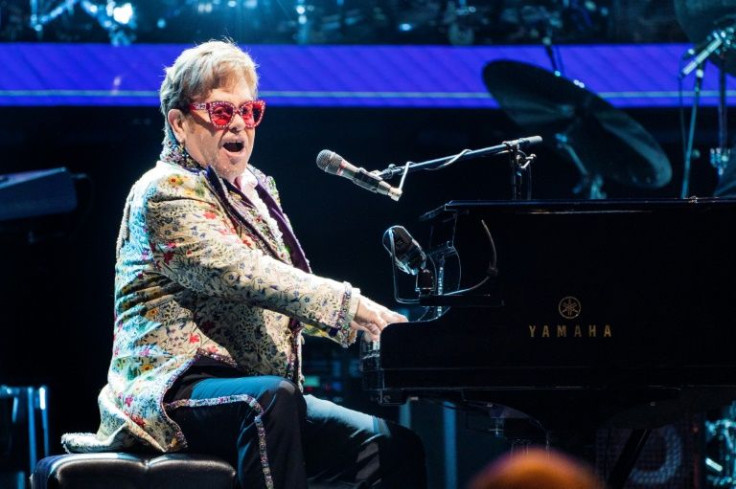 © Copyright IBTimes 2023. All rights reserved.