Emily Blunt Disapproves Of Cannes Film Festival Red Carpet Policy Requiring High Heels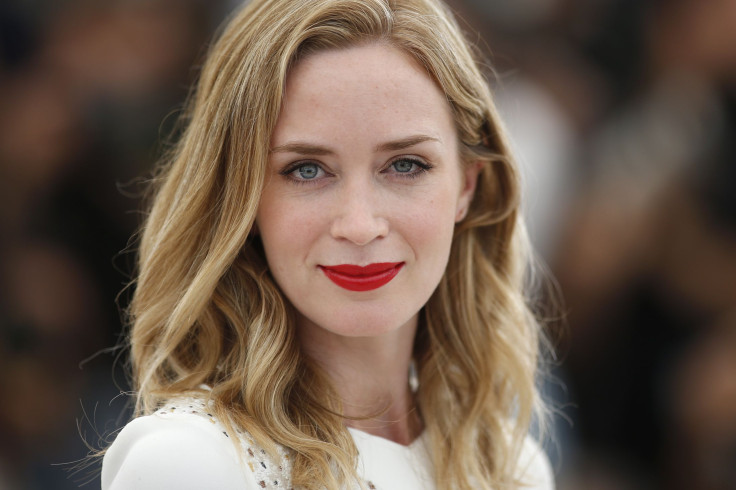 This was to be a monumental year at the Cannes Film Festival. With renewed interest in women's stories, the committee chose Emmanuelle Bercot's "Standing Tall" to open the festival (the second time in 68 years the festival has opened with a women director) and held a panel honoring the film industry's "Women in Motion" from around the world. However, it looks as if the organizers forgot to drop some of the more sexist vestiges of Cannes, and actress Emily Blunt is calling them out.
At the press conference for her film "Sicario," Variety reports Blunt answered a reporter's question about the Cannes Film Festival faux pas. "I think everyone should wear flats, to be honest," she said. "We shouldn't wear high heels anymore. That's just my point of view I prefer to wear Converse sneakers."
At that point, "Sicario" director Denis Villenueve offered to join Blunt in protest by enlisting her co-stars Josh Brolin and Benicio del Toro. "Benicio, Josh and I will walk the stairs in high heels tonight," he joked. But it cast a real pall on the festival's attention to women when its female attendees were being fashion policed on the red carpet.
The outcry is focused on the May 17 premiere of "Carol," the Cate Blanchette movie about a lesbian romance from director Todd Haynes. According to the BBC, former film festival programmer Vicci Ho had to argue with four security men to enter the premiere because an ankle injury prevented her from walking in heels. Others reported that many of the women turned away for inappropriate footwear from the carpet were in their 50s.
Another report from the Guardian says red carpet security blocked producer Valeria Richter from attending the premiere of "The Sea of Trees." Despite Richter disclosing she had had part of her left foot amputated, it still took multiple arguments with guards in order to attend the screening.
According to Screen Daily, it is Cannes policy to mandate women to wear high heels to red carpet screenings. Although bow ties are also required of men, the lack of leeway for those attendees with medical conditions is a terrible issue for the 68th Cannes Film Festival to trip on.
© Copyright IBTimes 2023. All rights reserved.