'Empire' Season 1 Spoilers: Finale Synopsis Revealed; What Will Happen In Episode 11 and Episode 12?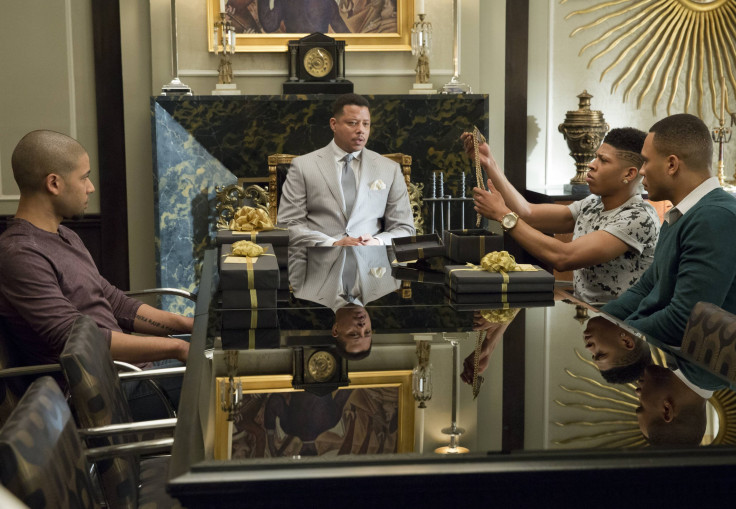 Because "Empire" is not a show for calm or meandering storylines, the last few episodes before the season finale have been overflowing with conflict and revealed secrets. And, true to that standard, Wednesday night's episode, "Sins of the Father," delivered one bombshell after another until the very end.
Mogul Lucious Lyon (Terrence Howard) began to burn the bridges recently rebuilt between himself and his sons in "Empire," Season 1, episode 10. When Hakeem (Bryshere Y. Gray) brought his older girlfriend Camilla (Naomi Campbell) home during an important family meeting, Lucious stepped up his efforts to get rid of her -- with money. Meanwhile, Lucious still disapproved of son Jamal's (Jussie Smollett) homosexuality, even though it looks like the passionate artist is the most viable candidate to run Empire after his brother's breakdown. Andre (Trai Byers) is now in the care of musical therapist Michelle (Jennifer Hudson). Expect a breakthrough sometime in the season finale.
Sadly, "Sins of the Father" was low on Cookie (Taraji P. Henson) comebacks, but at least it was high on her silent side-eye treatments. Cookie also revealed a certain interest in Empire bodyguard Malcolm's (Derek Luke) attention. Meanwhile, even Lucious' brother, the regularly quiet partner Vernon Turner (Malik Yoba) turned on the mogul to deliver Jamal's missing ex-wife, Olivia (Raven-Symone) at a most disruptive time. Olivia was last seen in episode 6 dropping off Jamal's daughter, Lola, before leaving them without so much as a "Goodbye."
Other than a funny "Drip Drop" mention by Hakeem, episode 10 was possibly one of the darkest hours of "Empire." Lucious informally proposed to his ex-wife Cookie, but she rejected him and said he only knew how to destroy people. Cookie left with Malcolm by the end of the episode. It was revealed that Lucious had been repressing news of Andre's illness since his son's college days, possibly making Andre's condition worse over the years. During the tense gun-brandishing showdown between Olivia's current husband and the Lyon family, Lucious came clean about Lola: She is not Jamal's child, but his.
Basically, the moral of "Empire" is this: Don't trust Lucious.
As mentioned previously, guest performers for the two-hour season finale, episodes 11 and 12, include Snoop Dogg, Patti LaBelle and Rita Ora. And Hudson will probably have one more soul-stirring solo as Andre's music therapist. She could even be signed to Empire by the end of the night. In an all-new sneak-peek video about the finale released last night, audiences also caught a glimpse of a fight between Cookie and Anika (Grace Gealey), as well as the return of Jamal's videographer partner and lover, Ryan (Eka Darville).
Looking over the season-finale cast list may also indicate a few surprises to come, as it looks like Lucious' old rival Billy Beretti (Judd Nelson of "The Breakfast Club") is back for a rematch. Perhaps Cookie and Anika aren't the only ones who get a fight scene. In the finale preview, there is also one split-second shot of Lucious throwing a mean punch.
Other casting notes center on the return of Tiana (Serayah), Hakeem's old partner, and the addition of Juicy J as himself. So many stars and drama: I can understand why Lucious looks woozy at the end of the season-finale promo video.
The "Empire" Season 1 finale will be shown on Fox Wednesday, March 18, at 8 p.m. EDT.
© Copyright IBTimes 2022. All rights reserved.
FOLLOW MORE IBT NEWS ON THE BELOW CHANNELS