'Empire' Season 1 Spoilers: Big Andre Reveal In Episode 9; Cookie Steals The Show In 'Unto The Breach' [RECAP]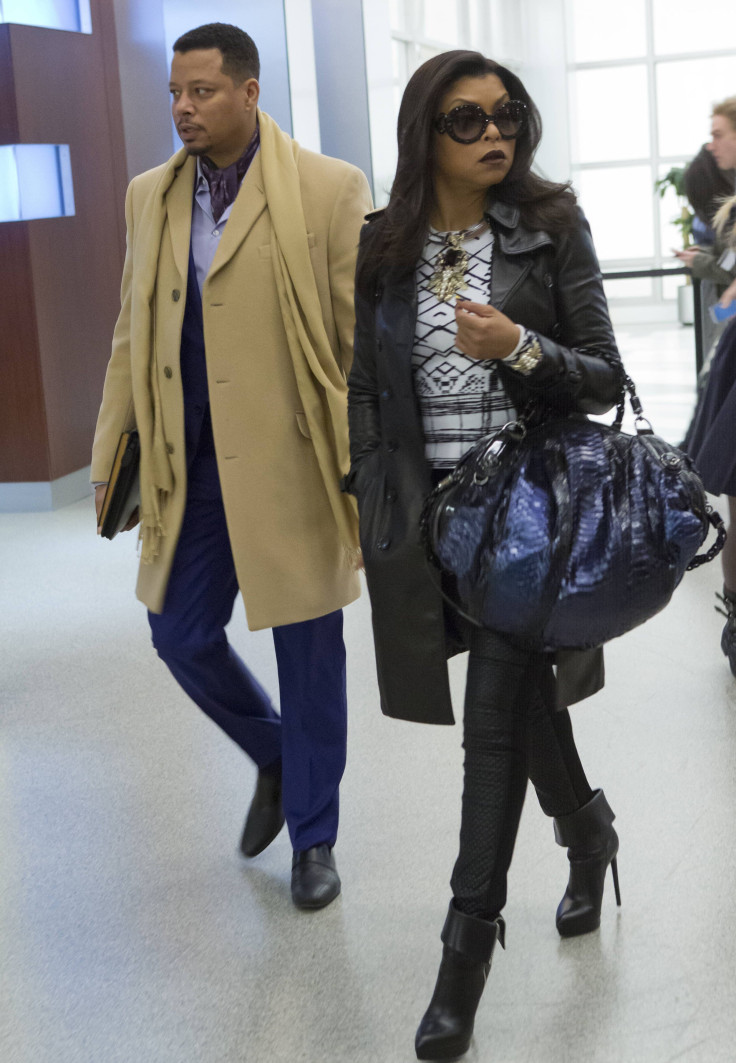 During "The Lyon's Roar" episode of "Empire" last week, we watched Lucious (Terrence Howard) struggle with his sons and the two women in his life -- fiancee Anika (Grace Gealey) and ex-wife Cookie (Taraji P. Henson). His son Hakeem (Bryshere Y. Gray) introduced his fashion-designer girlfriend Camilla (Naomi Campbell) to the family with disastrous results, and his brother Jamal (Jussie Smollett) finally bucked his father's wishes and came out to his fans. Andre's (Trai Byers) private illness began becoming a public issue, and Empire-size problems are only making matters worse.
In Wednesday's episode 9, "Unto the Breach," the Lyon family came together for war after Anika defected to its chief competitor, Billy Baretti (Judd Nelson). The Lyon family had to reach out to several artists on their roster to ensure they didn't leave Lucious for Baretti. In attempting to win over a new artist, Jamal spontaneously recorded a duet with the famous singer Delphine (Estelle) for a show-stopping number.
But, once again, it was Cookie who stole the show with her #nofilter moment as she challenged a room full of men to stay with her company as long as she could outdrink them. Like Marion Ravenwood in "Raiders of the Lost Ark," outdrink her male competitors she did, which led to this hilarious bit that blew up among Empire fans on Twitter:
Andre really lost his cool when the three younger Lyons were stuck in an elevator during the day's intense scurry. I'm slightly disappointed there wasn't a "Let's Go Crazy" musical cue since the line, "Punch a higher floor," would have gone so well while they were stuck in the elevator. Instead, the boys banded back together, harmonizing "Lean on Me." After the incident, Andre was visibly shaken, and Lucious put a security detail on his son to keep him contained, while he himself headed out to sign Delphine to Empire.
Meanwhile, it looked like Hakeem was seeking to make amends with Anika, but it was a front to allow his mom Cookie first dibs on the artist Anika was seeking to lure away from Empire. Hakeem headed inside to make nice with his former partner Tiana (Serayah), and keep her on Empire's rolls.
Across the room, Jamal and Delphine took to the stage after she signed at Lucious' invitation. The improvised good-will gesture had Hakeem, Tiana and Cookie also come onstage for a big family performance. As it always is with "Empire," the joy was short-lived. Upon Lucious' return to the office, Andre's mood swing had intensified to the point where the assistance of paramedics was required. An emotional Rhonda (Kaitlin Doubleday) watched her sedated husband wheeled out of Empire and away from becoming the heir to Lucious' kingdom. It was revealed that Andre suffers from bipolar disorder.
Meanwhile, Jennifer Hudson and Mary J. Blige are set to appear in the last two episodes of the first season of "Empire."
"Empire" is shown on Fox Wednesdays at 9 p.m. EDT.
© Copyright IBTimes 2022. All rights reserved.
FOLLOW MORE IBT NEWS ON THE BELOW CHANNELS