'Empire' Season 2 Spoilers: 9 Questions After The Fall Finale; What Will Happen When The Show Returns?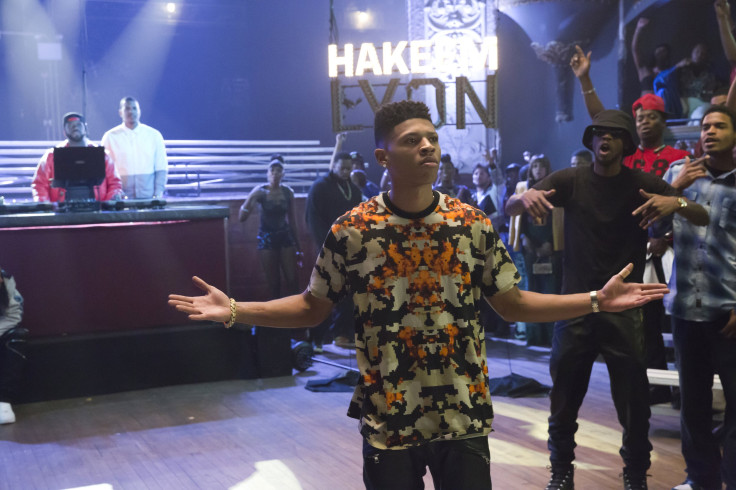 Lucious Lyon (Terrence Howard) is now a man without his Empire. After years of hard work, dirty deals and violence, Lucious had his company stripped away from him, thanks to his youngest son Hakeem (Bryshere Y. Gray), in the Season 2 fall finale of Fox's hip-hop drama "Empire." Episode 10 was filled with many twists and turns and the Lyon family will have many problems to deal with when the show returns in March. What's next for Lucious, Hakeem, Cookie (Taraji P. Henson), Jamal (Jussie Smollett) and Andre (Trai Byers)?
Here are nine questions fans have ahead of the midseason premiere on Wednesday, March 30, 2016:
1. Will Rhonda And Andre's Baby Survive?
In one of the most shocking scenes of the season, Rhonda (Kaitlin Doubleday) was shoved down a flight of stairs by someone who appeared to be Anika (Grace Gealey). Andre was trying to call her at the end of the fall finale, but she didn't answer because she was face down at the bottom of the stairs inside their home. The episode 11 promo teases that the news won't be good for the couple. Andre is shown having a meltdown in a hospital and is later seen crying in the room that was supposed to be for his child, hinting that the baby isn't going to make it.
2. What Will Happen To Lyon Dynasty?
Hakeem finds himself in the perfect position to possibly become the next CEO of Empire thanks to Camilla (Naomi Campbell). Camilla wants Hakeem back after Lucious sent her away in Season 1 and she promised to make him bigger than ever as an artist. Now that Camilla and her "wife" Mimi (Marisa Tomei) have control of the label, it looks like she may pass the company over to Hakeem if he wants. However, if he takes over Empire, what will happen to Lyon Dynasty? Will Cookie be all by herself with the new company or will he somehow try to manage both?
3. Can Lucious Get His Company Back?
Lucious was devastated after losing his company and knowing how ruthless he can be, it's a safe bet he's going to use all of his effort and power to somehow get his company back. He learned that maybe it wasn't a good idea to make Empire a publicly traded company with a Board of Trustees, who have the power to remove him from the company. Lucious has been relentless in the past to get his way, so don't be surprised if he finds a way to get Empire back when the show returns.
4. Are Cookie And Lucious Going To Get Back Together?
A big plate of humble pie was served to Lucious in episode 10 and now he is basically left with nothing after losing Empire. While having a meltdown in his home office, Cookie was able to talk him down and the two actually hugged one another. Despite their constant back and forth, there's still love there between the former couple. In the episode 11 promo video, Cookie is shown trying to comfort Lucious by laying with him. After going through heartbreak, could Cookie take back her ex-husband?
5. Is Jamal's Career In Trouble?
Lucious saw how Jamal was slowly becoming a huge artist and became very jealous. To be spiteful, Lucious told Jamieson (William Fichtner), Jamal's promoter, that Jamal had a girlfriend and shouldn't be promoted as a gay artist. Although this isn't true, Lucious may have done damage to Jamal's career if Jamieson turns around and uses this false information against the singer.
6. What Will Happen Between Jamal And Hakeem At Empire?
If Hakeem takes over the company, it will be interesting to see how the two siblings get along. Jamal was once given the task of running Empire while Lucious was in prison and he warns his brother about the power in the promo video. "Be careful, this thing can bring out the worst in you," Jamal says. Will the two continue to get along or will their sibling rivalry pick up once again?
7. When Will Hakeem Find Out Anika Is Pregnant?
Anika made an evil power move in the fall finale by pushing Rhonda down the flight of stairs so if she keeps her baby, it will be the only Lyon grandchild. Hakeem still has no idea that Anika is pregnant with his child, but once he and the rest of the family find out, you can expect there to be a ton of drama and fireworks. Expect this revelation to happen shortly after the show returns.
8. Is Hakeem Finished With Laura?
Now that Hakeem's ex-lover Camilla is back in the picture, what does that mean for Laura (Jamila Velazquez)? It was clear that Hakeem has strong feelings for Laura, but if he gets back with Camilla he'll have the opportunity to run Empire and get one over on his father. Will Hakeem follow his heart or go for personal gain?
9. Who Will Win Song Of The Year?
Lucious and Jamal have been getting along for the most part this season, but that is likely going to change in the second half of Season 2. Both were nominated for the biggest American Sound Award for Song of the Year. Jamal was happy that both of them were nominated, but Lucious looked at it is a challenge and that Jamal is in his way of winning an award he's never won before. It will be interesting to see who wins when father and son go toe-to-toe.
Watch the episode 11 promo video below:
"Empire" returns on Wednesday, March 30, 2016 on Fox at 9 p.m. EDT.
© Copyright IBTimes 2023. All rights reserved.