'Empire' Season 2 Spoilers: Hakeem Betrays His Family In Episode 10; What Happened In The Shocking Fall Finale? [RECAP]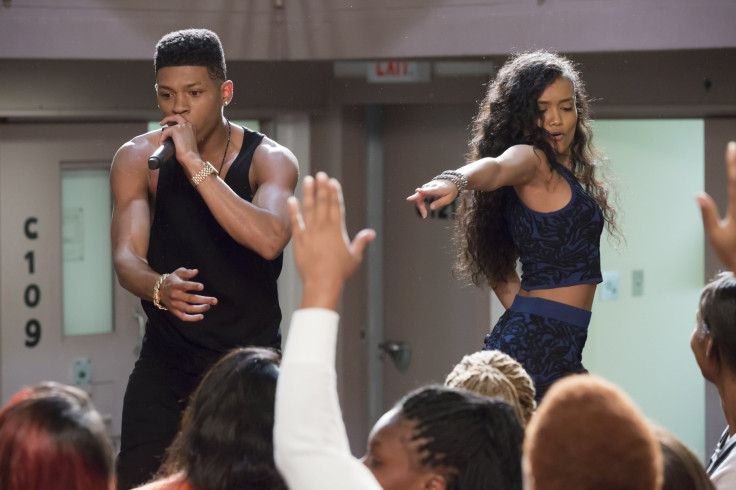 Hakeem Lyon (Bryshere Y. Gray) has been put down by his father Lucious (Terrence Howard) all season long on Fox's "Empire." Hakeem proved he's the Lyon that roars the loudest after he helped the Empire Board of Trustees remove Lucious as the CEO and chairman of the company. The youngest Lyon put himself in a spot to eventually rule the Empire, in the fall finale, titled "Et Tu, Brute?"
When the fall finale begins, it's the kickoff of American Sound Award (ASA) nomination day. Hakeem is getting ready to perform at the prison where Cookie (Taraji P. Henson) spent 17 years, to return a favor to Pepper (Rosie O'Donnell) for helping her find her sister.
Jamal (Jussie Smollett) and Skye (Alicia Keys) talk about their ASA nominations, in a moment that's slightly awkward after this kiss in episode 9. Lucious walks in and Skye excuses herself, but calls Jamal babe. Lucious hears this and he's convinced Jamal is no longer gay.
The move to make Empire a public company is really going to come back to bite Lucious. Mimi (Marisa Tomei) meets with Lucious and records the conversation where he bashes the Empire board and talks about cleaning house after the Swiftstream deal is done.
Jamal and Skye perform "Powerful" live at an ASA nomination concert event. Charlamagne Tha God calls out Skye after the performance because he claims Skye is all of a sudden identifying as a black artist when she never has. Skye, who is half white and half black, is shocked and worried the moment could damage her career.
Skye is a little upset Jamal didn't defend her, but eventually the two settle things. Skye later tells Jamal she understand their hook up didn't mean anything and that Jamal likes men. She doesn't want Jamal to change anything about himself and to remain the person is.
Lucious announces Empire has purchased Swiftstream and calls Mimi up to the stage. Mimi has been Lucious' "partner in crime," but she has a curve ball for head of Empire. She calls her wife up to the stage, who turns out to be Hakeem's ex-girlfriend Camilla (Naomi Campbell) who he had sent away in Season 1.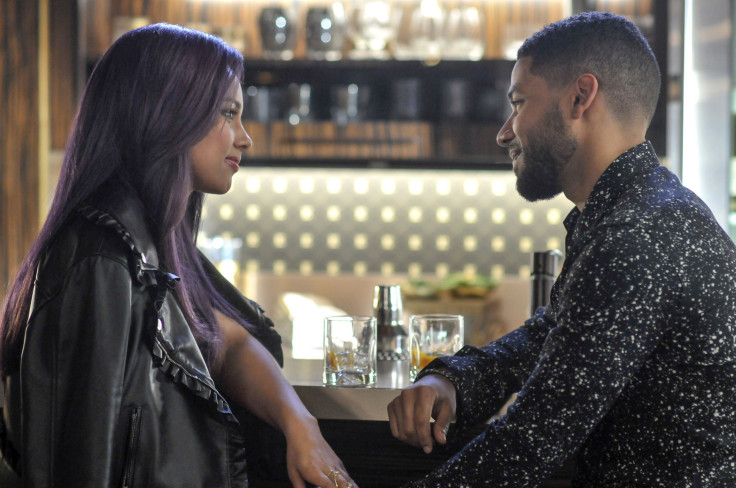 During a board meeting, Mimi reveals what her true intentions are. She wants to remove some of Lucious' as head of the company and shows the board a video of her one-on-one meeting with Lucious. Andre says they have to swing board members their way even though the family has a big chunk of the company.
Camilla returns to Hakeem's apartment and he's surprised to see her. He doesn't really want her there, but she tells him that Lucious and Cookie both lied to him about where she went. She says she can take his career to the next level, if he lets her.
Cookie returns to prison and the memories start to come back to her. When introducing Hakeem, Cookie gets choked up in the moment, but gets through it and brings her son on stage. Hakeem tells the inmates about how he reconnected with Cookie and he sings "Miracles" with Laura (Jamila Velazquez).
Andre (Trai Byers) and Thirsty (Andre Royo) try to work on board members to get their vote, but fail at doing so. Andre goes to Cookie and Hakeem to tell them Mimi is trying to take the company away from them and to get them to help vote against it. Cookie won't leave the prison without seeing an old friend, so she signs paperwork allows Andre or Hakeem to vote in her place. She reminds Hakeem that Empire is their legacy and to do the right thing.
The board of trustee meeting begins and after each member votes it comes down to Hakeem. Hakeem recalls all the bad things his father has done to him and he sees Camilla outside of the meeting room. He then shocks everyone and votes to have Lucious removed.
Lucious is both angry and heartbroken over what happened. He takes out his feelings on his home office with an assault rifle. Lucious feels everything he and Cookie worked for is now wasted. Cookie is able to talk Lucious down and she takes the gun away from him. The two then surprisingly hug as Lucious begins to cry.
Other Major Moments From The Fall Finale:
Anika (Grace Gealey) is officially crazy. In the final moments of the episode, Rhonda hears the house alarm go off and goes to check it out. Rhonda, who is pregnant with Andre's child, is then shoved down the stairs from behind by somebody. It's a safe bet Anika is behind it, so if she keeps Hakeem's baby it will be Lucious' only grandchild.
Jamal received several ASA nominations including Song of the Year. Lucious was also nominated in the same category, which is an award he's never won. This sets up an epic matchup of father versus son for the prestigious award.
Cookie ran into an old friend Jezzy (Da Brat) while in prison. Jezzy is upset with Cookie because she hasn't talked or visited her since she was released from jail. Cookie takes the blame and is in disbelief that Jezzy has to now serve life in prison when Cookie was planning on making her an artist when she gets out. Cookie might eventually let her record from prison.
Jamieson (William Fichtner) tells Lucious if Jamal gets a Song of the year nomination he's going to build a campaign around him. He says Lucious set the bar high, but Jamal surpassed his father's career already. When Jamieson reveals he wants to have Jamal on the cover of The Times, Lucious says Jamal now has a girlfriend, so it might not be a good idea to start a campaign for a gay artist if he's not gay.
FOR FREE to continue reading
✔️ Unlock the full content of International Business Times UK for free
offer available for a limited time only
✔️ Easily manage your Newsletters subscriptions and save your favourite articles
✔️ No payment method required
Already have an account? Log in
© Copyright IBTimes 2023. All rights reserved.