'Empire' Season 2 Spoilers: Episode 4 Synopsis Released Online; What Will Happen In 'Poor Yorick'? [VIDEO]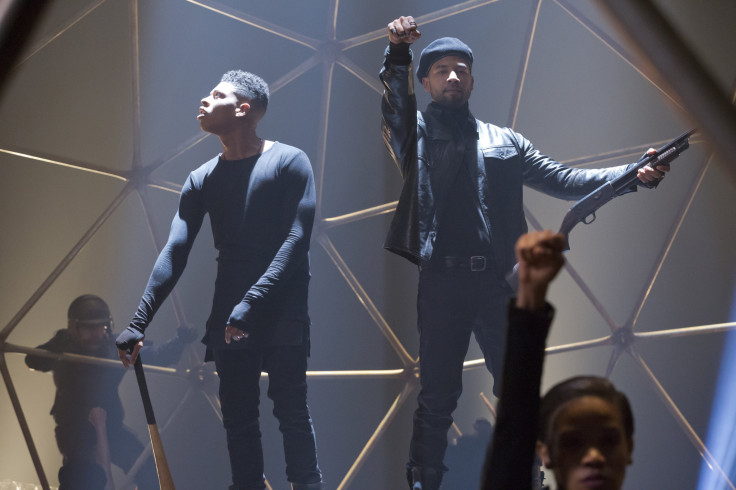 The Lyons have all been trying to one up each other so far on "Empire" Season 2, especially with the sibling rivalry between Jamal (Jussie Smollett) and Hakeem (Bryshere Y. Gray). However, the two brothers will temporarily put aside their differences to come together to shoot a music video for a duet the two will perform on episode 4, "Poor Yorick."
The synopsis reveals Hakeem and Jamal will perform together to capitalize on the duet between the two brothers off of Hakeem's leaked album. The promo video shows the two in some sort of "Mad Max" like setting with a steel cage and fire. Could Hakeem use this performance as an opportunity to get back at Lucious for stealing away one of his artists, Valentina (Becky G), in episode 3? In addition to their duet, keep an eye out for some new music from Jamal.
Lucious still believes he's invincible, but he may soon get a slice of humble pie. As he searches for Vernon (Malik Yoba) to make sure he doesn't rat him out, the Empire building will be raided by the FBI. Instead of this bothering Lucious, he's shown high-fiving Mimi Whiteman (Marisa Tomei) because the label is so big and dangerous that even the FBI wants to shut them down. Prosecutor Roxanne Ford (Tyra Ferrell) will also have the FBI search Lucious' home, where he will answer the door in a towel and tell her to "look wherever she likes."
Episode 4 will also be a busy one for Cookie (Taraji P. Henson). In the promo video, she's shown meeting a new concert promoter who could possibly be a love interest in guest star Adam Rodriguez. She's also shown getting arrested by the police, which is most likely Ford's doing to try and get Cookie to give her dirt on Lucious so she can send him away to prison for good.
Andre (Trai Byers) has been trying incredibly hard to get his father to forgive him and let him back into Empire. His wife Rhonda (Kaitlin Doubleday) was the one who killed Vernon and the two tried to cover it up by burying his body somewhere. Andre will decide to dig the body up for some reason in episode 4. Could it be to show Lucious that he deserves to return because he helped get rid of the key witness in the murder case against Lucious?
Watch the episode 4 promo below:
"Empire" Season 2, episode 4, titled "Poor Yorick," airs on Fox Wednesday, Oct. 14, at 9 p.m. EDT.
© Copyright IBTimes 2023. All rights reserved.