'Empire' Season 3 Spoilers: Cookie Lyon Has A New Love Interest In Episode 2; 'Sin That Amends' Recap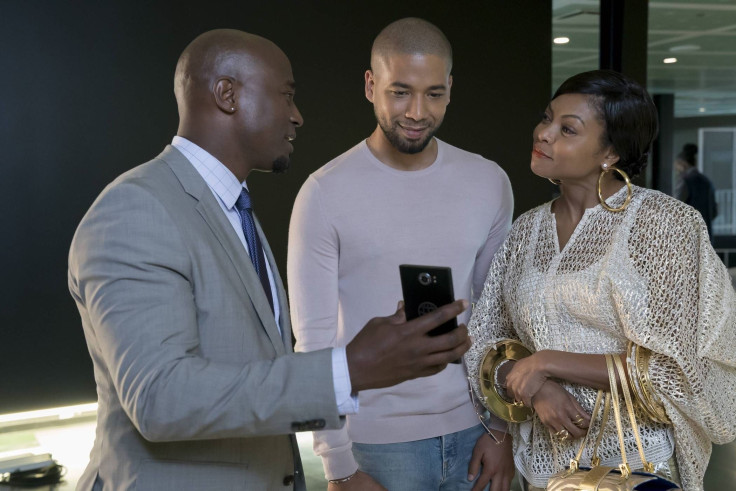 Lucious Lyon is trying to right some of his wrongs in Season 3, episode 2 of Fox's "Empire." In last week's premiere, Cookie Lyon made it clear she was done with Lucious because he married Anika. Lucious and Anika only wed so she wouldn't have to testify against him, but Cookie was still hurt that the wedding happened. Keep reading to find out everything that happened on Wednesday's episode 2, "Sin That Amends."
The hour-long show kicks off with Cookie (Taraji P. Henson) waking up to several different delivery men dropping extravagant gifts off at her home. At first, it's not clear who is showering Cookie with a gold-plated gun and other treats but once a giant lion statue arrives it's clear the gifts are from Lucious (Terrence Howard). Cookie seems to like the gifts at first, but tells Porsha (Ta'Rhonda Jones) to send everything back.
Meanwhile, Anika (Grace Gealey) takes it upon herself to find a nanny to help with baby Bella. As she's conducting interviews, Lucious barges into the room asking who gave Anika permission to hire someone. Lucious angrily tells Anika that he doesn't want strangers in his business. The baby starts crying, and Anika gets upset telling Lucious that she needs help taking care of the infant. Lucious' mom Leah Walker (Leslie Uggams) suggests she take care of Bella and Anika starts screaming at her to stay away from Bella.
Fans also meet Angelo Dubois (Taye Diggs). The character is first introduced while he's doing a radio interview with Jamal Lyon (Jussie Smollett). Cookie is listening in on the interview, and tries to talk Jamal out of participating in Angelo's anti-violence summit. Cookie doesn't like Angelo and thinks it's a bad idea for Jamal to link up with him for the summit, but Jamal insists on going. When Jamal brings Angelo and a group of young kids who are a part of Angelo's summit to Empire studios, Lucious suggests they host the summit at his company. Angelo is hesitant, but agrees to it when he sees how excited the kids are. Lucious also says he's going to live stream the summit on Empire's new streaming service, Empire Extreme. Angelo thanks Lucious for his generosity, but Jamal thinks Lucious is secretly plotting something.
It also seems like Hakeem Lyon (Bryshere Y. Gray) could be getting a new love interest in Season 3. In last season, he was left at the altar and had to witness the mother of his child marry his father. On Wednesday's episode 2, Hakeem is seen in the studio with Nessa (Sierra McClain) and it seems like there's a little bit of romantic chemistry between them. However, at another point during the episode Nessa's mentor Shine (Xzibit) punches a man unconscious because of the way he was looking at Nessa.
Even though Cookie isn't falling for Lucious' attempts to win her back, he's not ready to give up on trying to woo her. Lucious gives Cookie a song he wants Jamal to consider and it turns out that the song is the one Lucious was rapping when he first met Cookie. In a flashback, a young Cookie walks up to a young Lucious and starts dancing as he raps to his friends. It's a sweet moment between them, but in the present Cookie once again makes it clear that their relationship is strictly professional now. However, she agrees to give Jamal the song to see if he likes it.
Meanwhile, Andre (Trai Byers) is still having a hard time dealing with Rhonda's (Kaitlin Doubleday) death. He's still staying at Jamal's house and is seen yelling out to Rhonda. When Jamal catches him talking to an empty room, Andre starts fussing about his medication, saying that Rhonda was the one who handled that. Jamal says he'll take over and makes sure Andre takes his pills for bipolar disorder.
Lucious tries again to win Cookie back by having Biz Markie perform "Just A Friend" for her, but the sweet moment doesn't last long. At Angelo's anti-violence summit, it appears that Cookie has her eye on Angelo. While she's talking with Lucious about Jamal's problem — he's refusing to perform again because of post-traumatic stress disorder — Angelo interrupts to thank them for their support. Angelo also likes that Cookie and Lucious seem to get along so well even though they're not married anymore. At one point, Cookie tells Angelo that she and Lucious are not together and starts to flirt with him. It definitely annoys Lucious, who refuses to shake Angelo's hand.
Episode 2 ends with Jamal going back to his and Rhonda's home to grab the rest of his things. As he's packing the last box into his car, he's stopped by two white police officers who ask him if he knows anything about a string of robberies happening in the neighborhood. When Andre explains that he used to live in the house, one of the officers makes an inappropriate statement mocking him. Andre replies with a snarky comment, and the police officers wrestle him to the ground with one officer pulling out his gun.
"Empire" Season 3 airs Wednesdays at 9 p.m. EDT on Fox.
© Copyright IBTimes 2023. All rights reserved.