'Empire' Season 3 Spoilers: A Lyon Almost Gets Killed In Episode 5 [RECAP]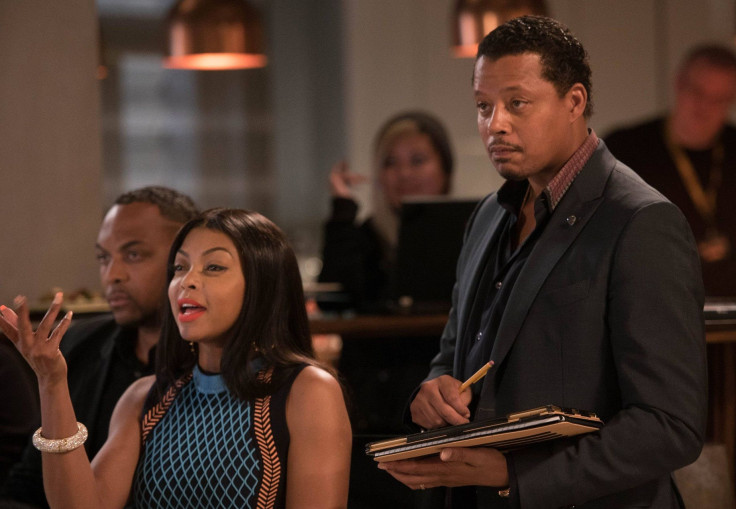 After a three week hiatus, "Empire" is back on Fox! In Season 3, episode 5 Shine is out for blood and determined to destroy the Lyon family. However, Lucious may beat him to it because he's once again trying to turn his songs against each other. Keep reading for the recap of episode 5.
Wednesday's show kicks off with Jamal (Jussie Smollett) in the studio working on a track. Meanwhile, Shine (Xzibit) is loading up on guns because he's preparing to go to war with the Lyon family. "Let's go kill some Lyons," he says as he and his men pile into a SUV trying to find the Lyon clan.
Lucious (Terrence Howard) is well aware that Shine's agenda to kill someone in the Lyon family so he's taking extra precautions by having everyone in his family surrounded by security guards. Things are so tense, that Lucious and Anika (Grace Gealey) have to show up to the baby's doctor appointment in a bulletproof car.
As it turns out, Shine wasn't looking for Lucious but for Andre (Trai Byers). Shine and some of his men force their way into Jamal's house, where Andre is staying, and Shine points a gun in Andre's face. Shine pulls the trigger but the gun jams, so he throws it on the ground and grabs another gun from the waistband of his jeans. Shine goes to pull the trigger again but Nessa (Sierra McClain) runs into the room and pushes his hand causing the bullet to hit a kitchen light.
Shine wants to know why Nessa is half-dressed at Andre's house and asks her if she's sleeping with him. Nessa doesn't answer. Shine is mad that Nessa and Andre are hooking up, and tells her about the fight he got into with Andre and Lucious. Nessa is mad Andre didn't tell her about the fight, but tries to talk Shine out of killing Andre. One of Shine's men grabs Nessa and takes her out the room as she's screaming. Shine tells Andre that he's not going to kill now because Nessa is there, but promises he'll be back.
After Andre's near-death experience, Andre, Cookie (Taraji P. Henson) and Jamal meet in Lucious' office to talk about Shine. Hakeem (Bryshere Y. Gray) shows up to the meeting angry because so many security guards are following him. He wants to know what's going on. Lucious tells everyone about the fight he and Andre had with Shine, and explains that he doesn't want anyone to cut any business deals they had with Shine because he has him right where he wants him.
While the family is trying to deal with the Shine situation, Jamal is still trying to figure out how he can overcome his post-traumatic stress disorder. He decides that it will be a good idea for him to perform with Hakeem at Hakeem's upcoming Empire Extreme live stream event. Hakeem agrees to do it, but of course, things don't go smoothly. During practice, Jamal and Hakeem get into an argument and Cookie has to step in to make them do the event.
At first the live stream is going good. Jamal is performing and doesn't have an attack, but when Lucious shows up worried about the viewing numbers, things go downhill. Lucious tells Cookie that Hakeem's fans aren't tuning in. Cookie tells him not to worry about it, but he asks Hakeem about his beef with Gram (Romeo Miller). Lucious wants Hakeem to address the beef in his verse during the live stream but Hakeem doesn't want to, telling his dad that he's focused on other things, like making a move on Nessa. Lucious then tells Hakeem that he might be a little too late to try and make a move on Nessa because Andre has already slept with her.
Hakeem gets angry, and decides to freestyle his verse, taking jabs at Andre and Jamal. While Cookie is starting to panic, Lucious is loving the drama because it's bringing more people to tune in. After Hakeem is done rapping, Jamal approaches and angrily asks what that was all about. Hakeem thinks Jamal knew about Andre and Nessa, but he didn't. Nessa tries to calm Hakeem down and says they should just talk about it later but a huge argument breaks out between Hakeem, Jamal and Andre.
As the boys are fighting, the cameras are still rolling, live streaming everything. Cookie is frantically trying to get the stream to stop, but Lucious wants it to go up because it's bringing in viewers.
The Lyon family isn't the only ones going through a tough time in episode 5. Becky (Gabourey Sidibe) is still mad about not getting the A&R position at Empire. During a meeting with the new A&R and Cookie, Becky tries to suggest that Tiana (Serayah) record a song called "Star Light" as the first single for her upcoming album. The new A&R doesn't think it's a good idea and Cookie agrees. However, Becky goes behind their backs and lies to Tiana telling her that she was given the green light to record the song. Becky has the new A&R guy come in during Tiana's recording session and tells him that if Cookie hears the finished version she may be onboard with it being Tiana's lead single. The A&R guy agrees that it's a good song, but later stabs Becky in the back by telling Cookie about the secret recording session.
Cookie holds a meeting about it, and tells Tiana that her album is going to be pushed back because that's not the song she wants as the lead. Tiana is mad and fires Becky from her team for lying.
Also during the episode, Lucious and Andre arrange a meeting with Shine at Lucious' house. The meeting isn't going well and Shine gets ready to leave, but Anika comes in to save the day. She tells Shine how much Lucious appreciates him and tells him the "idea" Lucious had: to give Shine an imprint on Empire Records. Shine wants to be able to work with Nessa but Lucious tells him that he can't because Nessa is now on the Empire roster. Instead, Shine wants to work with Freda Gratz (Bre-Z), the girl who shot Jamal. Lucious agrees.
The episode ends with Tariq (Morocco Omari) trying to get Shine to turn on Lucious. He's asking about a body Lucious helped bury, but instead Shine mentions that Freda's father was in the prison with Lucious when he died. Tariq asks Shine if he's trying to say that Lucious had a part in Frank Gathers' (Chris Rock) death.
"Empire" airs on Wednesdays at 9 p.m. EDT on Fox.
FOR FREE to continue reading
✔️ Unlock the full content of International Business Times UK for free
offer available for a limited time only
✔️ Easily manage your Newsletters subscriptions and save your favourite articles
✔️ No payment method required
Already have an account?
Log in
© Copyright IBTimes 2023. All rights reserved.