'Enlisted' Creator Kevin Biegel Discusses The Chance Of Saving The Show And Keeping Hope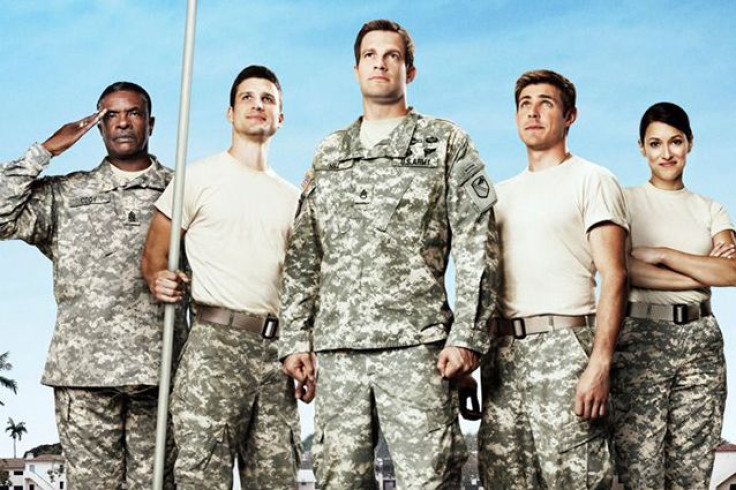 "Enlisted" premiered on Fox in early January, bringing the laughs and plucking our heartstrings. The comedy aired its pilot episode at the 2013 ATX Television Festival, and this year the creator and some cast members returned. However they're at the festival under different circumstances: In May the network decided to cancel the freshman series.
Fortunately Fox is making the bad news a little easier on fans by allowing the final four episodes to air (the finale airs on June 22 at 7 p.m.), but creator and executive producer Kevin Biegel isn't giving up. The EP previously worked on two series – "Scrubs" and "Cougar Town" – who successfully transferred networks, and he's hopeful about "Enlisted" making a similar jump.
International Business Times sat down with Kevin Biegel at the ATX Television Festival in Austin to talk the harsh TV season that sent comedy heads rolling.
"Nothing is popping anymore. Every comedy on every network is basically covering around the same number," Biegel explained of the long list of comedies that were canceled this season. "I think networks are kind of in the mindset that every year someone's going to get a show that turns into the 'Big Bang Theory' and has giant numbers and goes into syndication. I'm not sure that's a reality anymore."
Biegel understands that the networks want a clean slate to find that success, but he doesn't believe that these new shows are given enough time to find their footing.
"Personally I think shows take a little while to catch on," he said of some networks' immediate decision to cut episodes. "It used to be that shows would get a full season and one time slot to find an audience. Now its four episodes and maybe shifting time slots to find an audience. I just don't think that's ever going to result in shows that kind of 'pop.'"
"Enlisted" was one of those shows that's been bumped around a bit. During the 2013 ATX Television Festival, the series was being promoted for the fall, but Fox ended up shifting the date to January 10.
"It's hard to talk about because I never want it to seem like I'm complaining," the creator dished of the musical premiere date game they played. "I'm just grateful for the show. I think it's tough for an audience to find a show if it doesn't have a dedicated slot. Time slots are so important and I think being on Friday night is not easy. There hasn't really been a brand-new comedy launched Friday night outside of TGIF in a very long time. There have been comedies that started other places and moved to Friday night. But Friday night, I'm not sure our desired audience is sitting home watching."
And while audiences may not have been watching the show on Friday evenings, "Enlisted" ended up getting a boost in viewership thanks to DVRs.
"Thirty percent of the time we were the No. 1 show in all of TV as far as our gain," Biegel said of the DVR numbers.
Some may argue that DVR numbers aren't that important, but when it comes to every show getting the same numbers, the EP joked "at least there are eyeballs on this."
Despite the DVR turnout, "Enlisted" ended up getting cut. But Biegel wasn't ready to throw in the towel. In a last ditch attempt to save his show, the creator emailed a passionate letter to his friends – that ended up going viral.
"I sent the letter to every single email address who had ever come through my Gmail. Everyone from actors I never met to my wedding photographer," Biegel laughed.
His goal was to find someone that knew a Nielson family in hopes that it would help in reviving the show.
"The ratings all depend upon Nielson. I think 30,000 families … if they exist," Biegel joked of his plan. "I want to do whatever I can and I want people to know how much I care about this thing. We're not giving up."
On top of his passion for the show, Kevin Biegel's encouraged about a happy ending for "Enlisted" based on his history in the industry. Two of his other shows found new life on another network when everyone else told him they were dead.
"It's like, why not go for it?" he explained of pushing the series. And he truly believes anything could happen. Discussing the Netflix revival of "Arrested Development" seven years after the show ended, the EP thinks that anything is possible.
"I mean, that's a crazy thing to ask for this show," Kevin Biegel acknowledged. "We did 13 [episodes] and then in 10 years someone says 'The fans want more.' I'm not sure that's going to happen."
So, what lies ahead for the show? The future of "Enlisted" is still unclear, but Biegel explained that something needs to happen sooner rather than later; and that if the show is picked up by another network it would happen in the next couple of months.
"I'm positive but I'm also realistic," Biegel explained. "It would be great if something did happen and I'm just hoping for the best. If all hope had been extinguished, Mike [Royce] and I and everyone else would not be fighting as hard as we're fighting."
You can watch the final three episodes of "Enlisted" on Fox at 7 p.m. EDT on June 8, June 15 and June 22. Do you want to see "Enlisted" find new life on another network? Take our poll!
FOR FREE to continue reading
✔️ Unlock the full content of International Business Times UK for free
offer available for a limited time only
✔️ Easily manage your Newsletters subscriptions and save your favourite articles
✔️ No payment method required
Already have an account?
Log in
© Copyright IBTimes 2023. All rights reserved.