Euro zone damps talk of rapid debt crisis steps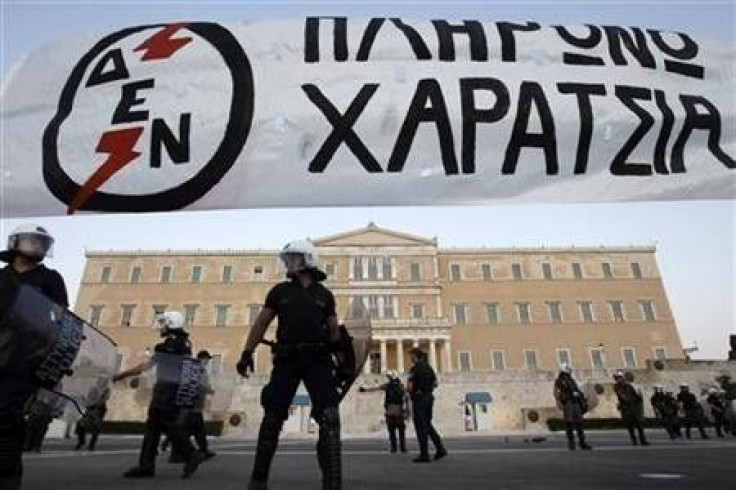 Euro zone officials are working on ways to magnify the financial firepower of the euro zone's rescue fund to fight a sovereign debt crisis more effectively, a senior European Central Bank policymaker said on Monday.
ECB executive board member Lorenzo Bini Smaghi said in New York that European policymakers had already begun discussing the next steps to quell a crisis that threatens to derail a fragile world economic recovery.
The 440 billion euro rescue fund's assets could be used as collateral to borrow from the ECB, making more money available to stop the crisis spreading, but it was up to European Union governments to decide how to do this, Bini Smaghi said.
I know that people are thinking about these things. They may not be willing to admit it in the public, but they are thinking about these things, he said, citing U.S. programs used to rescue banks in the 2008-9 financial crisis.
Initially the TARP was used to buy assets and then it was used to recapitalize the banks and it was used to pay TALF, so I think we are now discussing how to do this, how to leverage the money out of the EFSF in a more innovative and efficient way, he told a conference organized by Medley Advisors.
A senior European official told Reuters on Saturday that the aim was to leverage the fund fivefold to shield bigger economies such as Italy and Spain from contagion, but there was no agreement yet on how to do that.
In Brussels, euro zone officials played down media reports of emerging plans to halve Greece's debts and recapitalize European banks to cope with the fallout, stressing that no such scheme is yet on the table.
Europe came under fierce pressure from the United States and other major economies at weekend talks in Washington to take swift, decisive action to stop Greece's debt woes engulfing bigger euro zone states and wreaking wider damage.
But officials said reports that planning was already in place for a 50 percent writedown in Greek debt and a vast increase in the euro zone rescue fund -- the EFSF -- were highly premature.
There is no change to the framework we are working on, said a euro zone official who is involved in decision-making on financial assistance to Greece, Ireland and Portugal.
All this talk of a specific haircut for Greece or an enlargement of the EFSF, it is all just speculation. We are not working along those lines, said the official.
German Chancellor Angela Merkel, struggling to convince her fractious center-right coalition to back a strengthening of the EFSF in a crucial vote on Thursday, warned that letting Greece default would destroy investor confidence in the euro zone.
Diplomats said any talk of a fallback plan for Greece that would raise the cost to German taxpayers could only make her task more difficult in parliament this week.
DEFAULT WITHIN MONTHS?
Private economists and Brussels think-tanks expect a Greek debt default within months or sooner, coupled with a capital injection for European banks and a leveraging up of the EFSF.
Euro zone officials acknowledge that such policy ideas are circulating and some could constitute a longer-term response to the 20-month-old debt crisis. But they insist no specific plans are yet in the works.
Instead, planning continues on the basis that Greece's debt burden, which is close to 160 percent of GDP, can be sustained as long as the government fully implements austerity measures demanded by the European Commission, the European Central Bank and the IMF, the so-called troika.
U.S. Treasury Secretary Timothy Geithner highlighted global concerns about inadequate European crisis management, saying on Saturday: The threat of cascading default, bank runs and catastrophic risk must be taken off the table.
IMF Chief Christine Lagarde, the former French finance minister who until four months ago was tackling the crisis from the European side, also made clear the euro zone needs to act more decisively, notably to recapitalize banks on a large scale.
Quietly, euro zone policymakers accept that a combination of a much deeper Greek debt restructuring allied to coordinated bank recapitalisations and a bolstered rescue fund would make sense and might help the euro zone get on top of the crisis.
But such a plan would require support from all 17 euro zone countries, and it takes time in the EU's decision-making structures to bring so many moving parts together at once.
The ideas are all there, but it's not as straightforward as just sitting down and deciding it, said another euro zone financial official involved in handling the crisis.
Many of us can agree privately that anything less than a 50 percent haircut for Greece would just be cosmetic, but getting that decided by all and implementing it is not so easy.
PROPOSAL SOUP
Instead, the next step is expected to be a decision by the EU, ECB and IMF to sign off on the next tranche of support for Greece -- the sixth payment from the original 110 billion euro emergency package agreed in May last year.
The timing depends on when the troika completes a review of Athens' progress in implementing deeper budget cuts and tax-raising measures. Without that 8 billion euros, Greece will run out of money to pay October wages and pensions.
Financial markets and the private sector seem to be moving more rapidly than policymakers to prepare themselves for the likelihood of a Greek default.
Safe-haven German government bonds fell and shares rallied on Monday partly due to a belief that European policymakers were working on more decisive action to tackle the debt crisis. Such hopes could be quickly dashed.
J.P. Morgan Securities said it expected euro zone governments to ease the funding crisis among European banks via a capital injection of up to 150 billion euros, an initiative that would be similar to the U.S. TARP program.
Euro-TARP is in our view the best risk-reward medicine for opening the Eurobank funding market, J.P. Morgan analyst Kian Abouhossein wrote in a note to clients.
In a separate report, UBS analysts said they expected some form of intervention from the ECB and a euro zone guarantee scheme for bank term-debt, or a Euro-TARP initiative, to provide sticking plasters for the system.
Euro zone officials acknowledge that the EFSF is not big enough to handle a bailout of Italy or Spain, the region's third and fourth largest economies. But there is no clarity on how the fund could be raised without more guarantees.
One idea is for the fund to act as an insurer, guaranteeing the first portion of losses on Italian or Spanish debt. That could leverage its capacity four or five times, but the legality of such a scheme remains to be established and nothing has been put to euro zone finance ministers.
Another proposal would be to turn the EFSF into a bank, which would allow it to access ECB funds, meaning that it would effectively have unlimited capacity. But the ECB has raised concerns about such a step, which would politicize the bank's operations and put it on the line for massive liabilities.
© Copyright Thomson Reuters 2023. All rights reserved.