Euro Zone Mulls Greek Exit, Papandreou on Brink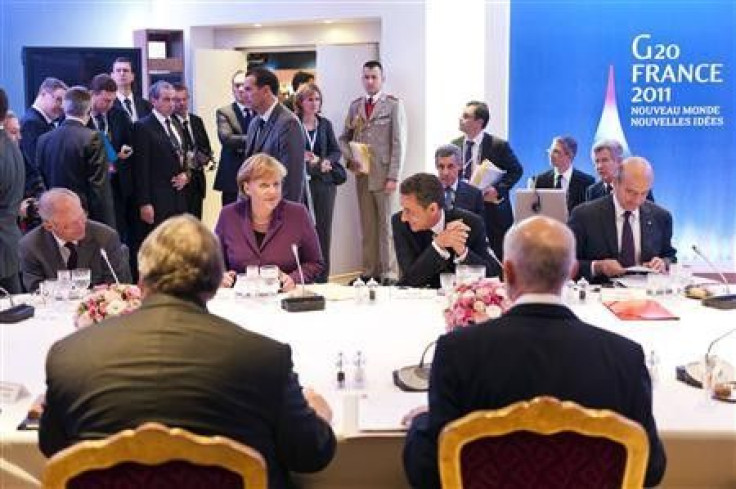 ATHENS/CANNES, France (Reuters) - Greece's government was on the brink of collapse on Thursday, casting doubt on plans to hold a referendum on staying in the euro zone, as European leaders contemplated a Greek exit to preserve their single currency.
Prime Minister George Papandreou chaired an emergency cabinet meeting in Athens, with his finance minister in revolt against a plebiscite, after the leaders of France and Germany gave Greeks an ultimatum to make up their minds.
French President Nicolas Sarkozy and German Chancellor Angela Merkel told Papandreou at a torrid meeting in Cannes that Athens would not receive a cent more in aid until it votes to meet its commitments to the euro zone. Greece was due a vital 8 billion euros installment this month.
The political chaos in Greece and uncertainty over the euro zone sent stocks and commodity prices lower in Asia, and fueled a rush into safe-haven German bonds. But financial markets rallied in nervous trading as the likelihood grew that Greece would not hold a highly risky referendum.
On his return with Papandreou to Athens from Cannes, Finance Minister Evangelos Venizelos issued a defiant statement, saying Greece's euro membership was a historic achievement and cannot depend on a referendum.
A finance ministry source said Venizelos, who was kept in the dark by his Socialist rival about Monday's referendum call, opposed risking a public vote at this crucial moment.
Under these conditions, a referendum is exactly what the country does not need, the source told Reuters, speaking on condition of anonymity.
More dissident lawmakers in the ruling PASOK party spoke out against a referendum and called for a national unity government or early elections, casting doubt on whether Papandreou can win a confidence vote on Friday or pass a bill to hold a plebiscite.
Euro area leaders talked openly for the first time of a possible Greek exit from the 17-nation currency area, seeking to maximize pressure on Athens and to preserve the euro in case of a Greek no vote.
Merkel told a midnight news conference that while she would prefer to stabilize the euro with Greece as a member, the top priority was saving the euro, not rescuing the Greeks.
The chairman of euro zone finance ministers, Luxembourg Prime Minister Jean-Claude Juncker, said policymakers were working on possible scenarios for a Greek exit.
We are working on the subject of how to ensure there is not a disaster for the people in Germany, Luxembourg, the euro zone. We are absolutely prepared for the situation, Juncker told Germany's ZDF television.
France's Europe minister, Jean Leonetti, said bluntly the euro could survive without Greece.
Greece is something we can get over, something we can live without, he told RTL radio in an interview
SPECTRE OF DEFAULT
The specter of a hard Greek default and euro exit hung over a meeting of G20 leaders beginning in Cannes on Thursday, highlighting Europe's frailty just when Sarkozy wanted to showcase his leadership of the world's major economies.
U.S. President Barack Obama said after talks with Sarkozy that Europe had made some important steps toward a comprehensive solution to its sovereign debt crisis but needed to put more flesh on the bones and implement the plan.
Leaders of the BRICS group of emerging economies -- Brazil, Russia, India, China and South Africa -- said they discussed the euro zone crisis at a separate meeting. A Russian official said they agreed to work out a common position on the issue.
The summit on the French Riviera had been meant to focus on reforms of the global monetary system and steps to rein in speculative capital flows, but the shockwaves from Greece have upended the talks.
Merkel and Sarkozy convinced Papandreou to bring forward the referendum to early December and insisted it be focused on the broad issue of whether Greece wants to stay in the currency bloc rather than limiting it to a vote on a new 130 billion euro bailout package, which a strong majority of Greeks oppose.
A chastened Papandreou said before leaving Cannes that the referendum could take place on December 4 and would be focused on whether we want to remain in the euro zone.
But after Venizelos' statement and the start of a backbench PASOK revolt, it was unclear if the government would survive the week.
Merkel and Sarkozy also made clear that Athens would not receive an 8 billion euro aid tranche it desperately needs to avoid default until the referendum had passed.
Should it fail, the EU/IMF aid would end, plunging Greece into a disorderly default that would reverberate across the euro zone, potentially engulfing big economies like Italy and Spain.
Our Greek friends must decide whether they want to continue the journey with us, Sarkozy told reporters at a joint news conference with Merkel after the crisis talks.
DAMAGE CONTROL
Germany, France, Italy, Spain and the heads of the International Monetary Fund, European Central Bank and other top EU officials were to meet in Cannes on Thursday morning to explore ways of accelerating the implementation of an anti-crisis package agreed on October 27.
That plan, which includes debt relief for Greece, a recapitalization of European banks and a leveraging of the bloc's rescue fund, the European Financial Stability Facility (EFSF), was meant to stem the two-year old crisis before Papandreou's referendum call cast the bloc into turmoil again.
The referendum adds a further layer of complexity and uncertainty to an already complex crisis, said Domenico Lombardi, a former IMF executive board member who is now a senior fellow at the Brookings Institution in Washington.
Most importantly, it starts off a political mechanism that could eventually result in Greece leaving the euro.
As the mini euro zone summit is taking place, Merkel will be holding talks with U.S. President Barack Obama. Heading into an election year, Obama is worried the euro zone crisis could blow up and hit the struggling U.S. economy.
Ben Bernanke, the chairman of the U.S. Federal Reserve, announced on Wednesday that the central bank was slashing its projections for growth and raising forecasts for unemployment.
The meeting of leaders from the world's 20 major economies will formally begin with a working lunch that had been meant to focus on the world economy, but is now likely to be dominated by Europe's debt woes.
Sarkozy had hoped to use his presidency of the G20 as a springboard for his own re-election campaign in 2012, setting ambitious goals including a rethink of the global monetary system and measures to fight commodity price volatility.
But he has been forced to scale back expectations as crisis-fighting has taken priority over grand visions of world economic reform.
Sarkozy met Chinese President Hu Jintao on Wednesday as part of a European effort to convince the world's emerging powers to help boost the firepower of the bloc's bailout fund.
But he told the French president that it was up to Europe to solve its debt woes, according to a statement published by China's Ministry of Foreign Affairs.
China's deputy finance minister Zhu Guangyao said after the talks that Beijing needed more details from Europe before considering any bigger investment in the EFSF.
Doubts about Europe's ability to contain the debt crisis has put Italy firmly in the firing line.
The risk premium on Italian bonds over safe-haven German Bunds has hit euro-lifetime highs this week, despite European Central Bank buying of its bonds.
Italian Prime Minister Silvio Berlusconi has scrambled to come up with measures to placate markets, holding an emergency cabinet meeting to accelerate budget reforms amid mounting calls for his resignation.
© Copyright Thomson Reuters 2023. All rights reserved.