Europe's Markets Close Lower Thursday on Profit-Taking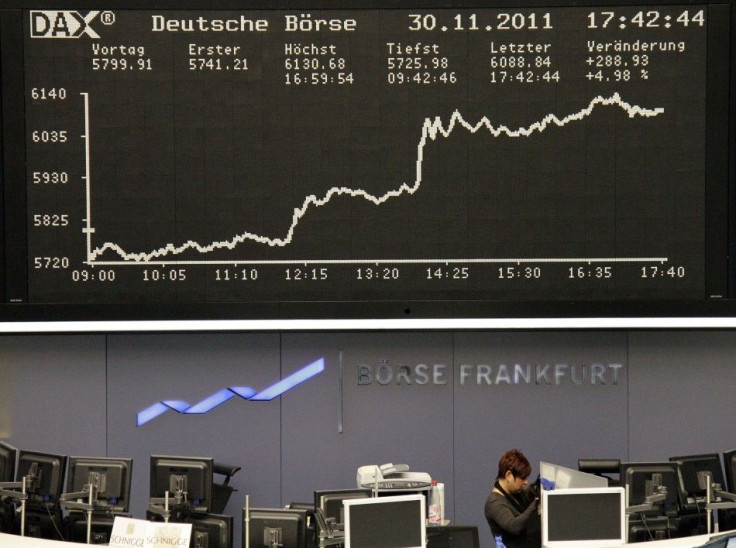 (REUTERS) -- European equities fell in choppy trade on Thursday as a key index failed to break an important resistance level and weak macro economic data prompted profit taking after sharp gains in the previous session.
Bank stocks, top gainers after the move by central banks to inject liquidity into the financial system, were among the biggest losers as they tested a key technical level.
The STOXX Europe 600 Banks index fell 1 percent failed to end above its 61.8 percent Fibonacci Retracement at 130.12 from its September low to October, after testing it for the second session in a row.
Trading volumes were low and an earlier move higher -- sparked by solid demand at both Spanish and French bond auctions, as well as hopes the ECB could take further action in easing the region's debt crisis -- soon faded.
Serving as a reminder to investors of the problems faced by the region, the cost of borrowing in Spain rose to its highest in 14 years despite good demand at the country's bond auction, while worries about global growth were triggered after Eurozone manufacturing data was weak and U.S. jobless claims rose.
We are still retaining a cautious outlook, the overhangs are substantial and the route to a more sustainable euro area is complicated, said Bill Dinning, head of investment strategy at Kames Capital in Edinburgh, which has $76.4 billion under management.
The outlook for Europe is not good and a lot of people are forecasting recession.
TAKING SHAPE
The pan-European FTSEurofirst 300 index of top shares closed down 0.6 percent at 976.02 points after jumping 3.6 percent on Wednesday following the move by the central bank.
The index, which rose above its 38.2 percent Fibonacci Retracement at 961.45 from its September low to October high in the previous session, was finding resistance at 987.07 -- its 23.6 percent Fibonacci Retracement level.
Gains in afternoon trade following higher than expected U.S. manufacturing data were short lived as the FTSEurofirst 300 index came close to the resistance level.
But a Reuters poll showed European stocks are expected to be higher at the end of 2012, as European leaders come up with a solution to the region's debt crisis and the European Central Bank steps up firepower to stop another credit crunch.
The poll of 40 analyst and fund managers showed the euro zone's blue chip Euro STOXX 50 index at 2,450 points by the end of December 2012 compared with its closing level on Wednesday of 2,330 points.
A number of solutions -- such as the sale of eurobonds, more fiscal integration and a bigger support from the European Central Bank -- will be taking shape over the next few months, said Arnaud Poutier, co-head of IG Markets France.
This will reassure investors and will fuel a rally in stocks, which are trading at historically low price-to-earnings levels, he said.
© Copyright Thomson Reuters 2023. All rights reserved.