Evanescence Comes Together for New, Self-Titled Album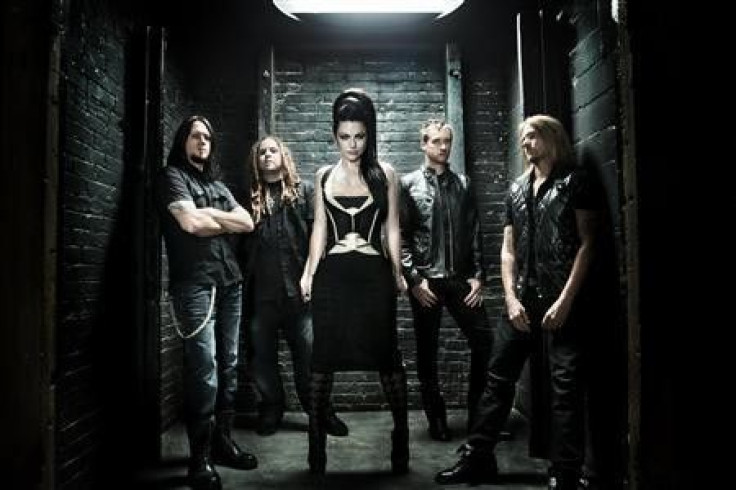 On their first album in five years, the self-titled Evanescence, Grammy-winning gothic rock band Evanescence finally sounds like the band it has always wanted to be -- tight, together and mature.
On October 11, Evanescence releases the 12-track collection produced by Nick Raskulinecz, known for his work with Alice in Chains and Foo Fighters. Frontwoman Amy Lee told Reuters the new record is more collaborative than the band's previous two.
We know how to work together and play off each other's strengths and that is different from our other albums, Lee told Reuters. It's cool because we do have some life experiences together and there isn't a new member. It feels like a family reunion.
Evanescence burst onto the rock scene with their 2003 smash hit Fallen, which featured the band's breakthrough single, Bring Me to Life, followed by the popular My Immortal and Going Under, about the end of a bad relationship. The multi-platinum album earned the band a Best New Artist Grammy nomination, and peaked at No. 3 on the Billboard 200.
Shortly thereafter, the five-member band underwent major changes when co-founder, guitarist and songwriter Ben Moody abruptly left amid creative differences. John LeCompt and Rocky Gray also later went their own ways.
Terry Balsamo replaced Moody and has been the band's lead guitarist and co-songwriter with Lee. Drummer Will Hunt and guitarists Troy McLawhorn and Tim McCord now round out the group, which has had the same lineup since 2007.
Since Evanescence's last album, 2006's multi-platinum, Open the Door, the members have all matured. The 29 year-old Lee, for one, has married, spent time decorating the New York home she shares with her husband and taken up playing the harp.
The album's name and cover art reinforce a new sense of cohesiveness. The cover, which features only a graphic of the band's name, is the first that is not a solo shot of Lee.
I've been in a totally different place. I've not been 'the girl in the band,' said Lee. I've been writing and living. It was awesome.
RETURN TO SPOTLIGHT
With lyrics like, remember who you really are and stand and face the unknown, the album's booming lead single, What You Want, is Lee's self-directed pep talk upon her return to the spotlight.
That song is me talking to myself about not being afraid and coming back to this thing and living the life I was born to live, she said. Sometimes, it takes a lot to do this. And I do love it very much, but there is always that fear of putting yourself under the microscope.
The single and its accompanying video, guest-starring 200 real Evanescence fans, has been warmly received.
MTV.com's James Montgomery called What You Want a song that's powerful enough to shake rock radio to its very foundation and the video has been watched almost 2.5 million times on YouTube.
It's great to know we still have so many great fans. They've been through a lot with us, said Lee.
The band has kept fans in mind even while trying out different sounds, such as the affecting Lost in Paradise, one of Lee's favorites. So many of our songs say, 'we're strong' 'we're a rock band' but 'Lost in Paradise' is extremely raw and real and broken -- I love that about it.
Loyalists will find familiar songs like Oceans and End of the Dream with light vocals from Lee.
And the singer is quick to reassure followers that even with all the growth and experimentation, we didn't betray what the fans want. It's still an Evanescence record.
The band kicks off a 15-city tour The Pretty Reckless and Rival Sons in Oakland on October 10 and makes stops in Dallas and Chicago before wrapping in New York on November 1.
© Copyright Thomson Reuters 2023. All rights reserved.