Evasi0n iOS 7 Jailbreak: Evad3rs Release Apple iPhone 5S, 5C, iPad Air and iPad Mini Jailbreaking Software As Holiday Gift
After months of waiting, iOS users can finally jailbreak their phones with the latest iOS 7 jailbreak, Evasion 7 (stylized as Evasi0n 7), from the Evad3rs jailbreak team, as a holiday gift this Sunday for all users of the latest iOS software on Apple (NASDAQ:AAPL) iPhones and iOS devices
According to the Evasi0n iOS 7 jailbreak website, the latest iPhone jailbreak software is compatible with all iPhones (iPhone 5S, 5C, 4S, etc.), iPod Touches, iPads and iPad Minis running iOS 7.0 through 7.0.4.
For those new to jailbreaking iOS, the term jailbreaking means removing the software limitations set by Apple by using hardware and software exploits to gain "root" access, or full access to the iOS device's file system. For iOS jailbreak users, the benefits include installing unsupported third-party applications and other modifications such as themes that would typically be not approved by Apple. While not entirely the same, jailbreaking is described somewhat similar to "rooting" of Google (NASDAQ:GOOG) Android devices.
While a jailbreak does enable access to the file system, it does not unlock your iPhone for use on other carriers. That process is handled primarily by respective carriers the iPhone was purchased through. Verizon (NYSE:VSW), AT&T (NYSE:T), Sprint (NYSE:S) and T-Mobile (NYSE:TMUS) all have different policies regarding when they allow devices to be unlocked if purchased under contract.
As for the actual jailbreak process, it is as simple as downloading the Evasi0n iOS7 jailbreak software and hitting a button.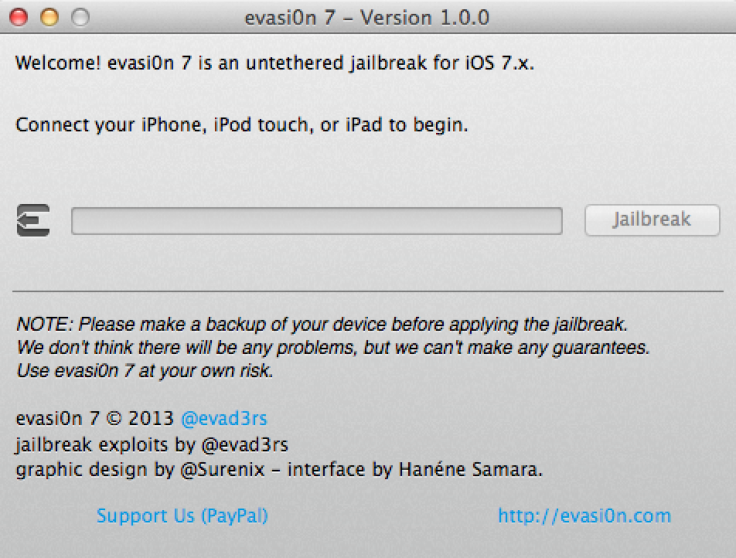 While the Evasi0n iOS7 jailbreak does enable users to do more with their phones, that doesn't come without a little risk of something going wrong during the installation process. With that in mind, the Evasion team recommends that users backup their iPhone, iPod and iPad device data through iTunes or iCloud before running the Evasi0n iOS7 jailbreak and disabling lock passcodes.
It also is not recommended to use your iPhone, iPad, iPod Touch or iTunes during the jailbreak process, which takes about five minutes.
Should the Evasi0n iOS7 jailbreak process get stuck somewhere, you can just restart the program or reboot your iPhone, iPad or iPod Touch (by pressing the home and power button at the same time), according to the Evasi0n jailbreak notes by the Evad3rs team.
For iOS users that have updated their iOS device using the over-the-air update process, the Evad3rs team recommends that you perform a full restore before running the Evasi0n jailbreak.
This iOS7 Evasi0n jailbreak is an untethered jailbreak, which means it is unnecessary to attach your iOS device to your computer to re-jailbreak it after a restart.
The news of the iPhone and iOS jailbreak arrives on the heels of news from last week that Apple patched an exploit that could have been used for a jailbreak for iOS 7.1, a currently in-development update for iOS devices.
The Evasi0n jailbreak software works on both Mac OS X and Microsoft (NASDAQ:MSFT) Windows and can be downloaded from the official Evasi0n jailbreak website.
© Copyright IBTimes 2023. All rights reserved.