Everyone Wants a Piece of the 'Throne'; Jay-Z, Kanye West Revel in Royalty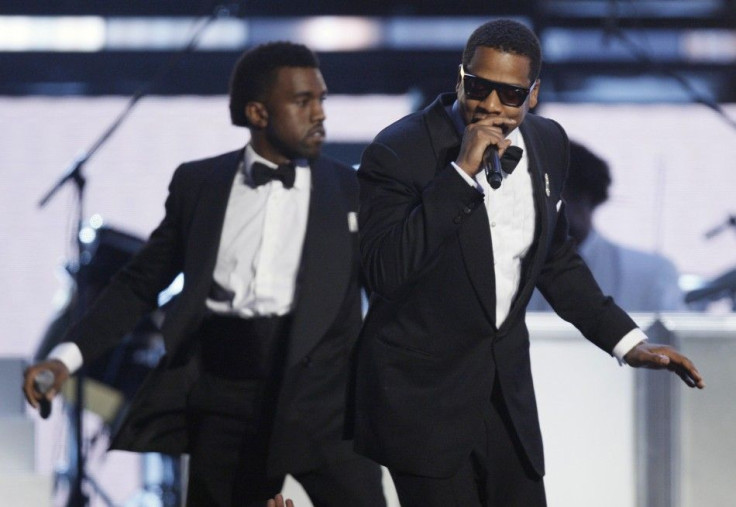 The highly anticipated Jay-Z-Kanye West collaboration "Watch the Throne" was released at midnight Monday on iTunes in standard and deluxe forms. The album hits stores on Aug. 12, a move that was reportedly criticized by independent retailers.
While both display their characteristic swagger and dabble in materialism, they also ruminate on religion, poverty, crime, loss and the price of success.
Their chemistry — born of a decade-long association — allows each to carve out his own stylistic space, with Jay-Z delivering his incisive lyrical darts, while the more emotional West thrives on adrenaline-fueled punchlines.
"Watch the Throne," which has been anticipated for nearly a year, has a broad sonic palette thanks to the contributions of RZA, Swizz Beatz, Mike Dean, Jeff Bhasker, Q-Tip and others.
The pair - who joined forces to create the album, partied to their own tracks mixed by DJs Jus Ske and Mick Boogie last week at The Darby restaurant in New York City alongside music artists Fabolous, Nas, Adrienne Bailon, Lindsay Ellingson and Jessica White.
Recently, there have been reports of tension between the two, which Jay-Z attempted to downplay on NYC radio station Hot 97 last week.
"Kanye's my brother," he told Hot 97 DJ Angie Martinez, before admitting, "Yes, we get on each other's nerves. That's part of pushing each other. ... People don't like to be pushed. It's annoying. ... So of course there are times when we're in the studio, we're yelling, but that's about it."
MTV News reported the album that has had the rap world buzzing for the first half of 2011 was recorded in Paris, Australia and the Mercer Hotel in New York City, with 12-track album plus four bonus songs on the deluxe version.
The duo's "Watch the Throne" 17-date tour kicks off Oct. 29 in Atlanta.
Watch Video: Jay-Z Squashes Beef With Kanye West Last Week

© Copyright IBTimes 2023. All rights reserved.