Ex-Porn Star Mia Khalifa Now A TikTok Star: 'I Can Actually Read Comments'
KEY POINTS
Mia Khalifa has joined TikTok and is loving it
The former porn star admitted that she was affected by the hate comments she received on Instagram
Khalifa says she feels "safe" now
Mia Khalifa has joined TikTok and has found it more welcoming than Instagram.
The former porn star has been making waves on social media recently after speaking out on her experience in the adult entertainment industry, throwing subtle shade at Madison Beer and even becoming the subject of a death hoax. Now, Khalifa has found a new world online, and she is loving it.
Khalifa recently revealed that she used to treat social media as a job after receiving a lot of negative and harsh comments on Instagram. She only followed her friends and what she finds interesting and muted everyone else. But that was before she discovered TikTok.
"I've never really enjoyed social media," she told Mashable.
"It was awful," she said, referring to the negative criticism she got on Instagram. "It really affected me, even if I put a brave face forward to the public."
The negative comments apparently affected even Khalifa's relationship with her husband, Robert Sandberg, who also read them. However, the ex-porn star revealed that she found TikTok different from the photo-sharing platform, explaining that joining the former was a much more positive experience.
"As soon as I joined TikTok I found this whole new world where I can actually read the comments, and not feel like I should have them turned off and actually want to engage with the people commenting… they feel like my friends," she gushed.
Meanwhile, Khalifa recently got candid about her personal struggles when Philip DeFranco, the host of his eponymous show on YouTube, explained why she was trending this week. He touched on her death hoax and her comments discouraging other women from entering the porn industry.
Khalifa shared DeFranco's video on Instagram and posted along with it a lengthy note regarding what she went through in the past years after leaving the porn industry in 2015.
"I've had my comments turned off to the public for the last year because they were flooded with hate," the actress shared on Instagram. "It was to the point where I never saw anything that wasn't a direct shaming of my past, and it was affecting my mental health, as well as my marriage, from all the constant reminders."
At present, Khalifa is in a much better place after speaking up about her experiences as a porn performer. Just recently, she said she "felt safe now" and even opened up about a harrowing experience with porn company Bang Bros on Twitter.
Khalifa was part of the adult film industry for three months between 2014 to 2015 and only shot 11 videos, but at one point, she was one of the most popular actresses on Pornhub. After leaving and changing careers, she co-hosted the daily sports talk show "Out of Bounds" in October 2017 but quit later.
"I didn't want to be in LA. It was my dream job but I walked away when I realized I wouldn't watch my own show," she said on Lance Armstrong's "Forward Podcast." "I love Complex but they were understanding when I said I wanted to leave."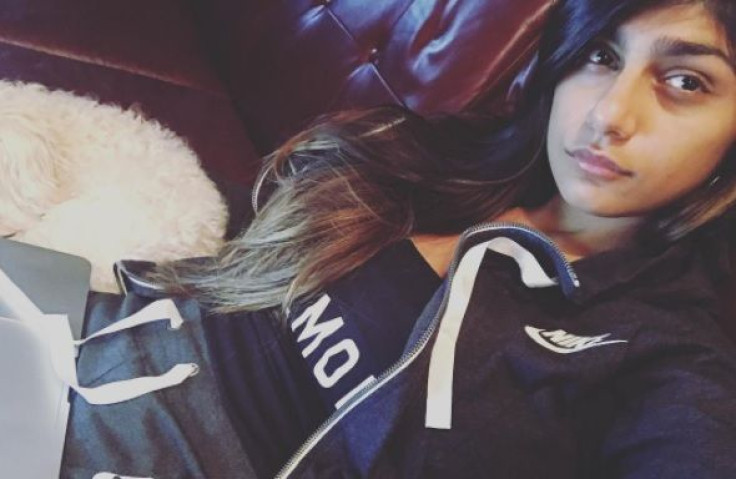 © Copyright IBTimes 2023. All rights reserved.