Extreme Weather: Multiple Heat Advisories In Texas, Louisiana; Index Values Could Reach 120 Degrees
KEY POINTS
Forecasters warn of 'life-threatening heat' Tuesday and possibly throughout the week
Two Texas cities broke heat records Monday
More than 120,000 people are also without power in the two states
A large swath of Texas and parts of Louisiana are under multiple heat advisories as the states grappled with extreme weather Tuesday. Severe thunderstorms, strong wind gusts, humidity and high temperatures are also expected in coming days.
"We are looking at life-threatening heat," said Domenica Davis, a meteorologist with The Weather Channel, adding that parts of Texas and Louisiana could see heat indices reaching up to 120 degrees "over the next couple of days."
While temperatures are likely to cool off a little bit by the end of the week, weather forecasters are expecting them "to stay above average for the next week or so."
The National Weather Service (NWS) in Fort Worth has issued an excessive heat warning for "all of North and Central Texas" effective through Tuesday evening "due to heat indices generally ranging from 110-120."
The agency urged residents to drink plenty of water, wear breathable and light-colored clothing, limit time outdoors and take frequent breaks in the shade when outside.
Some parts of Texas have either tied with or broken previous high temperature records in the past few days.
San Antonio broke the old record of 103 degrees when temperatures soared to 105 degrees Monday. Mercury rose to 109 degrees in Del Rio on Monday, topping the previous record of 106 degrees, recorded in 2011.
Extreme heat won't be the only problem for Texans and Louisiana residents Tuesday as weather officials expect thunderstorms to combine with the humidity.
The Weather Prediction Center (WPC) is expecting severe thunderstorms in parts of Texas, Louisiana and a few neighboring states through Tuesday. "The hazards associated with these thunderstorms are frequent lightning, severe thunderstorm wind gusts, hail, and a few tornadoes," the agency said Monday.
In Louisiana, widespread storm development is possible Tuesday, reported ABC affiliate WGNO. Aside from storms, high temperatures are still of concern in the state. Heat index values could hit anywhere between 107 degrees and 116 degrees Tuesday afternoon in Lake Charles.
While elevated thunderstorm chances may have a slight effect on the extreme heat, residents should still take the necessary measures to prevent heat stroke and dehydration, according to the NWS.
Some counties in both states also suffer from power outages following deadly storms last week.
In Texas, more than 60,000 people are without power as of Monday evening, according to data from outage tracker poweroutage.us. Gregg County accounts for the most number of customers without power (19,000), followed by Harrison County (14,000).
Likewise, Louisiana also has more than 60,000 customers waiting for power restoration. Caddo County (42,000) and Bossier County (16,000) have the most number of customers with no power.
Heat alerts in Texas
Excessive heat warning effective from noon to 7 p.m. Tuesday:
Webb, Bee, coastal and inland Kleberg, coastal and inland Nueces, Goliad, Duval, Jim Wells, Live Oak, Victoria, McMullen and La Salle – dangerously hot conditions with heat index values up to 116 expected
Excessive heat warnings effective through 8 p.m. Tuesday:
Austin, Bolivar Peninsula, Burleson, Brazos, coastal and inland Galveston, coastal and inland Harris, Fort Bend, Colorado, Galveston Island, Houston, Grimes, Polk, Montgomery, Madison, northern and southern Liberty, Wharton, Waller, Trinity, Washington, Walker, San Jacinto and Polk – index values up to 115 expected
Cooke, Rains, Grayson, Montague, Hunt and Fannin
Delta, Hopkins and Lamar
Heat advisories effective from noon to 7 p.m. Tuesday:
Nueces Islands, Kleberg Islands, coastal Aransas, coastal Refugio, coastal Calhoun and coastal San Patricio – heat index values up to 113 possible
Zapata, Brooks, coastal Cameron, Jim Hogg, northern and southern Hidalgo, Starr, inland Willacy, inland and coastal Willacy, inland and coastal Kenedy – heat index values up to 115 possible
Heat advisories effective from 11 a.m. through 8 p.m. Tuesday:
Red River County – heat index values up to 109 expected
Camp, Franklin, Morris, Cass, Upshur, Marion, Titus and Harrison
Angelina, Cherokee, San Augustine, Wood, Nacogdoches, Gregg, Rusk, Panola, Shelby, Smith, Panola and Sabine
Matagorda Islands, coastal Jackson, coastal Matagorda and Brazoria Islands – heat index values up to 110 possible
Heat advisory effective from 1 p.m. to 9 p.m. Tuesday:
Wilbarger, Archer, Clay Wichita and Baylor – heat index values of 107 to 111 expected
Heat alerts in Louisiana
Heat advisories effective from 11 a.m. through 7 p.m. Tuesday:
Portions of southeast Louisiana, including Assumption, Iberville, St. James and St. Charles
Portions of central, south central, west central and southwest Louisiana, including Rapides, Lafayette, St. Landry, Vernon, Evangeline, Allen and Avoyelles
Heat advisories effective from 11 a.m. through 8 p.m. Tuesday:
Red River, De Soto, Caddo and Bossier
Grant, La Salle, Winn, Natchitoches and Sabine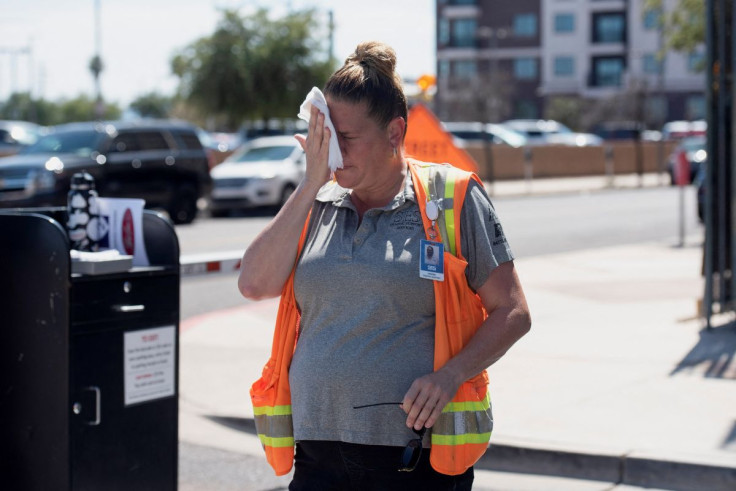 © Copyright IBTimes 2023. All rights reserved.