Facebook Messenger Down, Not Working? Unavailable App Messages Appear Deleted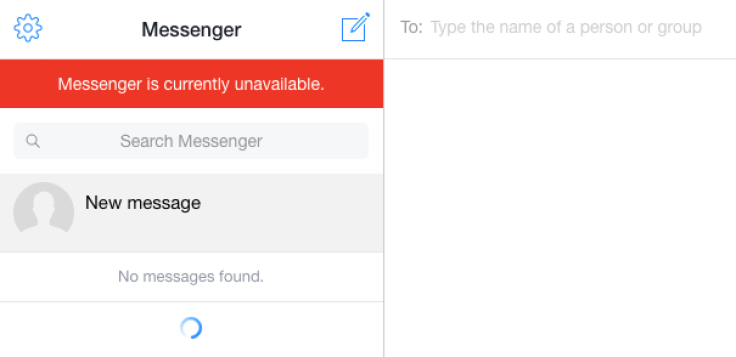 Facebook's Messenger app has been experiencing outages across the world Tuesday morning as complaints flooded onto the social media giant's rival,Twitter, demanding answers. In past events, Messenger has faltered and failed to show messages but chat histories and message archives were quickly restored.
Update: As of 8:08 a.m. EDT, Facebook and the Messenger app resurfaced and chat conversations reappeared on both the desktop and mobile versions. This follows more than an hour of troubles on both of Facebook's apps.
Facebook had previously posted a status update, "Messenger Platform is experiencing failures" in its developers platform, as business manager pages also experienced trouble.
"We are seeing an increased error rate in our Messaging API. Sending and receiving messages might not work," the post read. "Our team is working to resolve this."
Engineer Matt Barber updated: "We can confirm there is currently an issue regarding messenger that is under investigation by our engineering team as a top priority."
Facebook itself was having troubles around 6:45 a.m. EDT but the problems appear to be isolated now to the Messenger app itself. In addition to the standard "Sorry something went wrong" warnings upon opening messenger.com on a desktop, the Android and iOS versions were also experiencing outages as of 7:45 a.m. EDT. Down Detector continues to see complaints that messages have been "erased" or are not showing up at all on either Desktop or Mobile versions of the app.
"is fb down? I can't send any message to any frnds..... My all chat history has gone........ Well fb website,lite,messenger, and FB app facing same prblm Retweet if facing same" tweeted one user Tuesday morning.
Facebook has not issued an official statement as of 8:00 a.m. EDT. But that hasn't stopped the barrage of angry tweets and Down Detector posts looking to resolve the issue worldwide.
Some took to Twitter simply to mock the other social media rival's problems.
"I would be thrilled if messenger worked at all at the moment. Down worldwide, that's pretty impressive!" one angry tweeter responded.
© Copyright IBTimes 2022. All rights reserved.
FOLLOW MORE IBT NEWS ON THE BELOW CHANNELS