'Facecrook' Site Launched To Catch Bergen County Fugitives [PHOTO]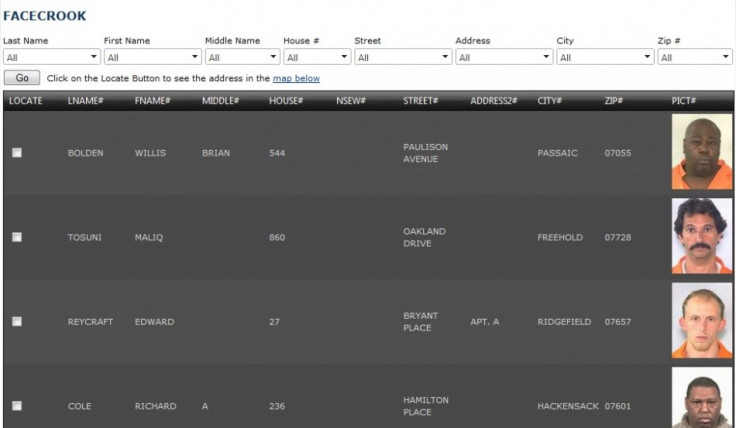 Don't expect fugitives in Bergen County, N.J., to like the county sheriff office's Facecrook site set up to apprehend them.
The Facecrook site is the brainchild of Bergen County Sheriff Office Inspector Mickey Bradley, who told the Bergen Record that he believes Facecrook is the first site of its kind in the country. Bradley bought the domain, facecrook.us, for $17 about a year ago.
We believe it's going to lower our warrant count, Bradley told the paper.
The Facecrook site, which can be accessed here, is a database of 942 fugitives in Bergen County, complete with mugshots, names and the fugitives' last known street address.
The purpose of the Warrant Web Page ['Facecrook'] is to promote public safety and welfare while providing community access to selected offender information, consistent with the spirit and intent of the New Jersey Open Public Records Act (OPRA), a disclaimer on the Facecrook site reads.
Users of the Facecrook site can click on a fugitive's name and the crook's address appears below on a Google map.
Users can then click a red balloon on the map, which encourages the public not to try and apprehend the fugitive.
Instead, the Begen County Sheriff's Office encourages those with information on the fugitive to call them at 201-646-2222. Users can also text their tips at http://www.bcsd.us/Pages/AnonymousTip.aspx.
Before accessing the site, users must agree not to harass or intimidate the fugitives or misuse information on the site.
It's unclear whether the site lists all known Bergen County fugitives; the disclaimer on Facecrook says certain offenders ... may be excluded from the web site at the discretion of the sheriff's office and other law enforcement agencies.
Facecrook was unveiled by the sheriff's office on Tuesday.
As of the launch, the site lacks the ability to view the charges that the fugitives are wanted for, although that may change.
We could to that, Bradley told the Record. This is the first version of this.
© Copyright IBTimes 2023. All rights reserved.
FOLLOW MORE IBT NEWS ON THE BELOW CHANNELS