Fans Can Play 'Call Of Duty: Black Ops 4' Early Through Comcast Sweepstakes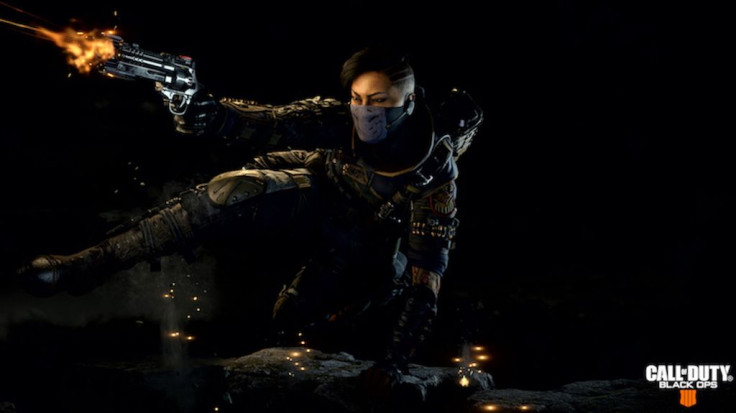 Gamers will have a chance to play "Call of Duty: Black Ops 4" starting next month as part of a promotion from Comcast. Starting today, fans in the U.S. will be able to register for an opportunity to be invited to play the game in Comcast's Xfinity Stores.
The promotion will take place in eight U.S. cities: Washington, Boston, Philadelphia, Houston, Seattle, Chicago, Indianapolis and Atlanta. To register, users will have to go the Xfinity website, select which city they are from and provide personal information, like their email addresses. Winners will be chosen at random to participate in the private event. Winners will also be able to bring a friend to play "Call of Duty: Black Ops 4" multiplayer. Around 40 lucky fans will be invited to Xfinity Stores to play "Black Ops 4."
"We look at the sweepstakes as an opportunity for fans who didn't make it to E3 to also get a preview of the game," Comcast's Mark Cruz told Polygon. "For us, we thought it was important to get as many people as possible to play the multiplayer beta, so we spread it across the country as best as we could based on Activision's ability to provide the experience as well."
The first private event will happen in Washington on July 16, while the last one will be held in Atlanta on Sept. 15. "Black Ops 4" beta is also slated to be available to the general public sometime in August. Activision hasn't revealed an exact date for the beta yet.
"Call of Duty: Black Ops 4" is scheduled to be released for the PlayStation 4, Xbox One and the PC on Oct. 12. Activision has also announced that the only way to get any of the DLCs for "Black Ops 4" is by purchasing the game's Black Ops Pass bundle. This means that players won't be able to buy any of the DLC packs individually. Pricing for the Black Ops Pass hasn't been revealed.
"We're redefining the digital content season for 'Call of Duty: Black Ops 4' by delivering more content with more frequency. In addition to the release of Multiplayer maps, Zombies experiences, and Blackout content, 'Call of Duty: Black Ops 4' players can also expect in-game content and themed events, creating a robust content season," Activision said on its FAQ page. "The contents included in Black Ops Pass may only be purchased as a bundle."
© Copyright IBTimes 2023. All rights reserved.