'Fantastic Beasts And Where To Find Them' Trailer: 7 Things You May Have Missed In The New Promo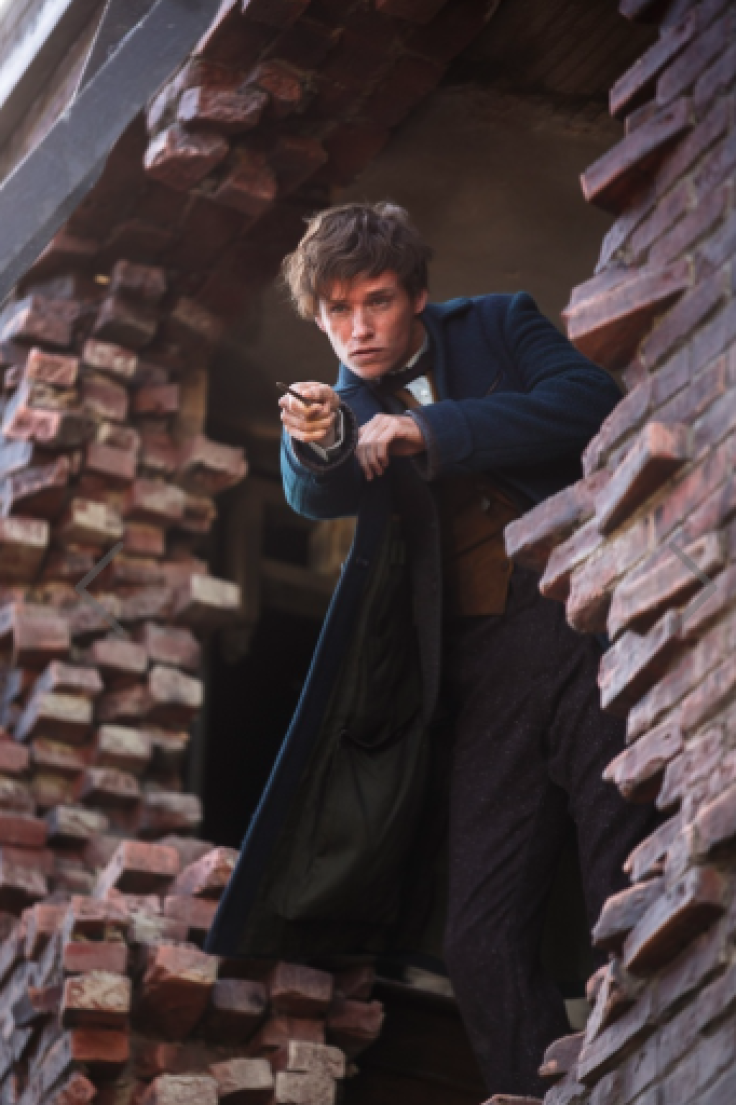 A third trailer for the film adaptation of J.K. Rowling's "Fantastic Beasts and Where to Find Them" novel surfaced online Wednesday. The promo teases new aspects of the film not previously explored, this making it a must-see for fans of the Wizarding World.
In a matter of nearly three minutes, viewers are introduced to the world of American wizardry, the conflict between the No-Maj (non-magic, for novices) population and fantastic beasts and much, much more. The trailer, released by Ellen DeGeneres, centers around Newt Scamander's (Eddie Redmayne) time in New York City. As you may recall from previous promos, the English wizard traveled there to track down a number of magical creatures that had been set free, igniting a war. The video also stars a number of new characters.
Here are seven moments you may have missed in the newly released "Fantastic Beasts and Where to Find Them" trailer:
Newt Scamander will encounter legal troubles in New York:
Less than 30 seconds into the video Newt's magical suitcase is shown sitting on the floor before what appears to be a magical court, where a judge of sorts is recounting the charges against him. Those charges include, but may not be limited to, having "set magical beasts loose in New York." Newt then appears before the highly decorated woman.
His welcome to the big apple will not be warm:
Newt pops up in several establishments across the city, where he is met by a number of gruff city dwellers. The unregistered wizard isn't the only unwelcomed guest. At one point he is told that the American Wizarding Community doesn't "like things loose" — especially not beasts.
A no-maj — or muggle as "Harry Potter" fans know them — will befriend the magizoologist:
One of the many people Newt encounters in the trailer is a no-maj who finds one of the wizards magical creatures about to hatch from its egg. Newt captures the egg from the non-wizard, but fails to wipe his memory. Later in the clip, the no-maj is seen being sucked into Newt's magical luggage. Rather than run from him, Newt decides to try and show him the positives of his fantastic beasts, perhaps in an attempt to make peace between the two worlds.
Colin Farrell's character will create issues for Newt:
Percival Graves (Colin Farrell) appears to be leading the charge against the free beasts in New York, calling for people to take sides. He later states that he's not going "to bow down any longer."
Credence (Ezra Miller) will play a major role in "Fantastic Beasts":
Although his appearance in the trailer is subtle, it seems there's more than meets the eye for viewers to unpack with Credence. He is the no-maj son of Mary Lou, played by Samantha Morton in the film. He is shown gabbing with Percival on a few occasions in the trailer, creating confusion about which side he'll wind up on.
"Fantastic Beasts" will be action-packed:
Despite our hopes to the contrary, it seems Percy Graves' suggestive declarations will resonate with at least some of the New York City population in the film. War will ensue, though it remains unclear at this time which side will come out on top. Fans should expect explosions, gun fights and — of course — a wand battle or two.
There will be fantastic beasts of all shapes, sizes and colors in the film:
J.K. Rowling introduced fans to some of the beasts in the movie in April, though it was not clear just how diverse these mythical species' really were until now. The trailer features animals that no-majs may find familiar, creatures with wings, some that scurry and others that tower above the tallest buildings in the city.
"Fantastic Beasts and Where to Find Them" will be released in theaters on Nov. 18, 2016.
© Copyright IBTimes 2023. All rights reserved.