Fastest Car In The World: Lamborghini Huracan Performante Steals Nurburgring Record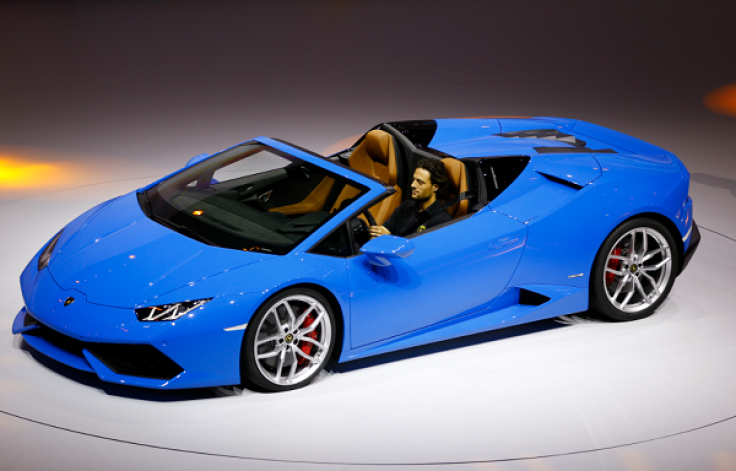 Lamborghini's Huracan Performante coupe may be the fastest production car in the world after breaking the Nurburgring record, according to media reports Wednesday. The latest Lamborghini model broke the record well before it was expected to debut at the Geneva motor show later this month.
Although many details about the latest Lamborghini model have yet to be revealed, during a test run back in October 2016 the vehicle snagged the title of fastest production car after running the Nurburgring race track in just six minutes and 52 seconds, beating out former titleholder Porsche 918 Spyder by about five seconds. In 2016, Porsche was named the fastest production car after running the Nurburgring in just six minutes and 57 seconds.
Lamborghini officials credited the car's "superior track performance" to engine upgrades, including an all-wheel-drive system, aero package and Pirelli Trofeo R tires, AutoWeek reported.
Lamborghini's newest GT3-style car will be on the upcoming Geneva motor show, which runs from March 9 through March 19, along with several other European luxury automobiles, including vehicles created by Ferrari, McLaren and Pagani, according to reports.
Although Lamborghini has already claimed the Nurburgring, Ferrari will debut what's said to be the automaker's fastest Berlinetta yet. The 812 Superfast will be showcased at the Geneva motor show and is said to be able to hit 60 miles per hour in just 2.9 seconds and can reach a speed as high as 211 miles per hour.
Meanwhile, Italy's Pagani will unveil the new Huayra Roadster, which comes with a pretty price tag of $2.4 million thanks to its 6.0-liter, twin-turbo, V12 engine and seven-speed gearbox.
The McLaren Super Series' new 720 S is also expected to be a speedy car, with the ability to come to a complete stop in just four minutes after driving as fast as 124 miles per hour.
© Copyright IBTimes 2023. All rights reserved.