'Fate Of The Furious' Stars Vin Diesel, Dwayne Johnson Feud Over? Actors Talk Friendship, Beef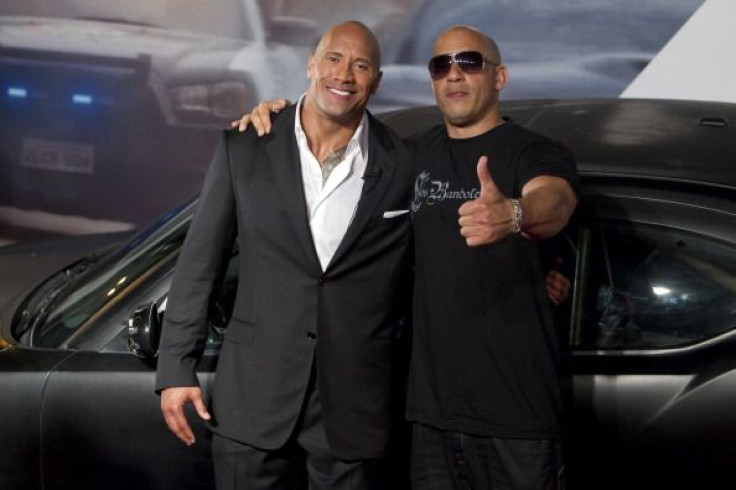 "Fate of the Furious" stars Vin Diesel and Dwayne "The Rock" Johnson have been rumored to be feuding all throughout the production of their new film. However, both actors recently put their rumored beef aside and address their friendship during the premiere of their movie over the weekend.
On Saturday, April 8, Entertainment Tonight's Kevin Frazier caught Diesel and Johnson on the red carpet of the "Fate of the Furious" premiere and, in separate interviews, asked both stars about the rumored beef between them.
Johnson seemed to imply that while he and Diesel had their differences while filming, they have already settled them and made amends with each other. "Just like, in life, you have different philosophies and people have different fundamental philosophies on how you do things," Johnson told the publication. He added that the most important thing for him was the movie, and he was glad that "Fast and Furious" fans loved it.
READ: Charlize Theron finds her role in "Fate of the Furious" challenging and fun
Likewise, Diesel has no criticism for his co-star. According to the "xXx: Return of Xander Cage" star, they call The Rock "Uncle Dwayne" in his house, and they are still close despite the alleged beef between them.
"We still love each other, that's my boy," Diesel said of Johnson. "When I was making that difficult decision, should there be an 8 or not, I called [Johnson] and he said, 'Brother, I will be there shoulder to shoulder with you to make sure it's the best movie in history.' And he delivered."
According to The Hollywood Reporter, rumors of Diesel and Johnson's feud started during their 100-day Atlanta shoot when the "Guardians of the Galaxy" star arrived late on the set. Johnson then vented his anger on his Facebook page, where the actor allegedly wrote, "My female co-stars are always amazing, and I love 'em. My male co-stars, however, are a different story." He reportedly also once again hinted at his clash with Diesel in a post shared on Instagram.
Johnson's post allegedly resulted to a heated exchange between him and Diesel. The studio was forced to do damage control so they can continue filming, but they reportedly had a hard time getting the two to back down. While Diesel is the most indispensable member of the "Fast and Furious" franchise and has been part of it since its first film in 2001, Johnson is apparently the bigger star and has solidified his status as one of Hollywood's biggest box-office draws.
Are you happy that Diesel and Johnson put their alleged feud behind them during the premiere of "Fate of the Furious"? Drop a comment below.
© Copyright IBTimes 2023. All rights reserved.