Father Charged For Allegedly Shooting 8-Year-Old While Teaching Gun Safety
A Wisconsin father has been charged after accidentally shooting and killing his 8-year-old daughter while trying to teach his children about gun safety.
Michael Anthony Huddleston, 47, has been charged with first-degree reckless homicide, use of a dangerous weapon and possession of a firearm by a felon in the death of Tiana Huddleston on Jan. 15, the Milwaukee Journal Sentinel reported.
A call made to 911 around 2:30 p.m. stated that Tiana was rushed to the hospital by her father after he accidentally shot her. When officers reached the hospital and asked Huddleston what had happened, he confessed to accidentally shooting his daughter. He then repeatedly said "I did it," and "I didn't try to, big mistake," the criminal complaint obtained by WDJT-TV said.
Officers asked Huddleston consent for a blood sample evaluation to which he agreed. He told a detective that he had been drinking at the time of the shooting. He then told the officers that he wanted to be taken to jail. "Just take me to jail. I did it. I did it," Huddleston allegedly said, WDJT-TV reported.
During the police interrogation, Huddleston told investigators he had a pint of tequila earlier on the day of the shooting. He then ran to the store and purchased a second pint, which he took home and drank while watching television. At that time, he heard the sound of his children coming from the kitchen and decided to teach them about gun safety.
Huddleston told investigators that he grabbed the weapon, kept it on a top cabinet in the kitchen and checked that the safety was on. He then removed the magazine and ejected a round before putting it back in and squeezing the trigger. He accidentally shot Tiana in the chest. She was pronounced dead shortly before 3 p.m.
Huddleston said the victim was "in the wrong place at the wrong time."
Following a home search, officers found a .22 caliber handgun and two bottles of tequila.
Huddleston was previously convicted of felony hit-and-run causing injury, domestic violence and felony bail jumping. At the time of the shooting, he was on probation for a hit-and-run and was not allowed to possess a gun or consume alcohol.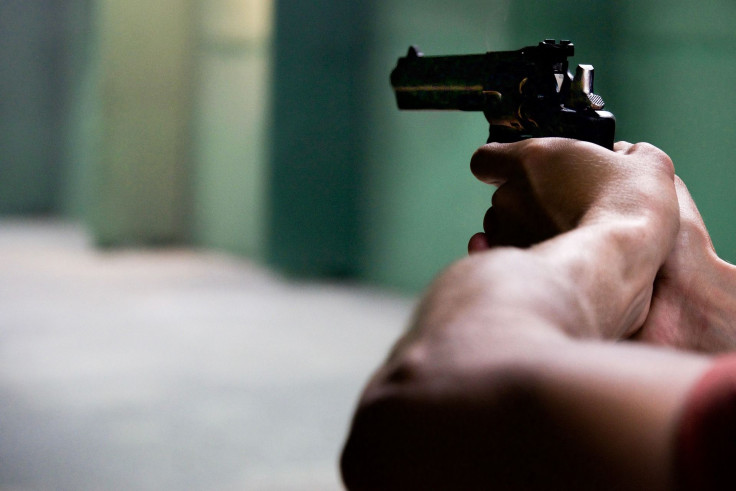 FOLLOW MORE IBT NEWS ON THE BELOW CHANNELS