Fauci Warns Of 'Avoidable And Unnecessary Outbreaks' From Anti-Vaxxers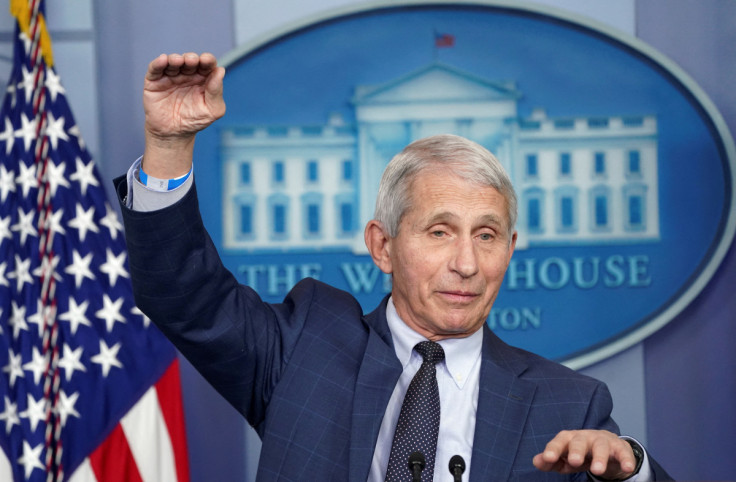 Dr. Anthony Fauci, the federal government's lead infectious disease expert, said Monday that skipping vaccinations could lead to "avoidable and unnecessary outbreaks."
Fauci, director of the National Institute of Allergy and Infectious Diseases, said in an interview with the Financial Times, that he's concerned that mounting anti-vaccination views could have "tragic" consequences. Fauci is also President Biden's chief medical advisor.
"I'm concerned that the acceleration of an anti-vaxxer attitude in certain segments of the population. . . might spill over into that kind of a negative attitude towards childhood vaccinations, which would be very tragic," Fauci said.
"If you fall back on vaccines against common vaccine-preventable childhood diseases, that's where you wind up getting avoidable and unnecessary outbreaks," he said.
Last week, New York declared a state of emergency after poliovirus was found in wastewater in some counties, and the first case of paralytic polio was diagnosed in the state's Rockland County in July.
Rockland County's polio vaccination rate is 60% for children under the age of 2. The county also experienced a measles outbreak in 2018-2019 when the virus sickened more than 300 people. The Financial Times reported that the measles outbreak was linked to low vaccination rates in the county.
Child vaccinations globally continued to decline at the globally, the World Health Organization said in a report in July.
Fauci and other public health experts urged Americans to get vaccinated, especially against COVID. A surge of COVID cases is expected this fall and winter. Fauci said that more public health officials need to step up in support of vaccination and work to build public health trust in their communities.
Currently, 67.7% of the U.S. population is vaccinated against COVID-19, with 34.7% of Americans boostered, according to the Centers for Disease Control and Prevention.
© Copyright IBTimes 2023. All rights reserved.