When Do You Need Another COVID Shot? Here's When Fauci Says To Get Booster Vaccine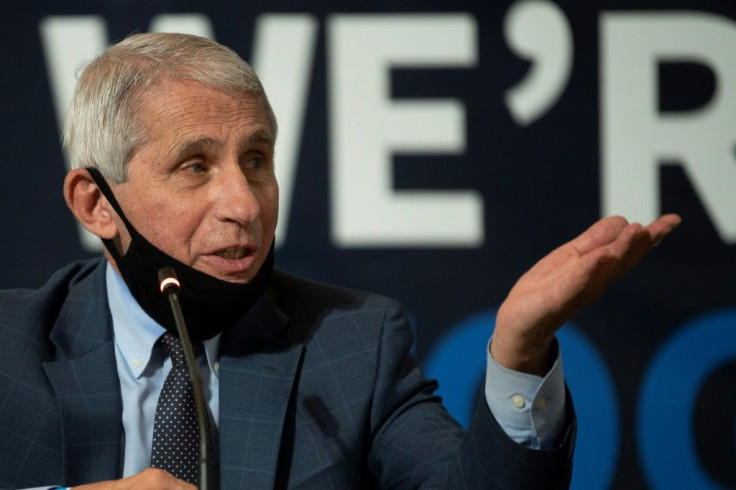 How often Americans will need to get a booster shot to protect against the latest strains of COVID-19 is expected to be very similar to the flu vaccination with a once-a-year schedule, according to the nation's leading infectious disease expert, Dr. Anthony Fauci.
Fauci made the comments at a White House press briefing on Tuesday, saying that COVID boosters are likely moving toward an annual vaccination like the influenza shot.
"It is becoming increasingly clear that, looking forward with the COVID-19 pandemic, in the absence of a dramatically different variant, we likely are moving toward a path with a vaccination cadence similar to that of the annual influenza vaccine, with annual updated COVID-19 shots matched to the currently circulating strains for most of the population," Fauci said.
President Joe Biden also announced the likely schedule change for COVID shots as he urged Americans to get the newly authorized booster doses that were developed to combat the Omicron subvariants spreading across the U.S.
"As the virus continues to change, we will now be able to update our vaccines annually to target the dominant variant," Biden said in a statement. "Just like your annual flu shot, you should get it sometime between Labor Day and Halloween. It's safe, it's easy to get, and it's free."
Biden continued by saying, "Winter is not that far away. The past two years, we have seen COVID-19 cases and deaths soar. It does not have to be that way this year. If you are 12 and older, go get your new COVID-19 shot this fall."
The latest COVID booster was green-lighted by regulators earlier this month, allowing people aged 12 and older to get another shot dose if they haven't had a vaccination in the last two months. The Centers for Disease Control and Prevention has advised people who have recently had a COVID infection to delay their next dose of the vaccine by three months from the date of testing positive or symptom onset.
However, Fauci, who is also director of the National Institute of Allergy and Infectious Diseases, cautioned that if a major change in COVID-19 occurs, doses of the shot could be altered.
"The wild card of a way-out, out-of-left-field variant coming, if that happens, all bets are off and we change," Fauci said.
The annual COVID boosters are expected to be given in the fall during routine doctor visits or at the same time that a flu shot is administered, COVID Response Coordinator Dr. Ashish Jha said on Tuesday.
Jha also urged Congress to allocate new funding for COVID vaccines and treatment against the virus, adding, "It is now critical that you step up and provide additional COVID-19 funding so that we can stay ahead of this virus."
A total of 34.8% of eligible Americans have received at least one booster dose, according to the CDC.
© Copyright IBTimes 2023. All rights reserved.
FOLLOW MORE IBT NEWS ON THE BELOW CHANNELS