FBI Director Christopher Wray Alleges Chinese Students Covertly Collecting Data For Government
FBI Director Christopher Wray said Tuesday Chinese students in the United States might be covertly collecting information for the government of their home country.
Wray said this at the Senate intelligence committee's yearly open hearing where topics related to threats to U.S. were discussed and leaders of numerous intelligence agencies raised concerns regarding national security, the Daily Beast reported.
During the hearing, Republican senator Marco Rubio asked Wray about "the counterintelligence risk posed to U.S. national security from Chinese students, particularly those in advanced programs in science and mathematics."
Wray said in a reply, "The use of non-traditional collectors, especially in the academic setting—whether it's professors, scientists, students—we see in almost every field office that the FBI has around the country."
"It's not just in major cities. It's in small ones as well, it's across basically every discipline. And I think the level of naivete on the part of the academic sector about this creates its own issues," Wray added.
The word "collector" meant, in intelligence jargon, people who gathered information on the behalf of intelligence agencies or governments, Business Insider reported.
The Daily Beast report further added Wray stated the FBI was investigating certain groups, supported by the Chinese government, which were responsible for conducting interactions between Chinese and U.S. academics.
Wray's comments was not received well by Asian-American advocacy groups, and was heavily criticized.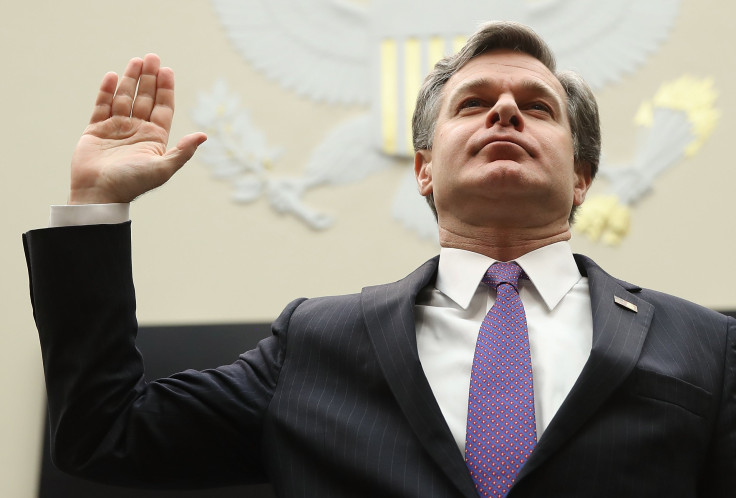 OCA-Asian Pacific American Advocates, a group which works towards the social, political and economic benefits of Asian Americans and Pacific Islanders, said it found Wray's comments "dishonest and insulting," in a statement.
"It is dangerous and irresponsible for him [Wray] to accuse many individuals seeking a higher education, or to contribute to their field of study, of spying," the statement continued. "His remarks only further insinuates that Chinese and Chinese Americans continue to be treated racially profiled as perpetual foreigners in the intelligence community."
Stanford University's head of the Asian American Students Association, Jason Li said, "We strongly denounce Director Wray's comments, which fall in line with a long history of targeting, vilifying, and scapegoating immigrants under the cloak of national security."
"International students are our friends, our colleagues, and our family...This overreach of national security harms our communities, and we condemn Wray's statements in our fight against racial profiling and discrimination," Li added.
According to the Business Insider report, Wray stated China was using various methods to weaken the U.S. economic, military, cultural and informational power around the world.
Wray said, "One of the things we're trying to do is view the China threat as not just a whole of government threat, but a whole of society threat on their end. … And I think it's going to take a whole-of-society response by us."
The report added the director of National Security, Dan Coats, also had a similar stance when asked about China's ideas on overtaking the U.S. as the world's greatest power.
Coats said, "There is no question that what you have just articulated is what's happening with China. … They're doing it in a very smart way; they're doing it in a very effective way; they are looking beyond their own region."
He added numerous agencies were working on "intensive studies" to understand how China was working on its global agenda.
John C. Yang, who is the head of the Asian Americans Advancing Justice, a non-profit legal aid and civil rights organization which works towards advancing civil and human rights of Asian Americans, Native Hawaiians and Pacific Islanders, said, "We cannot have every Chinese student or scientist assumed guilty until proven innocent of a national security threat."
"We understand there is a real threat coming out of China, but expect that top-notched intelligence agencies have better tools to rely on than racial profiling every Chinese person coming to America," Yang added.
© Copyright IBTimes 2023. All rights reserved.
FOLLOW MORE IBT NEWS ON THE BELOW CHANNELS