'Fear The Walking Dead': Garret Dillahunt Talks Negan Rumors, John's Sweet Tooth
Garret Dillahunt said that rumors that he was in the running to play Negan on AMC's "The Walking Dead" helped him get the role of John Dorie on "Fear the Walking Dead."
"It's a little blown out of proportion," Dillahunt admitted to The Hollywood Reporter when asked if there's any truth to reports that he was one of the top candidates considered to portray the Lucille-wielding villain on the flagship series.
"I was doing this show called 'Hand of God' on Amazon, a pretty hardcore character there, and I knew Negan was coming up," Dillahunt recalled. "I'm a fan of the shows. I've watched them pretty regularly from the outset, both of them. And I remember I had tweeted or did something... you know how old people get a hold of social media and things always goes wrong, right? (Laughs) And I tweeted a picture of one of the 'Walking Dead' compendiums, and I said, 'Just a little light reading for the day.' And people went nuts because they thought I was inferring that I was [playing Negan]. 'Oh, that's the compendium that Negan is involved in!' You know? I didn't know this! 'Negan shows up in that, I bet he's gonna be Negan."
"Then I started looking at it, and I was like, 'That would be cool to be Negan,'" the 53-year-old actor continued. Although he knew he couldn't get the role given his contract with "Hand of God," Dillahunt still pestered "The Walking Dead" universe chief content officer Scott M. Gimple about it. "That started a relationship between me and Scott, which might have led to this character [John], so I'm pretty happy about it," the "Deadwood" alum said.
Dillahunt's John made his debut appearance in last Sunday's Season 4 premiere of "Fear the Walking Dead," and one of the things find interesting about him is his love for candies.
"I was nervous about that at first," Dillahunt said of John's sweet tooth in an interview with Entertainment Weekly. "I was just like, 'How are his teeth not rotting out of his head?' [But] they do have me brushing my teeth in some episodes coming up, which I appreciate. But it's just a thing about him. I've grown to kind of like it, you know? It gives him some pleasure. I think it speaks to the childlike quality of him. It's funny, I think I'm one of the older cast members, but I'm definitely the least mature on set, so I don't know if Scott just noticed that, and [new showrunners Ian Goldberg and Andrew Chambliss] have written it in."
But it appears that there's a deeper meaning behind John's sweet tooth. "I would say keep watching because John's love for candy is something that we will explore as the season goes on," Goldberg teased to Entertainment Weekly.
What do you think of Dillahunt's John Dorie so far? Tell us in the comments section below!
"Fear the Walking Dead" airs Sundays at 9 p.m. EDT on AMC.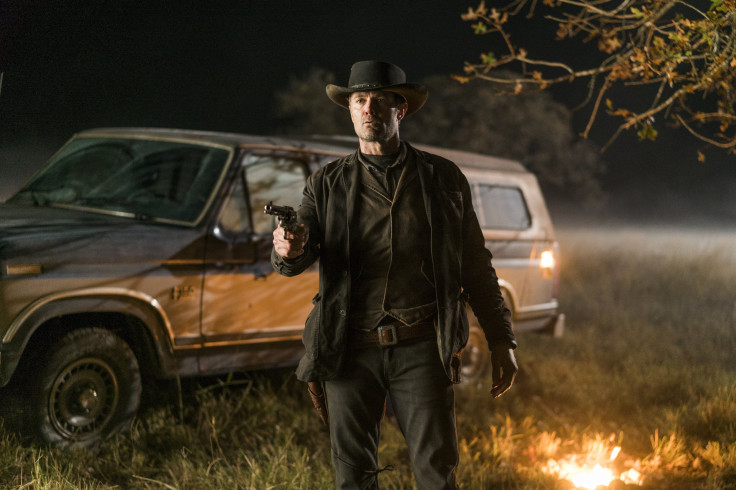 © Copyright IBTimes 2023. All rights reserved.