'Fear the Walking Dead' Season 2 Spoilers: A New Threat Is Introduced On The Water In Episode 1 [RECAP]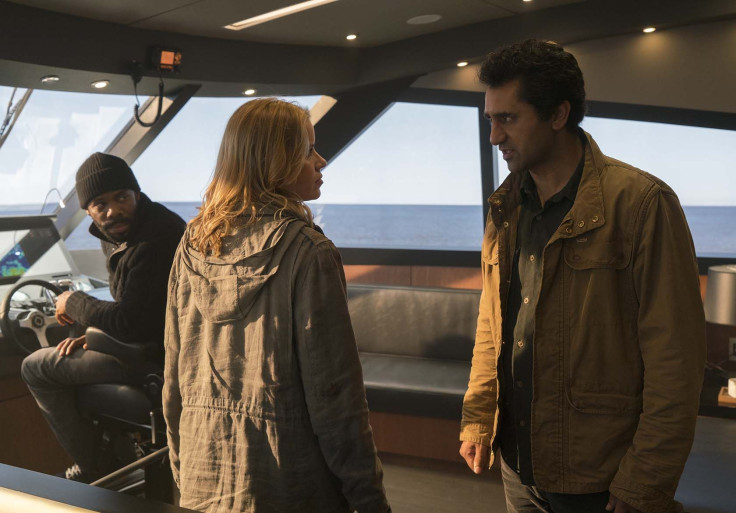 After months of anticipation, AMC finally debuted the second season of "Fear the Walking Dead" Sunday. Focused on a group of survivors at the onset of the zombie apocalypse, the premiere episode wasted no time getting into the action and showing that the initial fall of humanity is no easy place to live.
The Season 2 premiere opens almost right where it left off in Season 1. The intrepid group of heroes, having fled the military's compound in Los Angeles, fought tooth and nail to escape the now overrun shoreline in front of Victor Strand's (Colman Domingo) mansion to board his luxury yacht, Abigail. The small boat that they use to shuttle people to and from the shore won't fit everyone, so Travis (Cliff Curtis) and Madison (Kim Dickens) agree to stay behind with Chris (Lorenzo James Henrie), who is still acting like the same brat he was in Season 1 by refusing to leave his mother's corpse. This forces Travis to bring the body on board the ship so that his son will agree to leave the dangerous beach, where they had to kill a few walkers while waiting for the boat to return.
Before sending Nick (Frank Dillane) to retrieve the others, Strand mentioned that he'll need to go quickly because Abigail is about to become one of the most coveted properties in the world, and he needs to make sure he doesn't lose her to desperate refugees from L.A. The following morning, his conviction on that matter is put to the test when people crammed into a life raft start calling for assistance on the open water. Madison urges Strand to stop, but he refuses, barely looking at her as he speaks.
"I filled my mercy quota," he tells her. "Seven people saved to date. Be thankful."
Meanwhile, Alicia (Alycia Debnam-Carey) is asking Travis to help stop the boat so they can rescue the people. Unaware of what's going on at the helm with Strand and his wife, he tells her to get on the radio to see if she can find a place that will provide safe harbor. When Travis goes up to the helm, he learns that Strand's plan is to take on no survivors, avoid the coast and get to San Diego where he believes a military base may still be active. He reveals that the yacht can travel unencumbered for 3,000 miles, meaning they've got better odds than most to survive at sea.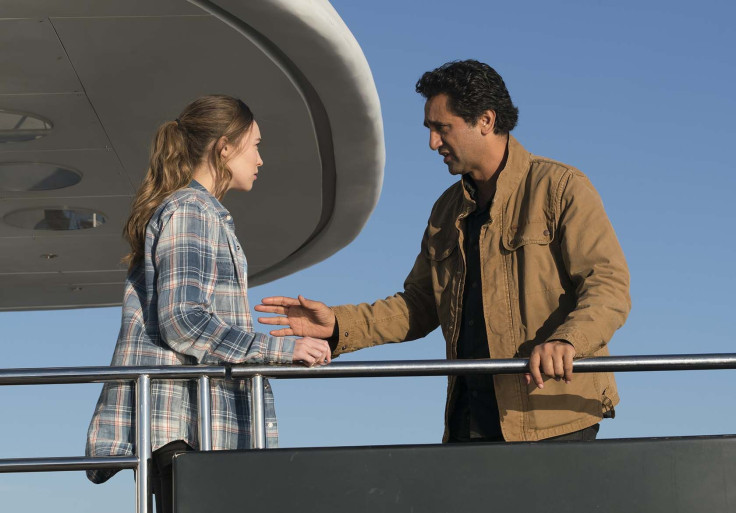 Eventually, they pass by the raft and the group becomes deeply divided over whether they should have stopped. With Madison furious at Travis for agreeing to pass them by, he counters by saying they had no clue how dangerous or sick those people were. He makes it clear that the most important thing is keeping his family safe, which does not include Daniel (Rubén Blades), his daughter Ofelia Salazar (Mercedes Mason) and certainly not Strand.
While the adults try to figure out how far they're willing to go to survive, the kids are off making things extraordinarily difficult. Alicia's task of finding a safe place for people to go isn't yielding any positive results. It seems that most of the poor souls on the water are either sinking, dying or running dangerously low on supplies. While thumbing through the channels, she hears a soft piece of music and a voice encouraging those still alive to let him know if they like it. After some charming coaxing from the mystery man on the other end of the line, Jack, Alicia makes their presence known.
While she's revealing probably too much information to a stranger, Chris is still locked away in his room staring at his mom's body. Travis eventually holds a burial at sea at the stern of the boat, but a moody Chris cuts it short by abruptly dumping the body in the water. When Travis approaches him, Chris tells him he didn't want his dad's new family, whom he calls strangers, looking at his mother and pretending they belong at her funeral. He believes Travis didn't do enough to help her when she got bit and punches him square in the jaw over it.
While Travis lets Chris have some alone time, Alicia informs the group about her conversations with Jack. Apparently, he, his brother and his brother's wife are on a boat nearby that's sinking. She tries to convince them to go and stage a rescue, but Strand is having none of it. In fact, he's so adamant about his refusal that he almost comes to blows with Travis. Distraught, Alicia goes above deck to call Jack and tell him they won't be coming, to which he ominously replies that he'll see her soon.
Following a pep talk from Madison, Chris makes his way to the stern again and inexplicably dives in the water. Nick goes in after him only to discover they're swimming in an area that's got a ton of walkers floating around nearby. When the fog clears, it reveals a smaller boat that capsized. Upon closer inspection, it seems it was ripped apart by heavy gunfire. At the same time, Strand sees on the radar that they've got a tiny vessel approaching. Unwilling to find out if the people on their way to them are the ones responsible for killing the others, the group kicks it into high gear and flees the area. However, Strand makes it clear they can't outrun the smaller vessel. The episode ends with Nick recovering something from the downed ship and Madison explaining to everyone that they may be in mortal danger from pirates, even if she doesn't use the exact word. Clearly she has rethought her position on rescuing strangers at sea.
Odds and Ends
Why wouldn't Ofelia let Nick help her with her bandages?
Daniel reveals that Strand was packing his bags before they rescued him from the National Guard outpost, proving he's hiding something and was going to be on Abigail no matter what.
Seriously though, who would win in a fight, Strand or Travis?
By the show's timeline, Alicia's boyfriend has been dead only a few weeks, but she's already moving on to this Jack character?
Also, who in the world is Jack? It looks like "Fear the Walking Dead" will have villains beyond zombies and red shirts.
Nick wins best kill of the episode for using a boat's propeller on a walker's skull.
Strand wins best monologue for telling Nick that the fearlessness with which he did drugs makes him a formidable force in the new world.
© Copyright IBTimes 2023. All rights reserved.