Feds Drop Charges Against Aaron Swartz; Former Lawyer Warned Reddit Co-Owner Was A Suicide Risk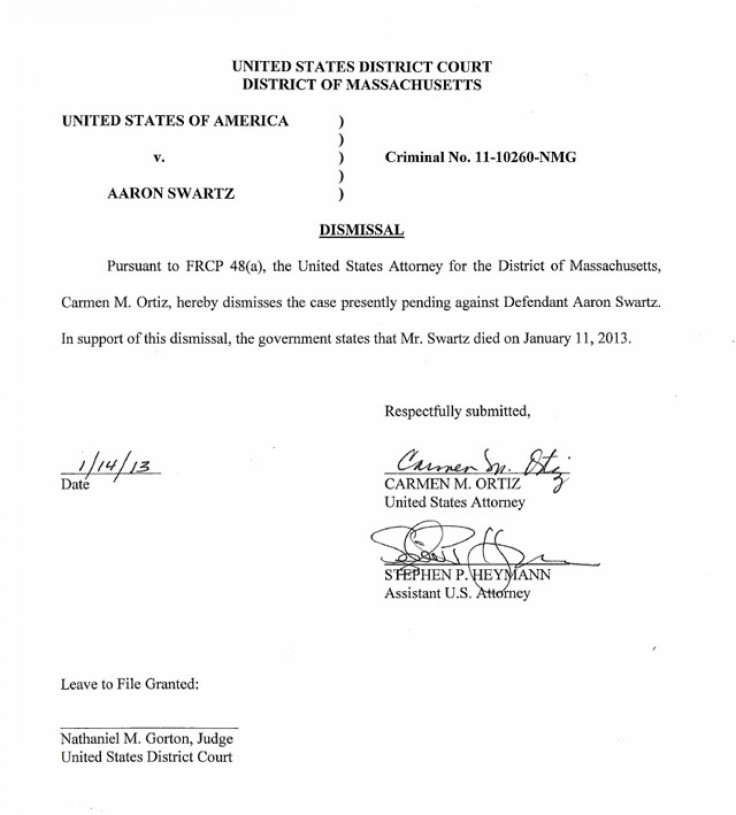 Prosecutors have posthumously dismissed all charges against Internet activist and Reddit co-owner Aaron Swartz three days after he was found dead. The online consensus, though, is that the government's decision is too little, too late, at least in part because of the widespread belief that overzealous attorneys were to blame for much of Swartz's inner turmoil.
The dismissal of the case comes after prosecutors threatened Swartz with 30 years in prison and a possible $1 million fine for allegedly downloading 5 million academic articles from primary source library JSTOR using MIT's on-campus Internet network.
Some Internet law experts questioned the validity of the case, though, as some believe Swartz's actions occurred in a legal gray area.
Swartz also waged a lifelong struggle against depression, which his friends say only worsened when he learned he could spend decades behind bars. The Swartz family released a statement on the day after he was found dead in his Brooklyn home, decrying the case's prosecutors and MIT as unnecessarily hounding Swartz, and they pointed to his suicide as evidence of their claim: Swartz died two years to the day after his first arrest.
Andrew Good added his own name to a list of people who he feels are to blame for the suicide. Good, a lawyer who formerly represented Swartz, went to the Associated Press with the news that he had told federal prosecutors a year ago that Swartz was a suicide risk.
"Their response was, put him in jail, he'll be safe there," Good said.
Prosecuting U.S. Attorney Carmen Ortiz in Boston declined comment, leaving her spokeswoman only to say, "We would like to respect the family's privacy. We don't think it's appropriate to discuss the case at this time."
Elliot Peters, who represented Swartz at the time of his suicide, said he told prosecutors "that we should find a way to resolve the case that didn't destroy Aaron's life" but was met with a plea bargain of six months in prison and guilty pleas on 13 charges to avoid a trial.
Peters said U.S. Attorney Stephen Heymann had been so aggressive in Swartz's case because it "was going to receive press and he was going to be a tough guy and read his name in the newspaper," RT reported.
© Copyright IBTimes 2023. All rights reserved.