Ferguson Riots Underscore Lack Of Modern Day Black Leadership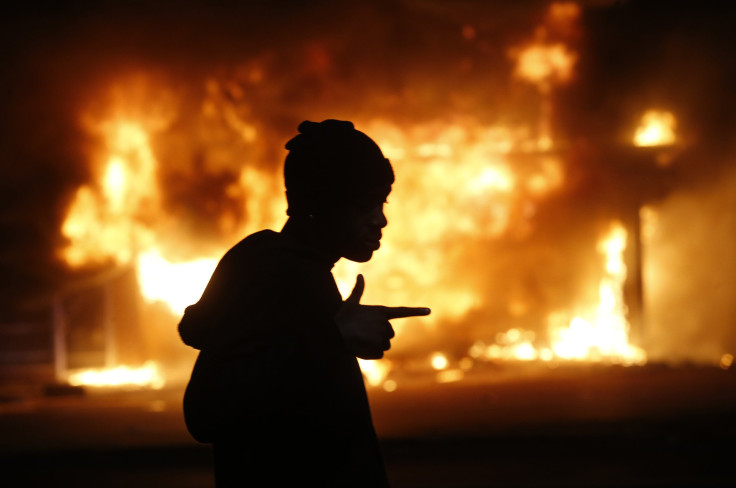 Many of Ferguson's residents weren't listening when St. Louis County prosecuting attorney Robert McCulloch announced a grand jury's decision not to charge officer Darren Wilson in the shooting death of 18-year-old Michael Brown. Instead, a few hundred feet away in the dark of the Missouri night, a crowd had gathered to hear the words of an agonized woman wearing a knit white hat and oversized sunglasses.
Confronted with the reality of the verdict, Lesley McSpadden, Brown's mother, could not contain her anger. "Everybody wants me to be calm," McSpadden said. "You know what them bullets did to my son! ...They still don't care! They never going to care!"
She lowered her head and broke down in tears, consoled by her husband, Louis Head.
"F--- the police!" yelled members of the assembled mass.
Then Head, wearing a shirt with the words "I am Mike Brown" written on the back and a photo of the slain teenager on the front, turned to the crowd. "Burn this mother f----- down!" he yelled. "Burn this b---- down!"
There were few dissenting voices Monday night in Ferguson, Missouri. The crowd was united by its shared anger at the decision, but not by a defined objective or a formal movement. They were led by no one.
The leadership void is a reality for African-Americans across the nation. Tuesday night saw organized protests in 130 American cities, but no one was able to articulate just what all the marching -- or the bricks thrown, overturned police cars or buildings set on fire -- were intended to accomplish.
More than 50 years ago, at the height of the civil rights movement, African-Americans would have looked to Dr. Martin Luther King or other notable leaders to help make sense of events and hash out a plan for what to do next. Today, in Ferguson and around the country, many aren't sure where to turn for answers.
"That's probably a result of the progress that has been made in the minds of many young people, given the privileges that have been won for them," says Dr. Ben Williams, president of an Atlanta-area chapter of the Southern Christian Leadership Conference (SCLC). "Many of them, unfortunately, believe that the movie started when they came in."
Williams, who says he's been a member of the SCLC since around the time King founded it, notes that the new crop of black leaders has yet to assert itself. "It's one of the results of the success of the civil rights movement," he says.
That absence has been particularly evident on the local level, says community activist Mike Jones. "I just don't think the people who could make a difference even give a damn enough to make a difference."
Jones, who grew up in suburban Oakwood Village, Ohio, now operates an organization that helps convicted felons find employment in Cleveland. He asserts that apathy and a divide between middle-class African-Americans and those still living in inner cities contributes to the lack of strong, unified black voices.
And now would be an opportune time to have them. The weeks leading up to the grand jury's decision did little to assuage the conflict between black citizens and police forces.
In the East New York section of Brooklyn, 28-year-old Akai Gurley was shot and killed by rookie police Officer Peter Liang in a darkened stairwell of the city's Pink Houses, despite being unarmed and "totally innocent," according to NYPD Commissioner Bill Bratton. On Saturday, 12-year-old Tamir Rice was shot and killed by Cleveland police outside the city's Cuddell Recreation Center and was later found to be armed with only a toy BB gun.
As protests continue in Los Angeles, Seattle, New York, Atlanta, Baltimore, Boston, St. Louis and other cities around the U.S., those involved aren't quite sure what comes next. Activist Carl Dix, a central figure in the campaign to stop "stop-and-frisk" programs, helped organize protests that shut down Times Square, as well as the Brooklyn and Robert F. Kennedy-Triborough bridges around New York City on Monday night. He says the anger at demonstrations seen around the country is a result of people being confronted for the first time with the idea that "the system works like this all the time."
"People in Ferguson stood up in a way that changed the whole terms of protests, both because what happened in Ferguson was so outrageous [and] because it was happening around the country," Dix says. "A new generation of people has come forward to say that black lives matter and we will not allow this to happen."
Dix says he is urging young demonstrators to partner with older activists to better achieve their goals. "Now, a new challenge is to connect that new generation to an understanding of where this comes from, and what is needed to end it once and for all – and to a strategic approach to doing this," he says. "And that's the way in which support from the older generation can be picked up and help."
For Jason Johnson, a professor of political science at Hiram College, the actions of protesters in Ferguson have been spurred not by calls from local leaders but by a lack of guidance from within the city.
"That is endemic of what is going on in Ferguson," Johnson told International Business Times. "The reason you have 50 million people showing up here…is because there is a vacuum of indigenous African-American leadership. Even the people who you see out protesting, most of those leaders are coming up from St. Louis, they're coming in from other locations."
Johnson pointed to Rep. Lacy Clay, the Democrat who represents Ferguson in the U.S. House of Representatives, as one example of absent leadership in the city. He is not-so-affectionately known as "Lazy" Clay in the area, a resident of nearby Florissant told IBTimes.
Clay wrote a letter this summer to the Department of Justice asking for a civil rights investigation into Brown's death, but he was largely missing from the city as the case against Wilson unfolded. Clay did not issue a statement until 9:30 p.m. on Monday, a few hours after the grand jury decision was announced. At that point, no one was listening.
© Copyright IBTimes 2023. All rights reserved.
FOLLOW MORE IBT NEWS ON THE BELOW CHANNELS