'Fifty Shades Darker' Leaked Wedding Ring Pictures Show Movie's Sequel Might Deviate From Book [PHOTOS]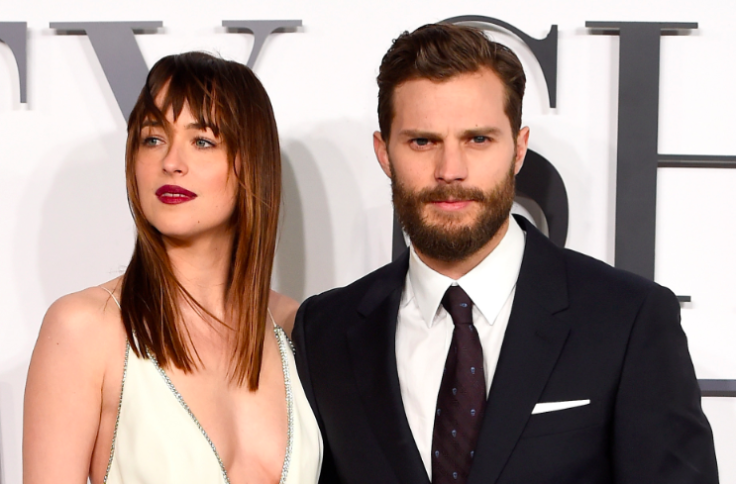 It's been more than a year since "Fifty Shades of Grey" opened in theaters nationwide, and devoted fans are pining for any updates about the sequel, "Fifty Shades Darker." People who read the trilogy already know that Anastasia Steele gets engaged to Christian Grey in the second book, but for the first time since the sequel started to film, fans get to see the rings after pictures from the set in Vancouver, Canada leaked Thursday.
Dakota Johnson, who plays Ana, was shown grabbing the hand of Jamie Dornan, who plays Christian. In another photo, the onscreen couple walks side by side, and their elegant silver bands are on display on their left hands.
The characters switched fashion for the scene. Christian ditches his signature suit for a denim shirt and dark slacks, while Ana wears corporate casual attire.
The photos might also be a hint that the second movie doesn't quite follow the book's plot. At the end of "Fifty Shades Darker," Christian proposes to Ana at the boathouse and she accepts. The third book opens up with them on their honeymoon.
But, as mentioned earlier, both Christian and Ana were spotted with rings on their fingers. Could this mean they get married in the second movie?
E! Online mused that the chemistry between the two actors could be better this time around, based on pictures of them kissing for "Fifty Shades Darker." The site launched a "photographic investigation" to prove this theory.
Hollywood could have taken some liberties with the second film to make it better, considering "Fifty Shades of Grey" was widely criticized by fans. It even won two Razzie Awards in 2016, which were given to the worst films of 2015.
"Fifty Shades Darker" will premiere in theaters nationwide Feb. 10, 2017.
Follow me on Twitter @mariamzzarella
© Copyright IBTimes 2023. All rights reserved.