'Fifty Shades Darker' Quotes: Spice Up Your Valentine's Day By Reciting These Sexy 14 Lines From The Book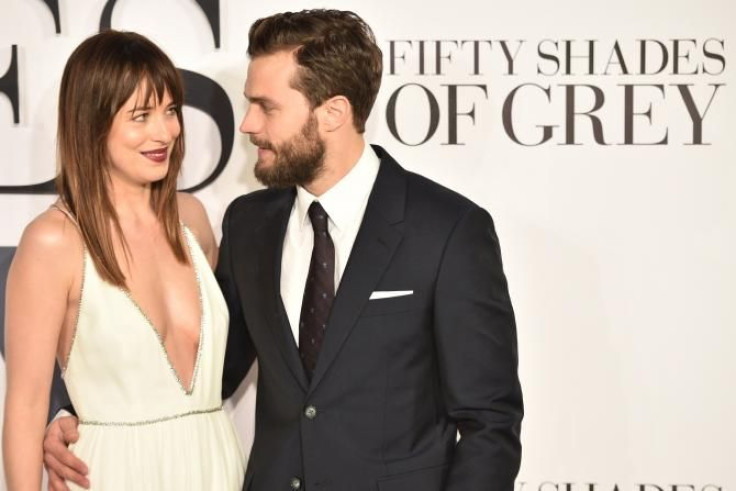 Time to dim the lights and turn up the heat!
Couples around the world will celebrate Valentine's Day on Sunday, Feb. 14. But instead of wooing your loved one with a box of chocolates or an assortment of flowers, why not surprise him or her with the gift of gab, sensual gab?
And luckily for you sweet-talkers, E.L. James' second novel, "Fifty Shades Darker," whose film version is set to hit the big screen Feb. 10, 2017, is loaded with several steamy passages. So, check out below 14 erotic and romantic excerpts of the book that'll surely leave your partner weak in the knees this Valentine's Day:
"From his inside jacket pocket he produces a ring and gazes up at me, his eyes bright gray and raw, full of emotion. 'Anastasia Steele, I love you. I want to love, cherish and protect you for the rest of my life. Be mine. Always. Share my life with me. Marry me.'"
"His magic is powerful, intoxicating. I'm a butterfly caught in his net, unable and unwilling to escape. I'm his ... totally his."
"And soon you will be my wife to have and to hold ... To love and to cherish ... 'With my body I will worship you.'"
"I gasp, and his mouth swoops down. He's kissing me, violently. Briefly our teeth clash, then his tongue is in my mouth. Desire explodes like the Fourth of July throughout my body, and I'm kissing him back, matching his fervor, my hands knotting in his hair, pulling it, hard."
"He is gloriously naked, My inner goddess is doing a triple axel dismount off the uneven bars."
"'I don't know whether to worship at your feet or spank the living s--- out of you.'"
"He takes hold of my chin and kisses me hard. A passionate, beseeching kiss, asking for what? I don't know. It leaves me breathless."
"'Wouldn't dream of it, baby, but I do want to mess with you and these sheets.' My body practically convulses."
"'I think you're up to no good, Miss Steele,' he accuses but his smile remains.
'I like being up to no good near you.'"
"'I've never felt the way I felt when you left, Anastasia. I would move heaven and Earth to avoid feeling like that again.'"
"He really is beyond beautiful. He has a physique drawn on classical lines: broad muscular shoulders, narrow hips, the inverted triangle. He obviously works out. I could look at him all day."
"I pull against my restraints and the bed creaks ominously, but I don't care — I'm burning with desire, it's consuming me."
"'Do you know how much you mean to me?' he breathes against my ear.
'No,' I gasp.
He smiles against my neck, and his fingers curl around my jaw and throat, holding me fast for a moment.
'Yes, you do. I'm not going to let you go.'"
"I glower at him and he glowers back, two angry stubborn fools glaring at each other. And I feel it, the pull — the electricity between us — tangible, drawing us together. Suddenly he grabs me and pushes me up against the door."
© Copyright IBTimes 2022. All rights reserved.
FOLLOW MORE IBT NEWS ON THE BELOW CHANNELS