'Fifty Shades Of Grey' Valentine's Day Gifts; 13 Presents For Fans Waiting For The 'Fifty Shades Darker' Movie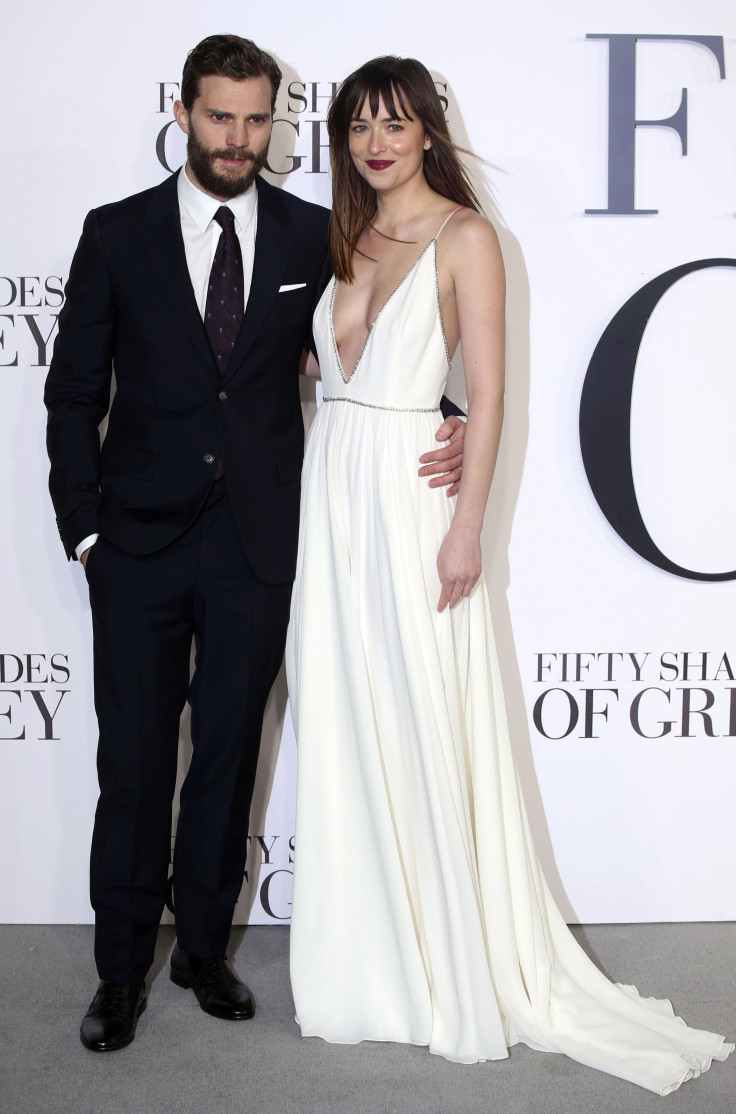 The "Fifty Shades of Grey" movie was released a year ago, but the fans are still holding on for the sequels. Though "Fifty Shades Darker" won't come out until Feb. 10, 2017, there are plenty of presents other than movie tickets that would be great for a Christian Grey (Jamie Dornan) fan this Valentine's Day.
DVDs – The "Fifty Shades of Grey" DVD ($9.99) should definitely be on your valentine's shelf. If that's already there, try one of star Jamie Dornan's other projects. He doesn't play Christian Grey in "The Fall" Season 1 ($19.96) or "Racing Hearts" ($9.53), but if she's a fan of the actor, she'll love it anyway.
Cookies – These "Fifty Shades" themed sugar cookies ($42.50) will definitely delight anyone with a sweet tooth. If your valentine prefers chocolate, try these "FSOG" inspired Oreos ($25.99).
Drinkware – Get Christian Grey's quote, "I don't do vanilla" on a wine glass ($14.98).
Wine – Make sure she has a red or white wine ($17.99) to put in that glass too. The official wine is even endorsed by author E.L. James!
Board Game – The questions this party game ($7.73) asks will help your group of friends get to know each other much better.
Sexy Gifts – If you're looking to bring the steamy novel to life, try a "Mr. Grey will see you now" gift box ($35). The set includes a candle, eye mask and a pair of fuzzy handcuffs.
Soundtrack – The "Fifty Shades of Grey" movie soundtrack ($8.39) is highly regarded, even by those who didn't love the movie. The Weeknd even scored an Oscar nod for their contribution, "Earned It."
"Grey" ​– If she only has the original trilogy, make sure your valentine doesn't miss out on the fourth book ($9.97). The first part of the "Fifty Shades" trilogy is retold through Christian's perspective in this novel.
Other Sexy Books – If your reader has already gone through James' books, there are plenty of other successful erotic novels. Kresley Cole's "The Professional" ($7.99) involves a young girl being whisked away by a rich man who loves BDSM. However, his money isn't quite as clean as Christian Grey's. He's in the Russian mafia. Maya Banks "Letting Go" ($14.80) also shows BDSM lifestyle, but in a very different way. A widow looking for someone to dominate her, but she never expects the perfect man to be her dead husband's best friend.
© Copyright IBTimes 2023. All rights reserved.