'Fifty Shades Of Grey' Dresses To Wear This Valentine's Day Weekend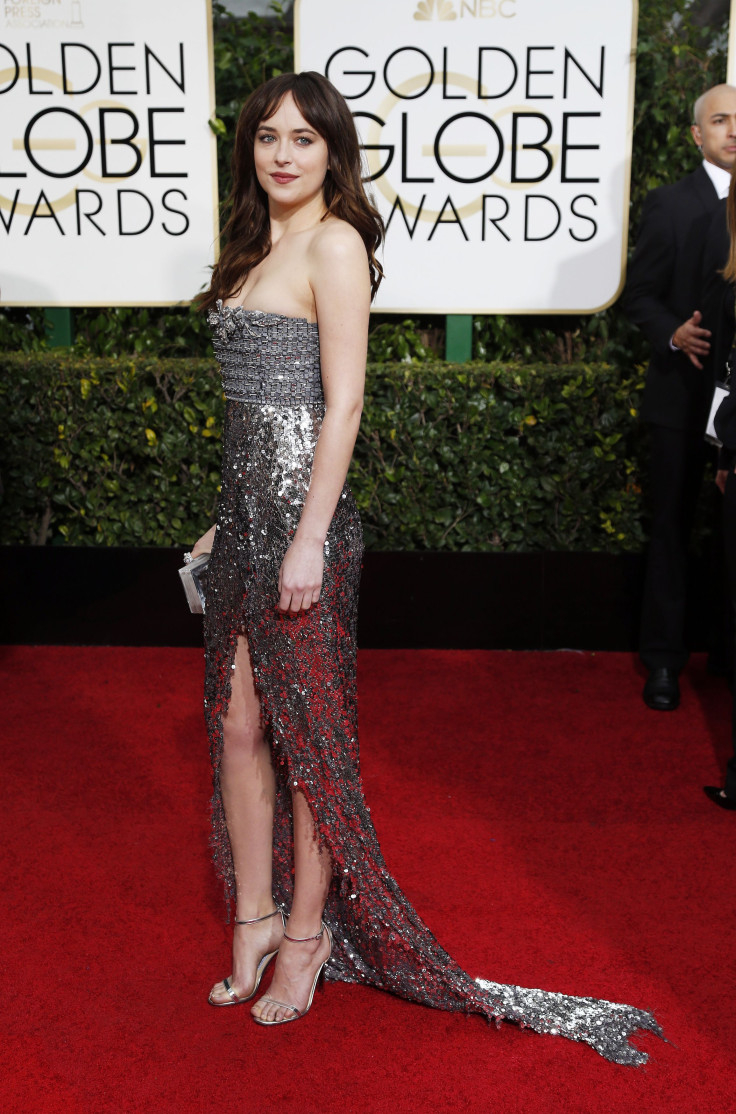 Valentine's Day doesn't mean you have to wear red to go out on a hot date (or into The Playroom). Take a tip from Dakota Johnson's stunning Golden Globes Chanel dress and try something different this year by slipping into one of these grey dresses, no matter what your date may be. We've found something for everyone in these "Fifty Shades."
Chic – $129.95 at New York & Company – One of your friends just had to get married on the three-day weekend, right? Well, with this charcoal grey wrap dress designed by Eva Mendez, there won't be any hard feelings. Its plunging neckline is perfect for either long or short accessories, and you won't have to worry about anyone confusing you for the bride. Best news: its chic look isn't married to big weddings and can be used again for another party.
Sleek – $89.99 on sale at bebe – For a modern fitted look, this belted sweater dress is a standout. You won't miss that suffocating turtleneck with this dress' split collar that works well to show off long earrings. It would look best paired with a shoe with a heel.
Day trip – $41.94 at Express – This laid back jersey dress has just enough pizazz going on so you won't need to weigh yourself with much else. Pair it with a simple hair accessory and sandals and enjoy your day off. You deserve it.
Business – $24.95 on sale at H&M – Don't panic if you have to go to your date straight from work this Valentine's Day, use this clever dress to make the day-to-night transition that much easier. Don't forget to pair it with your favorite eyeliner and necklace for a more sophisticated look.
Party – $25 at H&M – While everyone's hitting up the fancy restaurants, you and your hot date can party it up in the club. This grey patterned dress has just enough spandex to move with your moves as you rock the night away.
Fancy – $179 at Macy's – This classy sleeveless number is perfect for that Gatsby party you said yes to months ago. Sip cocktails by the bar or kick off your shoes on the dance floor, because this knee-length dress is both elegant and sturdy.
Warm – $21.99 on sale at Macy's – Is the weather outside still frightful? You don't have to give up your style for warmth in this charming cable-knit sweater dress. Its adorable skirt is flared comfortably for leggings and boots, so you can still go out in the cold.
Cute – $44.99 on sale at Macy's – With a bouncy, black-ribbed skirt and simple top, this little ensemble lends itself well to accessories to make it your own. The dress easily pairs with black flats or heels for whatever the occasion may be.
Comfy ­­– $17.90 at Forever 21– Got nowhere to go and no place to be? Curl up with your beau and this Netflix queue in this heather grey slip-like dress with a hoodie and pocket that looks so comfy, it can double as your evening's pajamas. We won't judge.
© Copyright IBTimes 2023. All rights reserved.