'Fifty Shades of Grey' Movie Review: Dakota Johnson Shines While Jamie Dornan Falls Short As Christian Grey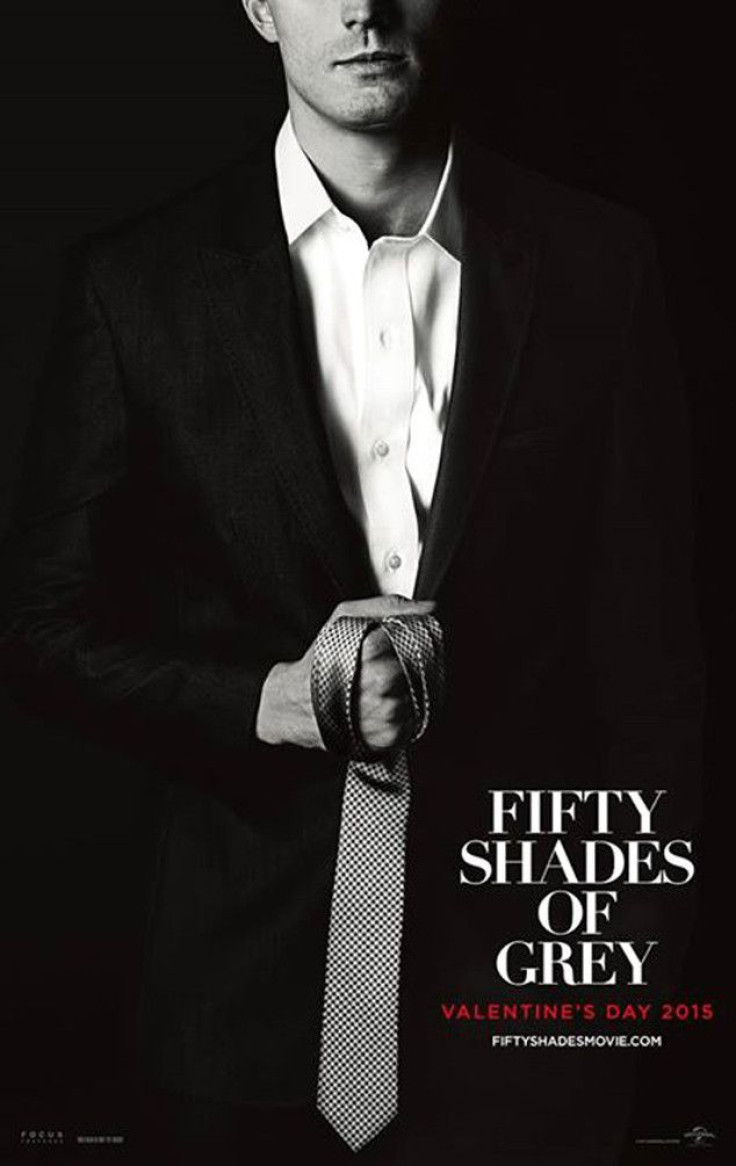 "I like various physical pursuits," purrs a gray-suited man behind a sleek, expensive desk. Christian Grey looks unblinkingly into the eyes of his interviewer, a bashful English Lit major with a flowery blouse hidden under a blue sweater and a navy skirt draped casually over the edges of a pricy chair. Anastasia Steele stumbles through the rest of her interview before meekly retreating through the reception area and into the corporate elevator. Mr. Grey mentions something about seeing her again, but then elevator doors close between them, cutting their gaze.
"Christian"
"Ana"
This is one of the opening scenes to the wildly popular big screen adaptation of E.L. James' book, "Fifty Shades of Grey." Call them star-cross or contractually-bonded lovers; self-made millionaire Grey falls for Steele shortly after their fateful office meeting. He can't and won't let her go. As he becomes extremely possessive and demanding, Steele reciprocates the attraction and begins to fall for him. That is, until Grey reveals his darker sexual urges. The virginal Steele must now decide between trying out kink with her rough new lover, or walk away.
The film trims its former "Twilight" fan fiction source's 514 pages to a svelte two hour and five minute movie. Although much of the racier content may have been discarded for rating's sake, much of the cringe-worthy dialog remains intact. Opening shots channel "The Great Gatsby," differentiating Anastasia's middle-class millennial normalcy from Christian's obscene wealth and luxurious lifestyle. When their worlds collide, Ana is easily absorbed as everything from her personal style, car and laptop are replaced to Christian's standards. Apart from her relationship, Ana shows very little interest in the outside world and never voices concerns about her future.
"Why won't you let me in?!"
Actress Dakota Johnson brings humor, sensitivity and vulnerability to Anastasia, making her the clear breakout performance of "Fifty Shades." Johnson holds onto Anastasia's bubbly energy and plays with the power dynamics of her character's troubled relationship. Her body language shifts from shy and insecure to ashamed of her dirty deeds to tapping into her "inner goddess" and confidently rocking her normal-looking body. Johnson is not made up to look like a porn star: we see hair on her legs, untrimmed pubic hair and wearing very little makeup for most of the movie. The audible gasps in my audience over her first nude scene were a sign of how little we see un-plucked and un-waxed women engaging in and enjoying sex.
Unfortunately, Mr. Grey's Jamie Dornan does not equally rise to the occasion. With a special clause to shade his privates from the camera, Dornan never seems to be at ease with the explicit nature of the movie. He doesn't relish his character's highs and lows, leaving the audience to beg for more acting chops. Dornan wears the suit well but sometimes disappears into its folds on the way to becoming America's next top sex symbol. His distanced energy leaves the bulk of the chemistry to be sparked by Johnson's ingénue. It's just a tad unsatisfying to watch as he cruelly manipulates her for little to no reward.
"I'm fifty shades of f---ed-up!"
Speaking of sex, the troubling sexual politics of the source material was muted in order to score the coveted R rating. Each sex scene is differently shot to show the couple in various stages of the relationship. Ana's deflowering is the darkest lit scene as she is slowly and seductively brought into the light. A rougher afternoon tryst goes from warm, sunny afternoon to an evening with an unpleasant ultimatum. Only one of the two sex room scenes (unclimactically named "The Playroom") plays it campy, complete with the bass-ridden Beyoncé theme song. A third scene in The Playroom is borderline abusive, and brings to mind the question Ana has been grappling with since the beginning: should she stay or go?
"Fifty Shades of Grey" is keen on details thanks to director Sam Taylor-Johnson. With only one previous feature under her belt, 2009's young John Lennon biopic "Nowhere Boy," Taylor-Johnson has now proven she can handle the sticky subjects, an opinionated author, and protect the story from becoming the butt end of a bad joke. Her visual style lends itself well to the big studio production and allows for great subtle side moments to occur outside the central relationship, like Ana and her roommate Kate's (Eloise Mumford) relationship and Ana's strained connection with her mom. As of now, Taylor-Johnson is attached to direct the next two sequels, which could very well make her one of the highest grossing women directors in history so long as creators don't pull a "Twilight" stunt and hire a male director instead.
"Ana!"
"Christian"
The elevator doors close once again on our two lovers until the next chapter begins.
"Laters."
© Copyright IBTimes 2023. All rights reserved.