'Fifty Shades Of Grey': Why Men Are Getting In On The BDSM Action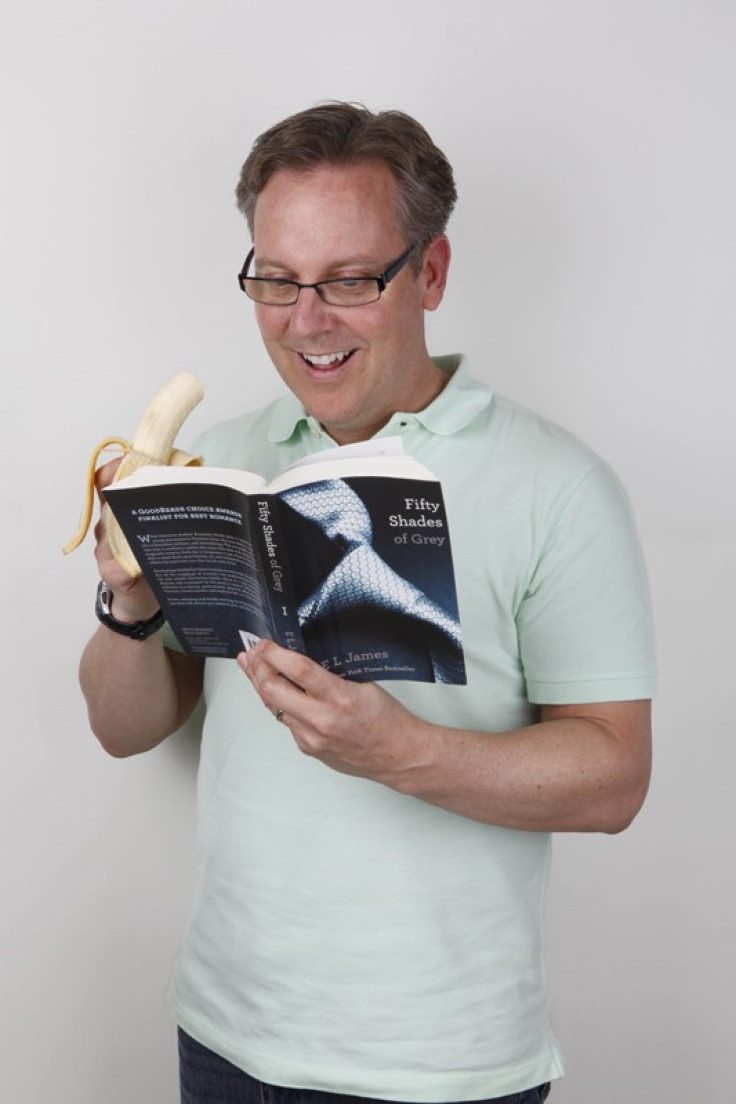 With a place atop the New York Times bestseller list, a $5 million movie deal and endless media coverage, Fifty Shades of Grey has become a cultural phenomenon. Just as countless romance novels have done for decades, the book has hit a sweet spot for women from all walks of life. But men are not immune to the effects of Fifty Shades. Some couples are crediting the book with spicing up their sex lives, and maybe even saving their marriages.
The book's author, E.L James, talked about the positive feedback in an interview with the Daily Mail. One older woman sent me an email saying, 'You're waking the dead here,' James told the Daily Mail. Another woman wrote and said, 'You've spiced up my marriage. My husband wants to thank you, too.' 
With sex toys flying off the shelves and BDSM (that's an acronym for Bondage, Discipline, Sadism and Masochism -- for you vanilla folks) becoming more accepted, it's clear men aren't going to escape the Fifty craze untouched (in fact they may end up with a few bruises).
For those that have (somehow) managed to remain in the dark about Fifty Shades of Grey, the book follows a 21-year-old virgin, Anastasia Steele, who agrees to become a gorgeous 27-year-old billionaire's submissive. Christian isn't so much a character as he is a projection of every woman's dream (or, rather, every insatiable woman's dream.) He's enigmatic, charming, and irretrievably smitten with Anastasia. Over the course of three books (Fifty Shades Darker and Fifty Shades Freed round out the trilogy) he doesn't watch a single televised sporting event or stand her up to go drinking with his friends. In fact, Christian has no friends. His every waking moment is devoted to the sexual gratification of his paramour. The words not tonight just aren't in his vocabulary. He's unendingly ready to have passionate, primal sex with her ... sometimes moments after he's just had passionate, primal sex with her.
You could view the Fifty Shades phenomenon as a kind of post-feminist victory: Finally, men are being held to the same unrealistic standards that women have been. Much like Twilight (which inspired Fifty Shades), the sensual story presents an idealized, unattainable, romantic partner who has little in common with our real-life husbands and boyfriends. But instead of choosing to live in a fantasy world, many women are trying to incorporate the racy role-play of Fifty Shades in their own lives, with their own partners.
Hardware stores and sex shops have seen a dramatic spike in business from women stocking up on bondage accessories. New York's Babes in Toyland has had a 30% increase in overall sales since the books became popular. Certain products like bondage tape have seen a whopping 1500% increase in purchases, according to a CBS New York report.
It feels safe to assume that women aren't intending to test drive their new purchases alone. Between sex shops and Home Depot, sales have really picked up, said Kim, the manager of the popular adult store Eve Garden in New York -- which has enjoyed a boost in sales. A lot of costumers have come in looking for specific products that appear in the books.
The Pleasure Chest, a national sex toy chain, has taken it a step further: Creating a themed workshop, appropriately titled Fifty Shades of Pleasure, that educates customers on how to properly use the myriad of apparatuses referenced in the book series with their partner.
But as Brandon Bartling, the New York store's manager, points out, it isn't just women who are showing up in droves to purchase items like Ben-Wa Balls, Floggers and Ridding Crops (a glossary may be found here.) Plenty of men have been making Fifty Shades-inspired purchases.
Just the other day, a guy came in because his wife had read the books and he was looking to purchase some toys from the book and explore with her, said Bartling.
The immeasurable popularity of the lusty work was bound to inspire curiosity among men. Beyond visits to their local sex shop, some men are choosing to go right to the source -- actually reading the book with the aim of better understanding what women want in the bedroom.
I came to read '50 Shades' through curiosity,' said Gern Blanston, a student. One of my closest friends mentioned to me that his wife was reading a book in her book club that many were describing as 'mommy porn.'
After having three children, he said that they were having sex with the frequency not experienced since very early in their relationship.
His friend's candid admission prompted him to find out for himself what is so appealing about the Fifty Shades phenomenon. Though he doesn't particularly care for the writing style, he does understand the effect it's having on people's sex lives.
As a man, I think what was somewhat refreshing/unusual about the book was that the main character (Anastasia) is fairly uninhibited sexually ... despite having been a virgin, he said. Just as the book did with my friend and his wife, I think it inspires upping the frequency of having sex -- and feeling confident in making the time for it.
Of course, there is a limit to how much life can imitate art -- the steamy romps that Anastasia describes in the books are a bit more far-fetched for the average person's resources and appetite -- not everyone has the opportunity for sex in an elevator, on top of a piano or while on a plane or a boat. Still, Blanston found Anastasia's sexual awakening reassuring, and he believes that other men will, too.
It's an invigorating book and encouraging for a man to really be uninhibited sexually and to really try pleasing his partner, because she really can have orgasms and just might really enjoy them, he said.
While countless readers have found the books erotically inspiring, far fewer have been as impressed with their literary merit. Lines like I had no idea giving pleasure could be such a turn on ... My inner goddess is doing the merengue with some salsa moves, can't really be mistaken for eloquent prose.
I dutifully read it and have to confess to enjoying it in a perverse sort of way, said Joe Parsons, an author who also owns a mortgage company. I know the series' provenance -- a near-plagiarism of 'Twilight' without sparkly vampires, but lots of explicit sex. So I read it with some fascination, partly because of the phenomenon it has become.
The quality of the story aside, Parsons notes that the books are making women less apprehensive when it comes to talking about sex.
Part of what makes the series interesting is the sociological aspect; it is as though these women have suddenly been granted permission to talk about these 'naughty' subjects openly, he said. I think that's healthy. I think the real importance of the 'Fifty Shades' series is that it has made explicit erotica more acceptable, more public. In a society that is often repressive and puritanical, I find this reassuring.
Niloo Dardashti, a New York-based psychologist who specializes in couple's therapy, couldn't agree more.
A widespread fascination with this book has made the topic of sex a huge one lately -- whether in the bedroom with a partner, at a party with friends, or in the media, she said The book fosters openness to talk about needs, desires, fantasies and the like in a more unfiltered way.
Dardashti, whose documentary Into the Twilight Haze explores women's fascination with the immensely popular vampire series, is now developing a film on the effects Fifty Shades is having on couples. She feels strongly that the book has empowered women to more comfortably ask their partners what they want in bed.
The main character, Anastasia, is so intimately open with the readers about her experiences and feelings. I think that is especially helpful for those who experience shamefulness related to their sexuality and/or difficulty in general with communicating about sexual preferences, said Dardashti.
To Todd Greene, President of Headblade Inc., the book is more than a soft porn Harlequin-type book -- it's one that can inspire sexual acceptance.
The relationship between Christian and Anastasia may be uncomfortable to many people, especially considering how conservative this country really is; but I really enjoyed it, Green Said I was not turned off by the BDSM. We all have a past. We all have secret desires.
Greene had an unusual inspiration for his interest in reading Fifty Shades: His retired father, who referred to the book as Something Shades of Grey, raved about it.
Typically, advertisements, films and television are believed to cater more to male than female desires. How many of the summer blockbusters this year have been expressly for women? The Fifty Shades series is fast closing the gender gap in entertainment offerings, and the series is also compelling men to understand female desires and find ways to fulfill them. Further encouraging -- as Dardashti pointed out -- is the creation of a new comfort zone for women to communicate their desires without shame.
James' salacious foray into the world of bondage and submission is also helping to weaken some of the taboos associated with domination in the bedroom. Those who oppose the book, like Dr. Drew Pinsky, believe it is is a step back for women, many who might now be romanticizing the notion of allowing a man to have potentially dangerous physical control of her.
Talking with ABC news about Fifty Shades,Belina Luscombe, an editor at TIME, explained that women sometimes yearn to be free of responsibilities and allow men to have the power.
Women are increasingly the breadwinners in their homes and this fantasy of being looked after and having someone who's there to obsessively protect you and make sure you have everything you need continues to be so robust in our culture, said Luscombe.
Nick Leighton, the Vice President of the consulting firm Scope Group, felt pressure to read the novel because of the immeasurable hype surrounding it. Though he isn't a fan, he does believe that men may begin to approach sex with a better understanding of female desired - - which may indeed include dom-sub play.
Maybe, just maybe, men will open their eyes and understand that women have desires and fantasies outside of stereotypical traditions, Leighton said
But it's not all about power and control -- other men have appreciated the equilibrium as a shared interest in the Fifty Shades series has brought to their relationships.
Todd Youngman, a catalogue merchant and part-time comedian, said the book has altered his understanding of women for the better. Thoroughly intrigued by the masterpiece his wife couldn't put down, he started reading it for himself.
I found the book had a great use of butt plugs, Youngman joked, going on to explain that he enjoys being a part of the dialogue that Fifty Shades has opened up.
It changed my life in the fact that I am now able to join conversations with women if I overhear them discussing in ... I can chime in, he said. They are usually shocked and put off at first. It's as if it is a taboo unspoken language that only females can know.
Until now, romance and erotica may have been thought of as a strictly gendered endeavor, but the popularity of Fifty Shades suggests that the genre might have some meaningful appeal to men.
Why hide a sultry romance novel from your boyfriend or husband when they're getting FHM or Maxim delivered to the house, said Enn Bocci, a publicist at the Omnific Publishing (which releases numerous romance and erotica titles each year). Bocci is adamant that men and women can both derive pleasure from sultry reads. Read it with him. Or better yet, read it to him. Embrace it!
Erotica writer Beth Kery, whose novels like Wicked Burn incorporate both a female and male perspective, believes that there shouldn't be restrictions on what women and men find alluring.
I really hate generalizations in regard to sex as to what should or shouldn't be regarded as sexy or appropriate to a male or a female, Kerry said There's a bell curve for this stuff, and no two people, man or woman, will be the same across sexes or within sexes.
There are numerous men who love to read romance novels and erotica, says romance author Jennifer Probst. Imagine a world that encourages men to act out their sexual fantasies within a loving, committed relationship, while exploring a woman's mind to see what pleases her.
© Copyright IBTimes 2023. All rights reserved.
FOLLOW MORE IBT NEWS ON THE BELOW CHANNELS