Final Election Results Update: Jill Stein's Green Party To Take Pennsylvania Recount To Federal Court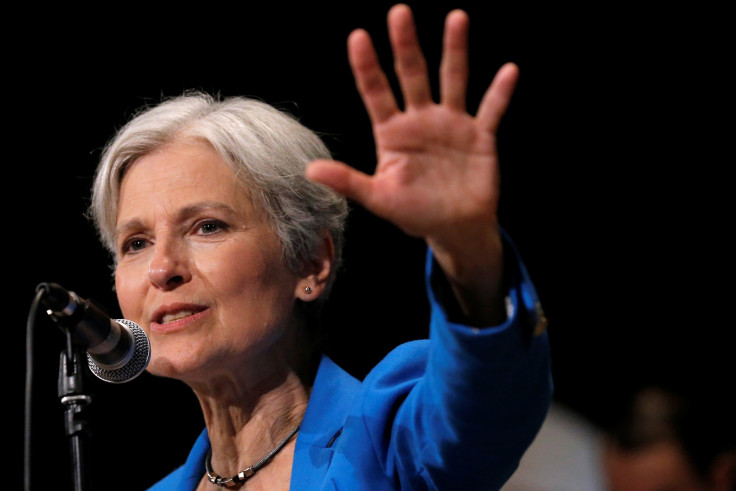 The Green Party refused to back down in its efforts to initiate a state-wide recount in Pennsylvania. The campaign announced late Saturday it is switching its strategy in the swing state, seeking the help of federal courts instead of state courts.
The campaign announced it would seek an emergency federal court order Monday, hours after dropping a case in the state court. The case was dropped after the Commonwealth Court of Pennsylvania asked for a $1 million bond.
"Make no mistake — the Stein campaign will continue to fight for a statewide recount in Pennsylvania," recount campaign lawyer Jonathan Abady said in a statement. "We are committed to this fight to protect the civil and voting rights of all Americans. Over the past several days, it has become clear that the barriers to verifying the vote in Pennsylvania are so pervasive and that the state court system is so ill-equipped to address this problem that we must seek federal court intervention."
Former Green Party presidential candidate Jill Stein who is spearheading the recount effort said on Twitter: "PA's election law and recount process raise serious questions about due process and whether fundamental democratic rights are protected."
"The judge's outrageous demand that voters pay such an exorbitant figure is a shameful, unacceptable barrier to democratic participation," Stein reportedly said. "No voter in America should be forced to pay thousands of dollars to know if her or his vote was counted."
Stein had filed petitions for a recount in Michigan and Wisconsin as well. The recount effort was launched after reports surfaced alleging discrepancies with voting machines. While Trump beat Democrat Hillary Clinton by a slim margin in Michigan, he won Wisconsin by 22,177 votes and Pennsylvania by about 49,000 votes.
The results of all three battleground states must be overturned in order for Clinton to win the presidency but this change is unlikely. Trump won 306 electoral votes surpassing the 270 needed to win the election. On the other hand, Clinton has won more than 2.5 million popular votes. The former secretary of state won 65,152,112 popular votes, compared to Trump's 62,625,928.
The Clinton campaign is supporting the Green Party-led recount effort but several aides believe the effort is a waste of resources.
"Believe me if there was anything I could do to make Hillary Clinton the next president of the United States I would," Clinton ally and former Pennsylvania Gov. Ed Rendell said. "But this is a big waste of time."
Meanwhile, Trump and his supporters have made attempts to halt the recount in the three states calling the effort a "scam."
© Copyright IBTimes 2022. All rights reserved.
FOLLOW MORE IBT NEWS ON THE BELOW CHANNELS