Fire Out on Shell Nigeria Pipeline, Output Curbed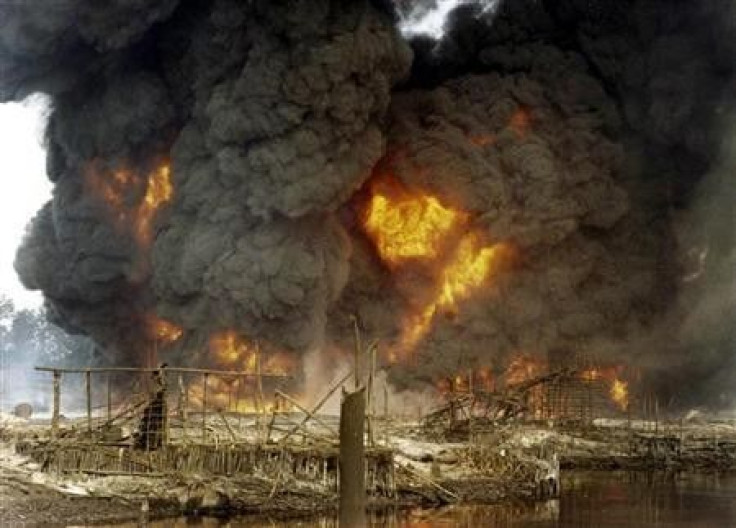 Fire broke out on Wednesday on the Okordia/Rumuekpe oil pipeline in Nigeria and some production has been shut down, but the blaze has since been put out, a spokesman for operator Royal Dutch Shell said.
The fire on the pipeline in Ikarama, Bayelsa State, started a day after the company received reports of an oil spill there and was still burning at 1.45 (1245 GMT), spokesman Precious Okolobo said by telephone.
SPDC (Shell Petroleum Development Corporate) confirmed reports of a fire incident this morning on the Okordia/Rumuekpe line ... and mobilised a fire-fighting team to the site.
Some production has been shut down ... We can't give detailed figures on that, he said. A joint investigation ... planned for tomorrow will determine the cause and impact.
He later added that the fire has reportedly burned out ... but production will stay shut off until and investigation and repairs are carried out.
Environmentally devastating oil spills are common in the vast network of creeks and rivers that make up Nigeria's Niger Delta region.
In many cases oil output is disrupted by sabotage attacks on facilities and by bunkering -- the tapping of pipelines to steal oil.
Local community leader Washington Odoyibo told Reuters he had contacted Shell about the Ikarama oil spill on Monday, and that the fire had actually broken out late on Tuesday night.
He said he had received reliable reports that local youths sabotaged the pipeline.
I can say this is sabotage ... And as member of this community, I don't like it, he said.
The boys who did it are protesting that a surveillance security contact was given to a company owned by ex-militant leaders, he added, referring to the Niger Delta militants who made peace with the government under amnesty in 2009.
He said local youths were also upset at what they saw was too low a fee for some surveillance work they had done for Shell.
The company blamed pipeline sabotage for a force majeure it placed on exports of Forcados oil in October, the same month it lifted a force majeure on exports of Bonny Light after a spate of hacksaw attacks on pipelines.
Nigeria's high-quality oil is widely exported to the U.S., Asia and Europe, and disruptions to supplies can affect world prices because it is priced against the Brent oil benchmark.
© Copyright Thomson Reuters 2023. All rights reserved.