Flash Flooding Washes Out I-10 Eastbound Lanes; Power Outages, Damaged Vehicles Reported
KEY POINTS
Videos showing the extent of the damage have surfaced online
The estimated time required for repair work isn't available yet
A flood watch remains in effect in several southwest California regions
Heavy rains brought by severe storms caused flash flooding near the California-Arizona border. Eastbound lanes on Interstate 10 were washed out Wednesday night.
Terrifying videos showing the extent of the damage caused by the flooding have since circulated on social media.
The National Weather Service (NSW) in Phoenix issued a flash flood warning for several regions in Arizona and California Wednesday afternoon, and it will last until 2 a.m. ET Thursday.
California Highway Patrol (CHP) received multiple calls about damaged vehicles, Los Angeles Times reported. CHP dispatcher Sharon Leath said authorities got reports of seven overturned tractor-trailers. One person ended up wounded, but Leath didn't know the extent of injuries the victim sustained.
Eastbound lanes of Interstate 10, east of State Route 177 and Desert Center, were closed Wednesday evening, according to Desert Sun. California's Department of Transportation (Caltrans) attributed the closure to the flooding and an overturned rig.
"RIVCO: I-10 east of SR-177, closed in both directions due to flooding and overturned big rig. Delay travel at this time, or use an alternate route: detour would be SR-62 to I-10 into Whitewater. SR-177 is closed due to flooding. #Caltrans8," the department wrote in a tweet.
Caltrans said State Route 78 at 14th Avenue, near Blythe, was also closed due to flooding. Eastbound traffic on I-10 was rerouted at Corn Springs Road, Caltrans District 8 spokesperson Emily Leinen said, adding that drivers were instructed to return west on the interstate because of floodwater on local detours.
Knocked-out power lines interfered with traffic restoration on Highway 177, according to Leinen. Southern California Edison crew responded to resolve the issue, whereas maintenance crews came in to clear mud and water from the route, Caltrans noted in a separate tweet.
According to another update posted by Caltrans at 1:55 a.m. ET, the department was "working on available detours." "Currently, people are being directed of EB I-10 at Corn Springs, and rerouted back onto I-10 going WB. Additional detour is SR-111 to I-8 to AZ," it added.
Leinen said Caltrans crews will assess the damage on I-10 Thursday. Information about the estimated time required to complete the repairs wasn't immediately available.
The I-10 received 3 inches of rain along the east of Desert Center, producing "life threatening flash flooding" resulting from thunderstorms, the NWS in Phoenix said, as per SF Gate.
A flood watch is in effect until Thursday evening as more storms are expected. A forecast by the NWS in San Diego said the excessive rainfall on Thursday afternoon and early evening will be followed by flooding.
Southwest California areas that will reportedly be affected include Apple and Lucerne Valleys, Coachella Valley, Riverside County Mountains, San Bernardino County Mountains, San Diego County Deserts, San Diego County Mountains and San Gorgonio Pass Near Banning.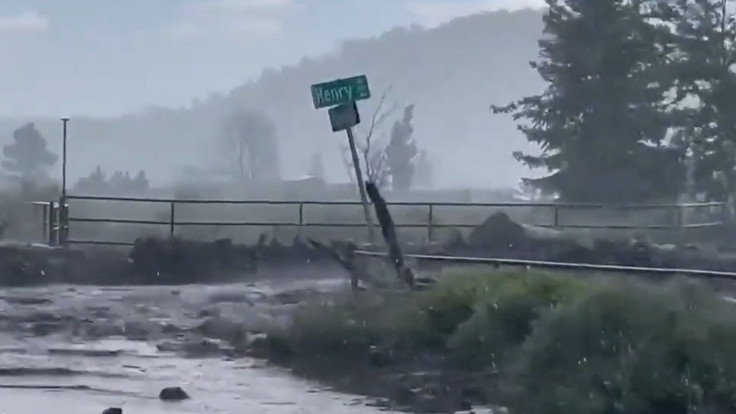 © Copyright IBTimes 2023. All rights reserved.