Flash Mobs In Philadelphia Attack Police Officer And Residents, Steal Pizza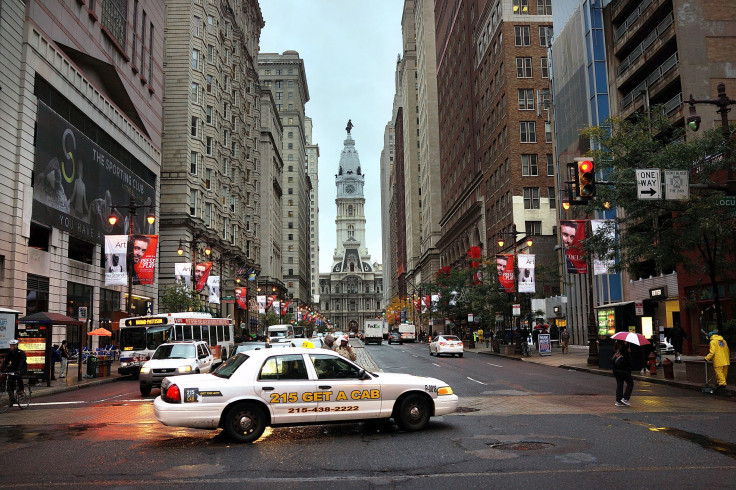 Several flash mobs in Philadelphia Saturday attacked residents and a police officer and robbed a pizza shop after attacking its employees, according to police.
The incidents started at around 7 p.m. Saturday when a group of teens left a club near downtown Philadelphia and attacked a couple. Police declined to say which club or what the extent of the injuries was. Police said a second group of around 100 teens were acting rowdy nearby and harassing people.
Around 8 p.m. Lazaro's Pizza was attacked by a group of teens, according to its owner Samir Maalaoui. The pizza shop was several blocks away from where the other incidents occurred. Maalaoui told WCAU, a Philadelphia based NBC outlet, that the teens attacked two of his employees, delivery drivers, and stole a pizza.
"He was on the floor and they start kicking him," said Maaloui about one of his employees. "He needs stitches and his nose is broken completely. And he needs surgery."
One cheesesteak restaurant in the area, Cleavers, closed because of the incidents.
"WE ARE SORRY BUT DUE TO THE RIOTS GOING ON IN RITTENHOUSE WE HAVE CLOSED FOR THE SAFETY OF OUR EMPLOYEES. SORRY FOR ANY INCONVENIENCE! WE NEED TO TAKE CARE OF THOSE THAT TAKE CARE OF US," said the restaurant in an Instagram post.
Philadelphia and transit police for the Southeastern Pennsylvania Transportation Authority (SEPTA) arrived to control crowds and one officer was attacked. A SEPTA officer was punched and kicked by a 16-year-old girl who was subsequently arrested and charged with assault on police, simple assault and resisting arrest, according to the Philadelphia Inquirer.
A 14-year old boy was also arrested for punching someone else in the crowd, according to reports. He was charged with simple assault and resisting arrest.
© Copyright IBTimes 2023. All rights reserved.