'The Flash' Season 1 Spoilers: Finale Synopsis Released; What Will Happen In Episode 23, 'Fast Enough'? [VIDEO]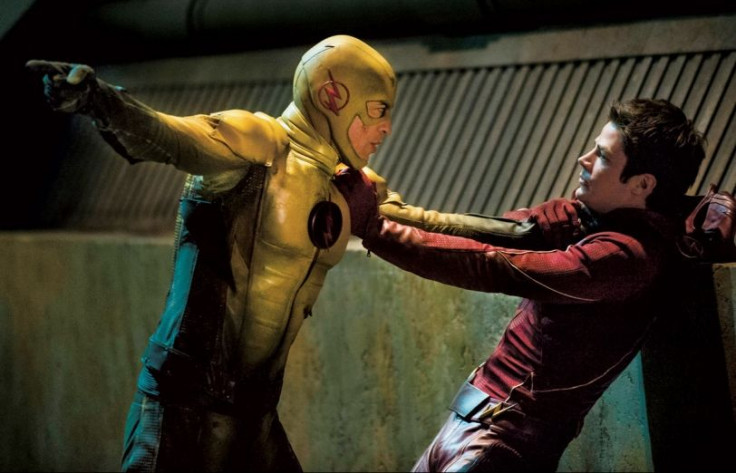 "The Flash" is gearing up for one more epic battle to close out Season 1 of the CW superhero series. Barry (Grant Gustin) may have caught Dr. Wells/Reverse Flash (Tom Cavanagh) in episode 22, but, with all the metahumans now free again, his troubles are far from over. Plus, the odds are that the Reverse Flash will not make for a very agreeable prisoner. So what will happen in the season finale, "Fast Enough?"
According to the episode 23 synopsis, the captured Wells will present Barry with a tough choice, one that could change the course of his life as the Flash. What will the big decision be? Well, the promo for the new episode indicates it may have something to do with attempting to change the past. In the teaser, Barry appears to go back in time to try to stop the Reverse Flash from killing his mother, leading to a trippy scene where an adult, superhero Barry has a conversation with his mother on the night she died.
"Who are you?" she asks.
"It's me, Mom. It's Barry," the Flash replies.
A scene in the promo also features Cisco (Carlos Valdes) telling Barry that Wells is being erased from existence, which would certainly alter the course of Barry's superhero career. In the end, Barry might have to choose between the Flash and his mother.
And don't forget about all the metahumans Captain Cold (Wentworth Miller) set free. From the looks of the storm brewing in one scene in the promo, it would be safe to assume Mark Mardon (Liam McIntyre) and the rest of the rogues are up to their old tricks. Luckily, the synopsis also reveals Barry will have some help from Firestorm (Robbie Amell) and Dr. Stein (Victor Garber).
Watch the promo for episode 23 below:
Will Barry be able to save his mother? Fans will have to wait to find out. "The Flash" Season 1 finale will be shown on the CW Tuesday at 8 p.m. EDT.
© Copyright IBTimes 2023. All rights reserved.