Flint Water Crisis Update: Lead Levels Found To Be Too High For Filters, Bottled Water Consumption Urged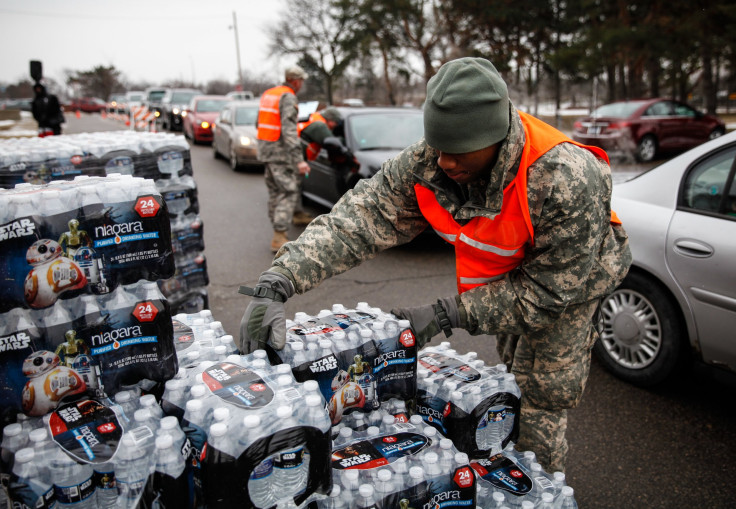 UPDATE: 3:14 p.m. EST: Michigan Gov. Rick Snyder called out the federal government Saturday afternoon after it rejected the state department of health and human services' request to use supplemental nutrition funding to help Flint kids whose development may be impacted by the city's toxic water supply.
"I have strongly and continually stated that it is essential for all levels of government to work together to help Flint recover from this crisis, as it was all levels of government that failed Flint," Snyder wrote in a statement, adding that the government should reconsider. "The improved health and developmental growth that will come from better nutrition for these kids necessitates a waiver of this rule."
Snyder had asked for the OK to expand eligibility for the assistance program from kids under 5 to kids under 10. The government declined, saying such an exception to the rules would necessitate action Congressional involvement.
Original story:
Authorities told residents of Flint, Michigan, recent tests indicated lead levels in the water supply remain high — so high, in fact, the water filters given out by the city might not be effective. Speaking at a news conference Friday, U.S. Department of Health and Human Services representative Nicole Lurie revealed 26 of roughly 4,000 locations tested in the past month had lead levels higher than 150 parts per billion, or the maximum amount of lead the filters can handle, the Detroit News reported. At least one site was found to have a level of 4,000 ppb.
The Centers for Disease Control and Prevention puts the safe level of lead in water at just 15 ppb.
"We aren't completely sure why," Lurie said, adding an investigation into the worrisome results was ongoing and the spikes could be blamed on procedure, the Associated Press reported.
Thousands of Flint residents received water filters after high lead levels were discovered, the result of a switch in the city's water supply in April 2014 to the highly polluted Flint River. The insufficiently treated water corroded pipes, leading to elevated lead levels doctors fear could hinder children's development. The water supply switched back to Lake Huron last October as the issue came to light. Gov. Rick Snyder announced he'd give $1 million in water filters to residents, and police officers and pastors have been traveling door to door to distribute them, the Detroit Free Press reported.
Lurie Friday urged people to have their water checked for lead before drinking it — even if it's been filtered. "Obviously, if you've already gotten a test back and it's under 150 and you've been told your water is safe, continue to use the filters, OK," AP reported Lurie said. "But to be clear: If you don't know, let's act out of an abundance of caution."
Along those same lines, Lurie said, children and pregnant women should drink only bottled water.
Bottled water donations have been pouring in from across the country, with companies like Walmart and Coca-Cola banding together this week to give about 6.5 million bottles to Flint's children. Rappers like Meek Mill and The Game have sent the city safe water, as well.
"We haven't drank the water for a long time," Jackie Gray, a grandmother who lives in Flint, told MLive.com. "It's bad. It's just sad. It's like we are living in a third-world country."
© Copyright IBTimes 2023. All rights reserved.