Flint Water Crisis Update: Walmart, Coca-Cola, PepsiCo, Nestlé Donate Water To Michigan Schools, Encourage Public To Help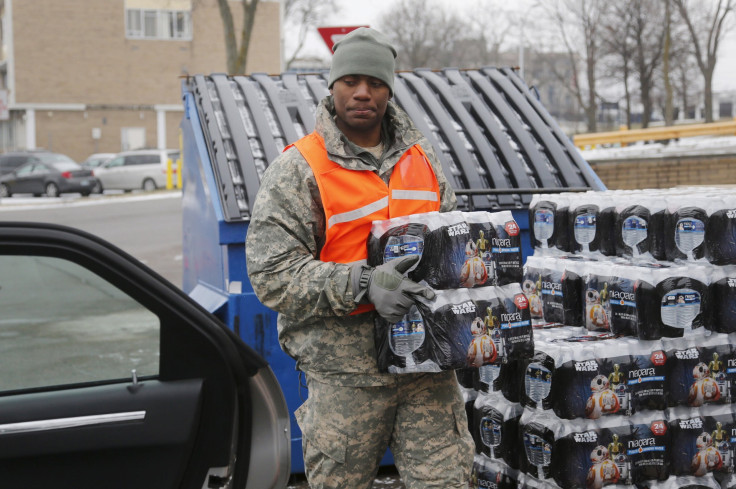 Public school students in Flint, Michigan, are getting a little bit of good news. Walmart and several other global companies announced Tuesday they would donate about 175 truckloads of bottled water to Flint as the city struggles to tackle a public health crisis caused by high levels of lead found in its water supply, the Associated Press reported.
The donation, which comes from Walmart, Coca-Cola, PepsiCo and Nestlé collectively, will include enough water to meet the needs of 10,000 students for the rest of 2016. The companies estimate this will be about 6.5 million bottles of water.
The retail and beverage giants have already been giving support to Flint for several months. Since July, Walmart has donated 14 trucks, or 504,000 bottles of water, it said in a statement Tuesday. Coca-Cola has donated 78,720 bottles of water to local food banks and other organizations, while PepsiCo has donated nearly 95,000 water bottles and Nestlé Waters North America has given more than 190,000 bottles since October.
Childhood Lead Poisoning in Michigan | HealthGrove
"We are grateful for Walmart and their suppliers' support during this crisis," Bilal Tawwab, Flint Community Schools superintendent, said in a statement on Walmart's website. "With their generous support, District students will have access to clean drinking water, and more importantly, the ability to focus on their education."
Not only are the companies helping ease the burden in Flint, they are also encouraging the public to take action. Those who wish to help Flint residents can visit www.good360.org/flint to donate to nonprofits serving the community there. Through the website, people can donate to help organizations buy products needed in Flint such as water filters, bottled water and water testing kits.
"At Walmart, we take pride in using our strengths to help communities like Flint during times of crisis, as we've done around the world in times of need," Dan Bartlett, executive vice president of corporate affairs for Walmart said in the company's statement. "We're working to ensure that the children of Flint, the city's most vulnerable citizens, have access to safe water."
The city's water became contaminated after the state decided to switch Flint's water source from Lake Huron to the Flint River in 2014 to save money. But the river's water was not properly treated and it became contaminated, leading to concerns about residents' health and safety. Residents have filed a class-action lawsuit and the state is encouraging them to use bottled water and filters. On Monday a special investigator was named to look into whether any state laws were broken when Flint switched its water source.
© Copyright IBTimes 2022. All rights reserved.
FOLLOW MORE IBT NEWS ON THE BELOW CHANNELS