Florida Family Finds Alligator Swimming In Backyard Pool, Releases Gator Into Nearby Pond
A family was taken by surprise when they found an alligator in their backyard pool in Brandon, Florida.
Speaking to ABC Action News, Carlos Rivera said he noticed the gator swimming in the pool Monday (June 8).
"I noticed there was a gator in there. I told everybody, but everybody thought I was just joking," he said. Hoping that the reptile would find its way out, he went back inside.
"I just went back inside and ate dinner and while we were eating dinner we kind of skimmed through the phone to see the authorities you had to call," he told the channel.
Luckily, the gator managed to find its way out of the swimming pool. The family then found the reptile moving through the backyard. Immediately, Rivera's daughter Veronica, got her boyfriend to help after the family decided to handle the gator without calling wildlife authorities.
Recalling the incident, Veronica said, "We saw him walking around for a while and we were wondering who we should call like my dad said and then we decided its probably best because it was a baby alligator so we thought we could handle it."
The family then got hold of the gator, secured it in a trash can and released it into a nearby pond.
The incident comes weeks after a Florida homeowner was left baffled after she found two huge alligators fighting outside her front door. Susan Geshel heard a pounding on the door and to her surprise, found two alligators fighting outside her home. The gators were on her property for about 20 minutes. One of them then crossed the street to a neighbor's house while the other went to a nearby pond. A video of the incident showed one of the alligators clamping its jaws on the other's body.
The Florida Fish and Wildlife Conservation Commission officials usually dispatch a contracted alligator trapper if a gator is posing threat to people or pets and is at least four feet in length. People can call the toll-free Nuisance Alligator Hotline at 866-FWC-GATOR (866-392-4286) if they feel an alligator is creating a nuisance.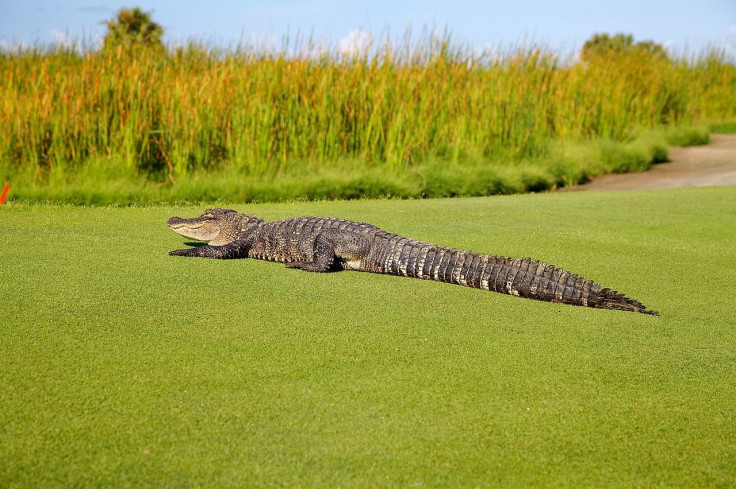 © Copyright IBTimes 2023. All rights reserved.