Florida Teen Who Ran Away With Soccer Coach May Be 'In Harm's Way'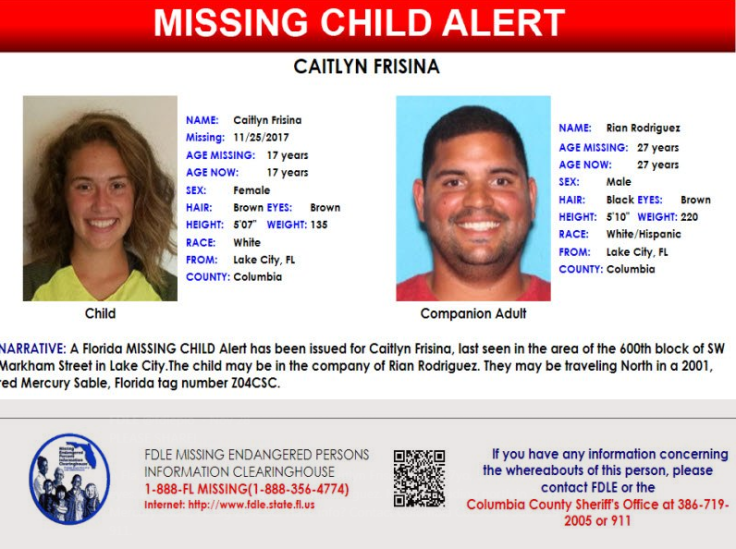 A missing Florida teenager believed to have run away with an older soccer coach from her high school might be in danger, authorities said. Caitlyn Frisina, 17, was believed to be headed north with Rian Rodriguez, a 27-year-old boys' soccer coach.
"We don't know that she's okay," Columbia County Sheriff Mark Hunter said in a press conference, according to CBS Miami. "She may be in harm's way."
Frisina was last seen at her family's home Saturday evening. Investigators believed she snuck out of her bedroom window in the middle of the night due to footprints found outside and the fact that the window was left open. Her cellphone was left behind, wiped clean of information. Her mother said she believed her daughter left of her own volition but that she believed "she was lied to and totally misled." Frisina's family said it was possible she was leading some kind of secret life they knew nothing about.
"Is it possible that she was leading a secret life?" CBS News' Meg Oliver asked Frisina's mother in an interview Friday.
"Well, that's what we wonder," Scarlet Frisina said. "Something was going out. We just don't know what."
Frisina had a boyfriend at the time of her disappearance who believed their relationship was good, according to reports. Her parents were also unaware of any relationship with Rodriguez. A friend, however, told authorities Frisina sent her a text message indicating she may have been involved in a relationship with the older soccer coach. Authorities revealed they had learned of some kind of "blossoming" relationship between the two.
Since disappearing, Frisina and Rodriguez have been spotted three times in North Carolina, South Carolina and Georgia. Authorities said they believed they might be headed north, where Rodriguez and Frisina both have family members. A missing persons investigation was underway in Florida, though the case was not being considered kidnapping and no criminal charges were pending. Rodriguez, however, was fired from his job for "failure to report to work" following their disappearance.
"For her to be on the road with this gentleman, I consider that to be a dangerous situation," said Columbia County Sheriff's public information officer Murray Smith.
Frisina's parents implored her to come home in a press conference this week.
"We love you and we miss you and we need to know that you're safe," her mother said. "Please call us."
Frisina was listed as 5'7" and 135 pounds with brown hair and brown eyes. Authorities urged the public to be on the lookout for a Mercury Sable with Florida license plates with the tag Z04CSC. Anyone with information was asked to call 386-719-2005 or 911.
© Copyright IBTimes 2023. All rights reserved.