Food Network Thanksgiving TV Specials 2015: Full Schedule Of Turkey Day Episodes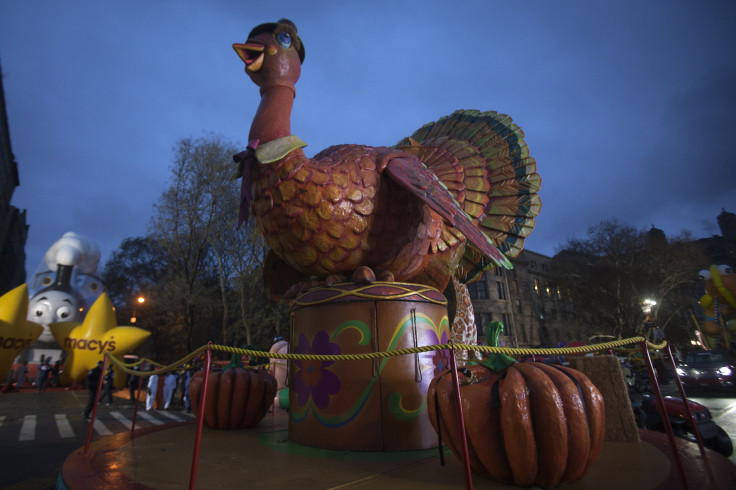 Thanksgiving is almost here, but don't panic that you haven't yet mastered the perfect recipe for fluffy mashed potatoes or figured out how to avoid burning the crust on a homemade pumpkin pie. Whether you're flying home for the week to sit on your parents' couch or scrambling to whip up a dinner for friends and family, the Food Network has got you covered with Turkey Day programming all week long leading up to the main event.
The channel's lineup of culinary stars is ready to help you prepare with everything from shows focused on side dishes, 30-minute ideas, Turkey-themed competitions, and classic Thanksgiving recipes. Here are all the Thanksgiving shows you can't miss leading up to the big day:
Monday:
"Brunch @ Bobby's" (9:30 a.m. EST) -- Chef Bobby Flay uses Thanksgiving leftovers to create a brunch full of holiday flavors.
"30 Minute Meals" (10 a.m. EST) -- Love Thanksgiving food and want to eat it on weeks when there's no holiday? Rachael Ray gives quick solutions for how to cook Turkey Day food on a tight schedule.
"Secrets of a Restaurant Chef" (10:30 a.m. EST) -- In this how-to episode, a Food Network chef teaches viewers to make a brined herb-crusted turkey.
"Chopped" (12 p.m. EST) -- This Thanksgiving-themed episode of the cooking competition show pits four chefs against each other to make the best holiday meal.
"Barefoot Contessa" (1:30 p.m. EST) -- If your friends invited you to a Thanksgiving meal but you don't know what you're making, Ina Garten can help get you settled with the holiday basics.
"The Kitchen" (2 p.m. EST) -- In a special Thanksgiving episode, everything is a tribute to Turkey.
"Giada at Home" (3 p.m. EST) -- Giada De Laurentiis celebrates the flavors of fall with an array of Thanksgiving side dishes.
"Giada's Holiday Handbook" (3:30 p.m. EST) -- Watch De Laurentiis host a traditional Thanksgiving dinner while offering tips along the way.
"Barefoot Contessa" (4 p.m. EST) -- Ina Garten is hosting Bobby Flay for Thanksgiving, and the pair are cooking up a storm in this pre-holiday episode
"The Pioneer Woman" (5 p.m. EST) -- It's a three-day countdown to the ultimate frontier-style Thanksgiving dinner, as Ree Drummond prepares a delicious make-ahead feast.
"Guy's Grocery Games" (6 p.m. EST) -- Four chefs compete in this Thanksgiving special that forces them to grocery shop for fall staples and incorporate their purchases into inventive holiday dishes.
"Diners, Drive-Ins and Dives" (7 p.m. and 7:30 p.m. EST) -- Two episodes of Guy Fieri on the road looking for Thanksgiving goodness in Portland, Maine and Albuquerque, New Mexico.
"Chopped" (8 p.m. EST) -- The "Chopped" judges take a turn as competitors in a holiday-themed episode of this favorite cooking competition show.
Average Cost of Thanksgiving Dinner | FindTheData
Tuesday:
"Thanksgiving at Bobby's" (9:30 a.m. EST) -- Flay and Katie Lee host a Thanksgiving dinner for their fellow Food Network chefs, including everything from appetizers to drinks and desserts.
"The Pioneer Woman" (1 p.m. EST) -- Ree Drummond pulls out all the stops to give viewers her recipes for a complete Thanksgiving feast.
"The Kitchen (2 p.m. EST) -- "The Kitchen" celebrates Thanksgiving with an episode drawing on viewer questions, so get ready to learn everything you need to know to make your Thanksgiving meal.
"Guy's Big Bite" (3 p.m. EST) -- Fieri is whipping up a Thanksgiving dinner for his chef friends, full of holiday traditions with a twist. On the menu is Turchetta -- a mix of turkey and porchetta, and turkey meatballs with fire-roasted green chile.
"Food Network Specials: All Star Thanksgiving" (4 p.m. EST) -- The Food Network's biggest names come together to give viewers a thorough run-down of how to pull off the best Thanksgiving dinner ever.
"The Pioneer Woman" (5 p.m. EST) -- This episode is all about side dishes, and will teach you how to make broccoli wild rice casserole, "sweet soul 'taters," and much more.
Trisha's Southern Kitchen (5:30 p.m. EST) -- Trisha is focused on creating a stress-free Thanksgiving meal, so tune in for quick and easy recipes that will still impress your guests.
Wednesday:
"Semi-Homemade Cooking" (10 a.m. EST) -- Sandra Lee shares her twists on Thanksgiving classics, and gives viewers a look at some decorating ideas for a festive tablescape, too.
"Ten Dollar Dinners" (10:30 a.m. EST) -- Melissa d'Arabian helps you celebrate and reimagine leftovers from a classic holiday meal. Her menu includes using turkey pad thai and chocolate yam marble cake.
"Chopped" (12 p.m. EST) -- In another Thanksgiving-themed episode of "Chopped," chefs start off by receiving gizzards they must use in their dishes, and the fun escalates from there.
"Giada at Home" (3 p.m. EST) -- De Laurentiis serves up Thanksgiving, L.A. style.
"The Pioneer Woman" (5 p.m. EST) -- Another way to make Thanksgiving leftovers delicious, this time from Drummond. On the menu: a Thanksgiving panini and spring rolls.
"Southern at Heart" (5:30 p.m. EST) -- Damaris Phillips and her friends have a unique Thanksgiving tradition: She wears comfy clothes and watches movies all day. To accompany their marathon, she makes some classic Thanksgiving treats.
Diners, Drive-Ins and Dives (6 p.m. EST) -- Fieri spends an hour talking the best turkey from Boston to California, Wisconsin and Florida.
"Cutthroat Kitchen" (7 p.m. EST) -- In round one, chefs have to make Thanksgiving dinner while carrying around a family dining table. In round two, things get even crazier.
Number People Traveling for Thanksgiving | FindTheData
Thursday:
"Chopped" (12 p.m. EST) -- On this Turkey Day episode, chefs will have to use three baskets of leftovers to make their meals.
"The Pioneer Woman" (1 p.m. EST) -- It's pie day on the ranch, and they're baking everything from caramel apple pie to a retro "Frozen Grasshopper Pie" just in time to whet your appetite for your own Thanksgiving meal.
© Copyright IBTimes 2023. All rights reserved.